Anaheim Ducks 2020 Trade Deadline: Bob Murray's Liquidation Sale
The 2020 NHL Trade Deadline is officially over, and Anaheim Ducks General Manager, Bob Murray, was a surprisingly active seller.
The 2020 NHL trade deadline is officially over, and we can all breathe now. The Anaheim Ducks fanbase is currently a mixed bag of emotions after a few surprising moves from General Manager, Bob Murray. With no clear direction for his team at the beginning of the season, GMBM has stripped his roster of lineup regulars and took a few gambles; a message that the impending rebuild in OC is now in full swing.
Over the past few years, fans have groaned at the trades Bob Murray has made. The Jason Chimera's and the Chris Kelly's of the league have not benefited the Anaheim Ducks in the slightest. However, things felt a little different this year going into the trade deadline. While it is still unknown what effect this barrage of new players will have for the Ducks, one thing is for certain, Murray wasn't afraid to liquidate some of his assets; a change of pace from previous years.
The most notable trades of the trade deadline season were Ondrej Kase, Nick Ritchie, and Derek Grant. Murray managed to secure another first-round draft pick, David Backes, and Axel Anderson by moving Kase to Boston. Ritchie was another surprise, joining Kase on the Bruins in exchange for 24-year-old Danton Heinen. Our beloved Elite 1 C will find himself in the city of brotherly love, playing the remainder of his season with the Philidelphia Flyers, and in return, the Murray snagged a 2020 4th round draft pick and Kyle Criscuolo.
However, there were several other trades Murray managed to make before the 3 pm ET deadline. But, were these good trades on Murray's part? While it feels bittersweet to say goodbye to some dear friends, let's welcome the newest Ducks into our flock.
Devin Shore for Sonny Milano


Blue Jackets Get
Devin Shore
It has been clear for some time that Devin Shore is not apart of the Anaheim Ducks long term plans. Acquired in the Andrew Cogliano trade, Shore has spent the majority of his season in the press box, only called upon when injury strikes. He was an inevitable trade deadline move. The Columbus Blue Jackets have had their eye on Shore for some time according to Jarom Kekalainen.
In a one-for-one swap, GMBM acquired 23-year-old Sonny Milano. As a former first-round draft pick, he was, at one time, considered to be the future of the Blue Jackets. He never really found his groove in the organization and has ultimately found himself in the doghouse. It no surprise that Daniel Sprong found himself traded with the acquisition of Milano, seeing how the two have been compared.
Much like Sprong, Milano's defensive side of the game needs improvement. He has shown in previous years that he can make an impact, but he has not been able to stay consistent. However, there is still potential with the 23-year-old winger. Yes, his development has been slow, but this new start in Anaheim may offer him new opportunities that will aid in his developmental process.
This new opportunity with the Ducks will allow him to be a little more creative without repercussions. He has offensive upside, adds speed, and although Devin Shore, at 25-years-old, was not old by any means, Milano he makes the Ducks forward core younger.
Shore will a great addition to the Blue Jackets system. He adds energy, enthusiasm, and works hard. His versatility helps them in the midst of their long list of injuries. We wish him the best.
Milano will start with the Ducks tonight, wearing #22 and we will likely see him on one of the power-play units. According to Eric Stephens, he practiced on a line with Ryan Getzlaf and Rickard Rakell during the morning rushes. Bob Murray seems to have faith in Milano, and fans have been relatively excited about him. Hopefully, this change is good for both teams.
Korbinian Holzer for Matt Irwin and a 2022 6th Round Pick

Ducks Get
Matt Irwin
2022 6th Round Pick

Predators Get
Korbinian Holzer
Let's just take a second to appreciate the fact that Bob Murray got a player and a pick for Korbinian Holzer. While Matt Irwin isn't much of an upgrade it is almost laughable that David Poile was willing to give up an asset for Korbinian Holzer too. Korbi has been a great glue guy for the Anaheim Ducks, but he hasn't had much of a positive impact on the ice this season.
Holzer has received much criticism from the fans this year, and while he isn't the ideal defenseman, he played an important role for the Anaheim Ducks that has gone unappreciated. Without Holzer, Brendan Guhle or Josh Mahurah would be forced into the lineup prematurely. He has allowed both young defensemen to develop in the AHL where they should be. Matt Irwin essentially takes over that role for Holzer.
Irwin has spent the last 12 of the Predators 14 games as a healthy scratch, so going to Nashville provides him with the opportunity to play with the likes of Cam Fowler and Erik Gudbranson out of the lineup for the next few weeks.
Holzer will provide more a physical presence for the Predators defense. Irwin can provide a slightly better offensive game than Holzer, but in terms of defense, there isn't much of a difference. Irwin is said to make good decisions but doesn't make them on a whim. He needs to provide consistent physicality, but he is what he is.
This trade doesn't scream upgrade, nor does it scream downgrade. The 6th round pick in 2022, however, while unlikely to be anything for the Ducks, is still nice to have. Matt Irwin will make his Anaheim Ducks debut this evening, sporting #52.
Daniel Sprong for Christian Djoos

Ducks Get
Christian Djoos

Capitals Get
Daniel Sprong
It's hard not to feel bad for Daniel Sprong, especially when we all had such high hopes for him when he came to Anaheim. However, for some reason, he found himself on the outside. His lethargic defensive skills likely contributed to that. With the addition of Sonny Milano, it was no surprise that Daniel Sprong was on the move.
Aside from a super cool name, and being of Swedish stock, it is unlikely that Christian Djoos will have a big impact on the Anaheim Ducks once Cam Fowler and Erik Gudbranson are back in the lineup. He will likely be in rotation with Matt Irwin and Michael Del Zotto for one of the third pairing spots.
Djoos is said to be a good passer who likes to join the rush. He is slightly undersized and definitely needs to bulk up. He fell out of favor with coaches in Washington, but he has had a decent season in the AHL with the Hersey Bears. Hopefully, that translates in the NHL for the Ducks over the next few weeks.
Sprong will likely spend the rest of his season with the Hershey Bears, but we wish him the best of luck and hope that the Capitals can prove him with a better opportunity than the Anaheim Ducks.
Djoos has already been nicknamed Orange Djoos by Anaheim Ducks fans. He will slot in on the third pairing, likely with Matt Irwin. He will wear #29 for the Ducks.
Angus Redmond and a 2022 Conditional 7th Round Pick for Joel Persson


Oilers Get
Angus Redmond
2022 Conditional 7th Round Pick
Eric Stephens reported after the Daniel Sprong trade, that the Ducks had one minor trade left. Many speculated that Michael Del Zotto was on his way out with the addition of Matt Irwin and Christian Djoos. However, Murray made a small AHL transaction with the Edmonton Oilers, acquiring Joel Persson, giving up Angus Redmond and a 2022 Conditional 7th Round Pick. The 7th Round Conditional Pick will only go to Edmonton should Persson play 25 games with the Anaheim Ducks in the 2020-21 season.
Persson is an offensively minded defenseman that is said to have decent mobility. He's not fast by any means, but he can walk the blueline well. He is on the smaller side, and much like Djoos, could use a little bulk on his frame.
Persson made his NHL debut this season, earning 2 points in 13 games with the big club. He likely won't see time with the Anaheim Ducks season with their influx in a defenseman. However, he could be a big help to the San Diego Gulls as they continue their hunt for the playoffs.
Andrew Agozzino Picked Up On Waivers
While not a trade, another move Bob Murray made was picking up Andrew Agozziono off waivers from the Pittsburgh Penguins. With the trade of Derek Grant, it looks like the 29-year-old Canadian forward could slot in as the Ducks new 4th line center. Agozzino is a hard worker and will add some grit and depth to the Ducks bottom six.
He has good speed, which seems to a priority for Murray. He is an offensive winger, and while he hasn't contributed much for the Penguins this season, the AHL alternate captain has 33 points for the Wilkes-Barre/Scranton Penguins this year.
Agozzino will face his former team on Friday when the Penguins come to Honda Center. He is projected to play between Nicolas Deslauriers and Carter Rowney this evening against Edmonton and will wear #26 for the Anaheim Ducks.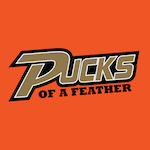 Want your voice heard? Join the Pucks Of A Feather team!
Write for us!
Are you a passionate Anaheim Ducks fan that loves reading Pucks of a Feather? If so, we would love to have you on board as a contributor! Just follow the link above for more information on how to join the crew.