Anaheim Ducks: Derek Grant Could Return to Anaheim in Free Agency
Bob Murray traded the Anaheim Ducks beloved Elite 1 C, Derek Grant, to the Philadelphia Flyers. However, don't expect him to be gone for long!
It was inevitable. Derek Grant's 20 points in 49 games put him in a prime position for Bob Murray to pull the trigger and trade our beloved Elite 1 C. Surprisingly, one of the Anaheim Ducks top 3 goalscorers of the season, Grant has flourished under the California sun. It was incredibly smart of Murray to trade Grant in the midst of his best NHL season.
While it is hard to look past the fact that our Elite 1 C is gone, there are a few benefits to this trade. Not only did Murray secure a 4th round draft pick for the 2020 NHL Entry Draft, one that we lost in the Nicolas Deslauriers trade, but 27-year-old Kyle Criscuolo will be a great addition to the San Diego Gulls.
However, the greatest benefit of this trade is that Derek Grant won't be gone for long. At the end of the season, Grant's contract expires and he becomes a UFA. Both Murray and Eakins seem to love Grant, and he has quickly become a fan favorite, so there is a very high chance the Anaheim Ducks resign him come July 1, 2020.
The Trade Details
Going into the 2020 NHL Entry Draft, Bob Murray was short a 4th round pick. However, trading Derek Grant to the Philadelphia Flyers provides the Anaheim Ducks with their missing draft pick. The Flyers also threw in Kyle Criscuolo, a likely asset for the San Diego Gulls. In this trade, the Ducks will receive the higher of Philly's two 4th round picks, either their own pick or the Nashville Predators pick currently owned by the Flyers.

Ducks Get
Kyle Criscuolo
2020 4th Round Pick

The fourth-round pick the Anaheim Ducks acquired in the Derek Grant trade is the biggest piece in this trade. It is simply a replacement for the pick they lost in the Nicolas Desaluries trade with the Montreal Canadiens. However, accruing more assets for his team is smart with the rebuild in full swing. Drafting in the fourth round is not necessarily Bob Murray's forte. But, this year's draft is extremely deep, and hopefully, that will extend into the later rounds as well.
Kyle Criscuolo isn't likely to be a part of the Anaheim Ducks plans. In fact, he has reported to San Diego. Nevertheless, with the recent additions the Ducks made during the trade deadline, they likely won't need him.
The 27-year-old New Jersey native provides the Gulls younglings with a little more leadership as they prepare for their final stretch of the regular season. Currently 4th in the Pacific Division, they are in a tight race for a playoff spot this year. They are just inches away from making it or missing it altogether. Criscuolo's 24 points in 40 games with the Lehigh Valley Phantoms will also make him a productive asset for Kevin Dineen's playoff-hopeful team.
Free Agency is Right Around the Corner
Free Agency is in 127 days. But, who's counting? Derek Grant fans, that's who. At the end of this season, Derek Grant becomes an unrestricted free agent. Bob Murray made the mistake of letting him walk in free agency before, I doubt he will make it again.
While some may cringe at the thought of Grant resigning with the Anaheim Ducks, the vast majority don't like being in a world where Grant isn't a part of this team. His underlying numbers certainly need some work, but he has been a steady producer for the Anaheim Ducks fourth line this season and in seasons prior.
There are questions as to whether or not there will be room for him on the team when Bob Murray makes his moves in free agency, especially with the trades he made yesterday. However, in the midst of a rebuild, it's way more enjoyable for fans to have someone like Derek Grant on their team. His success in Anaheim has given fans something to cheer for and thoroughly enjoy since he made his debut with the team in 2017.
There is a slight chance Murray decided to move on altogether. But, he really seems to like the veteran center. The fans like him too. So, don't be surprised if we get the notification on July 1st that our beloved Elite 1 C has come home.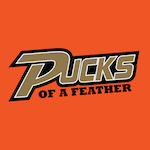 Want your voice heard? Join the Pucks Of A Feather team!
Write for us!
Are you a passionate Anaheim Ducks fan that loves reading Pucks of a Feather? If so, we would love to have you on board as a contributor! Just follow the link above for more information on how to join the crew.