How close are the Anaheim Ducks to becoming contenders again?
It's a tough question to ask for a rebuilding team. Are the Anaheim Ducks on the right track? Do they have the required pieces? Can they get the required pieces? Is there a blueprint they can follow?
For the Ducks, these questions come with a new leader who presumably has a new management style and fresh new ideas. The former General Manager Bob Murray talked endlessly about finding his Chris Pronger and flip-flopped between acquiring players with size and players with speed. He was at his heart a reactive GM who was still beholden to the framework put together to create the Ducks 2007 team.
It's not to say that the same framework wouldn't work today, but it is without a shadow of a doubt a very different league now than it was then. Even given those changes between past and present, we've heard the Duck's new GM, Pat Verbeek, mention he'd like to get faster since the team in its entirety is perhaps not as quick as other teams in the league. Whether by player attribute or coaching systems is up to the individual observer.
Verbeek has also mentioned adding some size on the blue line to support the Duck's younger, and smaller, offensive defensemen. Jamie Drysdale may one day become an elite force offensively, but I don't think many people would envision him clearing the crease or laying some thunderous hits. Given these comments, in many ways, Verbeek's comments suggest that he may acquire the same type of building blocks that Bob Murray desired. The key then will be how the plan is implemented and how the Ducks will measure up against their competitors.
The 2022 Conference Finalists provide a clear measuring stick for the Ducks to use. In many ways they each have the same boxes ticked. Although it is astounding that this is the blue line and goaltending situation the Edmonton Oilers have elected to build around a player who is probably the best that our current generation will ever see. Nonetheless, even the Oilers have some key boxes ticked.
Anaheim Ducks: An Elite Top Line Centre
First, each of these four teams has an extremely good top-line centre. It's possibly more apt to say that each of them has an elite, superstar, centre. Edmonton of course has Connor McDavid. Colorado has Nate MacKinnon. Tampa Bay has Braydon Point, despite him not playing at the time of writing. The weakest link of the group might be the Rangers' Mika Zibanejad who was a point-per-game player this season and has had a monstrous career since he was traded to the Rangers prior to the 2016-2017 season.
The Ducks, however, are on the opposite side of the equation with their long-time star centre, Ryan Getzlaf, retiring this offseason. Change is a certainty, and the Ducks will be looking to vault 99-gamer Trevor Zegras into that top-line role. There are some questions as to how this transition will take place given the young star is fresh out of his second season in the league.
Will the Ducks attempt to find a stop-gap measure for the top line and allow Zegras to develop in the middle six for a season or two more? Is he ready for the top line right now? Fans of course would shout that he's ready now, yet an architect of a team can't be so short-sighted. What avenue will unlock the player's potential to the greatest degree and allow that player to flourish for longer? Are they able to execute that plan?
Nonetheless, in this past season, Zegras thrilled the hockey world with his extensive bag of tricks. From "the assist" that Sonny Milano batted in and had the whole world on their feet, through to Michigan goals, Zegras showcased a set of hands and a youthful exuberance that thrilled hockey fans everywhere. Despite the skills and the wow factor, Zegras is still growing into himself and has some wrinkles to iron out of his game.
That's no knock on the player. Colorado's MacKinnon had flaws he needed to work on before he became the absolute force he is today. Even despite his current flaws, Zegras compares strongly across his first two seasons to those of the top-line pivots in the Conference Finals. As an example, his points per game are even higher at this stage of his career than Nate MacKinnon's.
That's heady company to keep and a clear indication that Zegras is on the right track. There is still a mountain to climb before Zegras can truly be described as an elite top-line centre, but at the present time, Pat Verbeek can concentrate on developing the player he has in the hand rather than looking to acquire further talent in this position.
Anaheim Ducks: Star Support
The top teams of course have surrounded their star centres with star support players. For the teams currently in the playoffs, that list is many and myriad. Mikko Rantanen, Nazem Kadri, Steven Stamkos, Ondrej Palat, Evander Kane, Chris Krieder all come to mind. That's without adding household names like Nikita Kucherov, Leon Draisaitl, and Artemi Panarin to the mix.
This may be one area in which Pat Verbeek may be required to put in extra work. Right now, the Ducks have Troy Terry up front providing the bulk of the goal-scoring. At 25 years old, and with what we know about aging curves in sport, he's right in the middle of his peak scoring years. That's fantastic for today and for the next two to three seasons, but does that fit the Duck's trajectory?
It's also worth noting that he shot the puck at a far higher rate than his career norms to date. Overall, it's a largely moot point as Verbeek has named Terry as one of his core pieces, so it's unlikely that a trade will be made to send him away. Although one should never say never.
The rest of the roster, however, or at least the top-six forward group, likely needs some work put into it. The other players on the list, including Sonny Milano, simply aren't good enough to warrant being considered supporting stars. With that said, the Ducks do have some high-profile prospects who could come in and make their mark.
Mason McTavish looks to line up at centre in the next few years, and former late first-round picks, Jacob Perreault and Brayden Tracey will hopefully line up on the wings. From what we've seen from them so far in junior hockey and the AHL, these players look like they can provide support and some scoring.
McTavish may be the closest to having "star" potential given his performances against his peers. Still McTavish and Terry are a far cry from Mikko Rantanen, Gabriel Landeskog and Nazem Kadri. The Ducks need to find at least one more strong wing player to round out their top-six group.
Whether they attempt to acquire that player via trade or by draft is uncertain. This season's draft provides them with an opportunity to acquire a potential game-breaking talent in Brad Lambert, or strong support characters like Frank Nazar. Next season's draft as well could bring in a strong player close to NHL readiness.
Another option, and plausibly a strong one given the Ducks have cap space to spend, is that Pat Verbeek may spin his surplus of second-round picks and depth prospects into legitimate NHL talent. There is no shortage of rumours regarding young players on the trade block this offseason, and Verbeek has both the cap space to absorb their contracts and the draft capital to make significant trades. It's currently uncertain which way the Ducks will move, but it is certain that they will move in one of those ways. They'll either make their picks or trade them, and the Ducks will be at least one top-six forward better for it.
Anaheim Ducks: A Norris Contending Blueline
The next box to tick on the quest for Stanley Cup contention would be a legitimate number one and potential Norris trophy-winning defenseman. As mentioned above, the Oiler's idea of defense is somewhat laughable, however, the other three teams have correctly understood the assignment. Adam Fox and Cale Makar are simultaneously shutting down the opposition and springing the offence forward. Victor Hedman has long been a beast.
So, who do the Ducks have who might compare? Unfortunately, Cam Fowler is closer to the end of his career than the beginning, so given the Duck's current place in the standings, it's probably worth discounting him for the purposes of this comparison. It's also worth noting that he's never been considered anywhere near Norris contention.
Kevin Shattenkirk has a cup to his name but was able to slot in further down the depth chart due to players like Hedman being on the roster. The Ducks do have a highly, and deservedly, hyped young prospect in Olen Zellweger who has played two mind-blowing offensive seasons in junior. However, he may be a few years away from the NHL and there is no telling how he'll stand up at the highest level. That then leaves Jamie Drysdale as the most likely player to take up that number one mantle
Drysdale seems to be one of those players who people either love or hate. They look at his skating and high draft profile and imagine he could be the next Cale Makar. He's still young and with only 105-games to his name has a lot of improvement in him. His 40 points in those games are certainly nothing to mock. The flip side of the coin is that his flaws are certainly many, and he's been exposed greatly at the NHL level.
His quick skating is no longer quick enough to get back into position if he falls out of it. Consequently, we see him trying to defend rush attempts from behind like a forward, far too often. It's arguable how great he's contributing offensively as well, despite the more than satisfactory points totals. The dynamic excitement that we saw in his first few games has made for a more reliable, but also far less thrilling, defensive player. Overall, he's a stronger player than he was, however, it seems he's moved away from the strengths that made him such a desirable commodity in his draft year.
Nonetheless, Drysdale has the tools to become a force on the blueline for the Ducks if the coaching staff can coax every last drop of skill out of him. A significant onus should be placed on both the player and staff to find the key to unlocking his potential in a way that has yet to occur.
Despite the uncertainty of what he might become, it seems likely that Pat Verbeek will be able to rest without looking too hard to fortify his defensive corp. Drysdale appears to have the underpinning tools required to be a number one defenseman in this league. With the offensive dynamism of Zellweger may be to come, the future will arrive in due time. Of course, the Ducks are unlikely to be real contenders until these players hit their strides, thus moves made around that time frame will be key.
Anaheim Ducks: A Vezina Winner
Finally, the Ducks could look to place an elite netminder in play. John Gibson is the current starter yet debate now rages about whether he is in fact still a good netminder if he will be when the Ducks contend, and even if he'll still be a Duck next season. The Ducks do have the highly touted Lukas Dostal waiting in the wings, and Calle Clang was acquired at last season's trade deadline. The Ducks only need to stay out of their own way and ride these prospects into the NHL when they're ready.
It is worth noting that the netminding position may be the least pressing of the on-ice positions. Tamp Bay and New York both boast incredible netminding, while Colorado's is merely average. Edmonton managed to make it to the Conference Final on the back of their duo, although a sweep knocking them out surely shows that a team needs at least average netminding.
Again, one wonders how and why they put this team together around McDavid. Nonetheless, the Ducks have a future of strong netminding in the pipeline and it's extremely likely that they can manage at least league average when push comes to shove.
Anaheim Ducks: So How Are They Tracking?
Given everything, the Ducks appear to have the foundational pieces to put together a team worthy of contending for a Stanley Cup. It won't be this season, and it doesn't need to be, but the chances are that their time is coming. Colorado's Cale Makar is 24 years old and dominates the competition.
Anaheim's Jamie Drysdale is only 20. That gives Pat Verbeek a four-year window that he should aim the Ducks towards. Four years is a long time in sports terms, and anything can happen. Yet for a methodical builder, that time frame will allow the Ducks to accumulate all the talent they could possibly need.
However, right now, the Ducks have potential. Potential can be a dirty word and both fans and management should be wary of believing in it overly much, however, for a team that has traditionally acquired talent via the draft, potential has allure.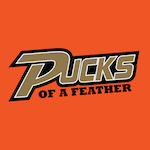 Want your voice heard? Join the Pucks Of A Feather team!
Write for us!
We've seen the potential Zegras has. We have hope for Drysdale. If prospects like McTavish and Perreault can shine, the Ducks will be that much closer to the promised land. Who knows, perhaps this year the Ducks will find the missing piece in the draft by selecting Brad Lambert. The future is myriad. The future is positive. However, patience will be required by all.