Making the case for the Anaheim Ducks to trade with the Edmonton Oilers
Trades within a division aren't as prevalent in the NHL as they may be in other sports. However, the Edmonton Oilers and the Anaheim Ducks may just be a match made in hockey heaven. The Oilers are suffering under the weight of Ken Holland's contract negotiations and Pat Verbeek's Ducks have a burning need to reach the salary cap floor. Can the former Detroit Red Wings come together and find common ground this off-season?
Pat Verbeek has flagged his intentions to bring on contracted players unwanted by their current teams, for a varying return of draft assets or future players. The fabled Evgenii Dadonov trade between the Ducks and the Vegas Golden Knights may have been voided by the NHL, but not before it showed Verbeek's hand and desires. Luckily there are numerous teams with poor cap management and the Edmonton Oilers should perhaps be right in Verbeek's line of sight.
There is no shortage of opinions regarding the Oilers' ability to increase their current cap flexibility by buying out or trading any number of their current playing group. Duncan Keith is owed $5.5 million for one additional season.
Zack Kassian has two further seasons at $3.2 million per season, and even the inconsistent Warren Foegele could be moved to better allocate his two years and $2.75 million. Each of these players would be somewhat palatable for the Anaheim Ducks to acquire, although each for different reasons.
A divisional trade might not be so bad for the Anaheim Ducks
Like Dadonov, Keith only holds a single season left on his contract, and also like Dadonov has a salary sitting around the $5 million mark. Rumours are abundant recently regarding the Ducks looking to bring back Josh Manson in free agency, however, considering a trade for Duncan Keith may provide greater benefits. Firstly, the Ducks weren't very good with Manson on the team, and bringing him back isn't likely to change that.
However, the Ducks are in need of NHL-level defensemen. Duncan Keith is no longer the clear-cut top-4 defenseman he was in his younger days, but he is an established veteran with a lot of experience and knowledge. He can immediately fill a roster spot and provide the Duck's younger blueliners with guidance and on-ice coaching.
Manson may be able to do the same, however, Keith would be a new voice with a stronger pedigree. Players like Jamie Drysdale may have their futures penciled in as offensively orientated facilitators, yet their defensive acumen could use a lot of work. Keith could provide a new pathway to develop that side of their game.
That on-ice support however would not be the main reason the Ducks could look to assist the Oilers in their time of need. As with any player moved as a salary cap dump, Keith would likely come with additional assets to make the prospect of acquiring him palatable.
It's worth noting here that the Oilers own their first-round selection in each of the next three drafts, as well as their second-round picks in 2023 and 2024. They also have young prospects such as Philip Broberg, Xavier Bourgault, and Raphael Lavoie who could be made available, alongside a player in Jesse Puljujarvi who may be a potential offer sheet candidate in the coming weeks.
The younger prospects may have greater "potential" however at 24 years of age, Puljujarvi still fits into the age group of the Duck's young core and provides them with something that they don't necessarily currently have. Of all the right wings in the NHL last season, Puljujarvi ranked 2nd behind Valeri Nichushkin for corsi-for per 60 minutes and 3rd behind Mitch Marner and David Pastrnak for expected-goals percentage.
While much of his success can be attributed to playing alongside Connor McDavid or Leon Drasaitl, the story is deeper than that. Even when playing without them, he produced positive underlying numbers. A player who can support the elite players and provide strong numbers away from the elites is a strong pick-up for any team. One only has to see the impact Nichushkin has had in Colorado to see the potential benefits of a similar player.
Outside of Duncan Keith, Zach Kassian could interest the Ducks. $3.2 million is not a massive number for them to absorb and they are unlikely to be strong enough contenders in the next two years that his two-year deal would cause them irreparable harm. Conversely, after moving Nicholas Deslauriers, the Ducks could potentially use another hard-nosed player in their bottom-6 forward grouping.
It's not an essential void they need to fill by any stretch of the imagination given they could potentially extend current unrestricted free-agent Zach Aston-Reese, but it does seem unlikely that the "little ball of hate" Pat Verbeek wouldn't at least consider players with an edge. With that said, trading for an asset and Kassian would likely provide greater benefits to the Ducks than signing the free agent Aston-Reese, in the same way that trading for Keith could provide greater returns than signing Josh Manson.
What the return could be for such a player remains uncertain. However, the Ducks could look to improve upon any offers by what they are willing to give up from their side. For instance, would the Ducks move one of their many second-round picks to move into the first round?
Would the Oilers be interested in a player such as Sonny Milano should he accept a sign and trade agreement? Would the Ducks consider adding the Boston Bruins' first-round pick and potentially other assets in order to acquire a prospect such as Philip Broberg? Verbeek has gone on the record suggesting he would like to add some size to his blue line, and the 6'3 blueliner has the size and skating ability to fit right into the Ducks' plans.
There are wrinkles to be ironed out for both sides, however, what is certain is that the Oilers would dearly love to increase their salary cap flexibility and that the Ducks would like to add to their war chest of young players and draft assets.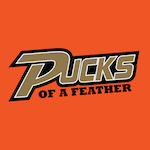 Want your voice heard? Join the Pucks Of A Feather team!
Write for us!
The timelines of both teams seem unlikely to cross in the immediate future, at least so far as the Oilers should be in full cup contention mode while McDavid is in his prime while the Ducks could be a couple of years away from sniffing the playoffs at all. With each team coveting a part of what the other has, it would seem crazy to imagine that they couldn't talk their way into a fruitful relationship.