Anaheim Ducks: Korbinian Holzer Deserve More Kindness from Fans
Anaheim Ducks fans have been overly critical of veteran defenseman, Korbinian Holzer this season. It's high time we look at him in a new light and extend a little kindness.
**Disclaimer: For full disclosure, I wrote the majority of this article way back at the start of the Anaheim Ducks season in November, but shelved it for various reasons. However, I've decided to dust the mothballs off of it after seeing quite a few posts deriding noted 7th defenceman Korbinian Holzer in recent days.
With the Ducks currently wallowing at the bottom of the standings and looking very much like the team many thought they might be in the preseason, the knives have started to come out. Rants from the fans attacking players have started to become the norm. For instance, Korbinian Holzer is an often-marked man.
"Garbage. Trash. Send him down to the Gulls. Literally any warm body would be better than him. Bring up Chris Wideman"
Seriously… Chris Wideman?
Firstly, on Holzer himself. Let's get real here. If Holzer played in your beer league, he would be the highest-scoring player in the league. Skating so fast, like the wind blew past you. So strong and powerful, you'd wonder if the Greek gods of yore had been reincarnated on ice. A physical specimen, that stands even in that respect amongst his current NHL peers. His shot would be so heavy and accurate, players would be diving for cover as it came hammered in like the eldritch blast of fiend pact warlock. Netminders would go home each night nursing welts, the occasional fractured bone, and an oft wounded psyche.
Make no mistake, Korbinian Holzer is one of the best players in his sport in the entire world. He just isn't as amazing as some of his peers and fellow teammates.
A 10-year career has only squeezed out 195 NHL games. A number which should tell you all that you need to know about the player. He is, over his career, been primarily a depth defenceman. A 7th or 8th, maybe even 9th, defenceman on a good teams depth chart. His abilities simply fall short compared to so many of his incredible peers.
Yet, this season, the Anaheim Ducks, cruelled early on by injury, have used him regularly. Even with that regular usage, he ranks 7th in time-on-ice (TOI) amongst the regular skating defencemen. Only Jacob Larsson and Josh Mahura have averaged less total TOI. During 5-on-5 hockey he actually plays the least of all the defensemen, with only the untrusted Josh Mahura playing less.
He doesn't play at all on the power play (well, 4 seconds per game is close enough.) It is only on the penalty kill that the Ducks utilize Holzer more than most, and yet he still plays less than Eric Gudbranson, Josh Manson and Hampus Lindholm. The team itself has recognised his flaws, and are attempting to mitigate his usage as much as possible.
Korbinian Holzer Plays Well for the Role He is Utilized In
Fan's pick out his mistakes, yet they should recognize that he isn't typically a player that would be on the ice in those moments if early-season injuries hadn't occurred. They should also recognize that they're undermanned and don't have enough defencemen to ice an NHL defensive unit. For all the talk of bringing up Josh Mahura, who is truly expecting him to take over those tough penalty-killing minutes? Cam Fowler is somewhat having his minutes managed and is responding with one of his best offensive seasons. Is there value in curtailing his offense to install him on the penalty kill? A role he is not suited to.
Perhaps, instead of focusing on the bad points, looking at what a player outside of his traditional role is bringing in his bid for a new contract and a longer stay in the NHL. Even amongst the Anaheim Ducks themselves, Holzer doesn't turn the puck over much. Per-minute of play, Holzer actually has the fewest giveaways of all the defencemen. A notable achievement given so many of the goals scored against the Ducks have come from turnovers, and that so many of the fans favorite Ducks religiously turn pucks over like they paid for it.
The reduced number of turnovers also presents a lower number of goals being scored against the Ducks while he's on the ice. If there was such a phrase like "turnovers kill," then Holzer would be a converse proof in the pudding. Only Fowler and the AHL bound Brendan Guhle, have surrendered fewer goals relative to their TOI amongst the Anaheim Ducks defencemen.
Additionally, that reduced number of turnovers often results in scoring opportunities for the Ducks. Holzer ranks third amongst defensemen for individual high danger attempts. Not bad for a player whose role is more defensive than offensive. Given the above, one could argue that Holzer is actually outperforming his traditional role as a depth defenceman.
He's Giving the Youth More Time to Develop
Keen observers may also notice that some of the names mentioned as being poorer than Holzer thus far this season are part of the youth movement they wish to replace him with. If they could be in the big show, they would be. But, let's talk about why bringing them up may problematic in a few ways. Firstly, replacing a player who is producing lesser results isn't going to help the team. Secondly, not performing well in limited minutes isn't going to help the individuals get better.
In the case of Guhle, he's missed a number of games through injury since he was acquired by the Anaheim Ducks. It makes quite a lot of sense for the Ducks to take their time with a player they think may have a future with them. Allow him to play a lot of minutes in a lower, yet still professional league. Allow him to get stronger and more physically developed so that when he comes back he's able to withstand the rigors of the game.
The Ducks apparently think that time is now, so we'll have to wait and see if that is the case. Nonetheless, the rationale to keep him down in the short time he was, was the correct one for his development curve. Mahura is in a similar boat, yet without the injuries. Small and slight, extra time to put on size and strength will treat him well. Giving him a lot of minutes in a development role outside of the public eye can only benefit him.
We Are the Harshest Critics
Us, the fans, are more often than not, the harshest of critics. You don't believe me?
Then why on earth are you turning on John Gibson? One of the best players in his position on the planet, he's been ridiculed in comments sections across Twitter and Facebook for games upon games this season. Certainly, he's given up some goals that are atypical of him, yet, keep things in perspective. For much of this season, he hovered around a .917% save percentage. Today it's dropped down to .904%, yet I'd argue he's made incredible stops since that drop-off began. There are games he's let in 4 or 5 and has still been the Anaheim Ducks best player.
Dragging players through the mud is why hockey fans, and sports fans in general, don't deserve nice things. Which leads me to a conclusion and a question. Firstly. You. Yes, you. Be kinder to the players. The reason Holzer is on the team is that there is no one else who can fill his role. The future will come eventually, and maybe Mahura develops his penalty killing enough to take that role. However today, he's not quite there yet.
A traditional extra player is giving his all so that the youth you love are able to develop out of sight of the overly critical public. Developing so that they may come in, and replace that extra defenceman instantly and without mercy. Cutting his wage away and the ability to feed his family and pay for the ridiculous health care prices. Holzer does his job knowing this.
If Eakins Gets a Free Pass, So Should His Players
Secondly, why are you giving Dallas Eakins free pass? If you don't want Holzer playing then perhaps consider the man who plays him so much. This filters down to Gibson's save percentage. Is there any particular reason that he's been so good up until this one season under which he plays for one of the (statistically) worst coaches in NHL history? It probably couldn't be the poor system they've implemented under the instruction of a coach who has admitted in the past he's isn't good at coaching defense… could it?
If you're willing to give Dallas Eakins a pass, then you have to abide by his decisions. He's the one who isn't playing the youth you love and is regularly playing the 7th defenceman you hate. He's the one who has designed this defensive system that is giving up more and more goals as the season goes on. Not John Gibson, who is one of the best netminders in the NHL. Not Korbinian Holzer who is a solid foot soldier being tasked to do too much. It's easy to hate the player, but you shouldn't.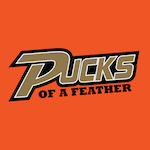 Want your voice heard? Join the Pucks Of A Feather team!
Write for us!
Are you an Anaheim Ducks fanatic that would enjoy writing for Pucks of a Feather? If so, just follow the link above for information on how you can join us!