Anaheim Ducks: Nicolas Deslauriers Has Earned His Place
Just about one year ago, I wrote an article about Bob Murray's then-new signing Nicolas Deslauriers. While most, at the time, considered him a very expensive face puncher, back then my hypothesis was that he was a perhaps under-rated player in that 4th line role for the Anaheim Ducks. Fast-forward to today, who appears to be right?
It's a tough call, with many fans wanting to move on from him in order to bring in more "skillfully" players. Many would suggest that he's a defensive liability and doesn't contribute to the scoring. It seems he's been somewhat pigeonholed as a face-punching thug that can't play.
While in some ways that may be true, it also may not be the entire story. For instance, from a statistical standpoint, it's a bit of a mixed bag.
The Offensive Contribution for the Anaheim Ducks
Considering only counting stats, Deslauriers has the 6th most goals on the Anaheim Ducks this season. While 3 goals certainly aren't anything to write home about, the state of the Ducks is such that he's performing at a level exceeding top-6 forwards such as Ryan Getzlaf and Max Jones. He also has the 7th most points overall, which puts him above players like Max Jones or Danton Heinen (only 5 more games played).
It's not all that exciting perhaps, but it's at least worth considering his place and role on the team. This is a 4th line player who is scoring at a higher rate (per TOI) than Ryan Getzlaf and Jakob Silfverberg, amongst others. That's effective.
Perhaps more interesting is that on everyone's new favorite fancy stat, expected goals (xGF), Deslauriers ranks in 6th on the team for pure counting stats. When adjusted for TOI, he sneaks up the 4th overall on the team. Let that sink in.
Nicolas Deslauriers is 4th on the team for adjusted xGF. Of all forwards in the league who have played at least 100 minutes, that ranks him at 139th overall. Given there are presumably 186 top-6 forwards in the league (31 teams x 6-players), that puts him in pretty good company.
It seems that solid fundamentals are what fuels Deslauriers; offensive game. He has a fairly heavy shot and he uses it to create rebounds for other players to create havoc with. Specifically, Deslauriers creates rebounds with the 6th highest frequency amongst Ducks forwards, above players like Ryan Getzlaf, Maxime Comtois, Sam Steel, Isac Lundestrom, and Danton Heinen.
Given his relatively low shots totals, that conversion from shots to rebounds is amongst the highest on the team with only Rickard Rackell, Trevor Zegras, Troy Terry, and Max Jones ranking above him. He's in good company with four players who are expected to carry the Ducks offense both now and in the future.
Maybe more exciting is that Deslauriers isn't a slow skater. He has a big frame and he can move when given the chance. That has some value to the Anaheim Ducks as they transition, as a team, from a slower grinding team to one that is more up-tempo.
To this end, it's worth noting that Deslauriers ranks in the top six players on the Ducks for rush attempts. He creates these chances at a rate greater than Adam Henrique, Max Comtois, Max Jones, Isac Lundestrom, Trevor Zegras, Danton Heinen, or Sam Steel. There are of course others.
Once again, Desaluariers shines in a metric that highlights the path the Anaheim Ducks may want to move towards. Certainly, no one is going to imagine that Deslauriers skates on the same level as Nathan Mackinnon, however, he is creating these chances at a rate similar to Taylor Hall, Patrick Kane, and Alexander Radulov. That's the work of a top-6 forward, and indeed Deslauriers ranks within that range on a league-wide scale.
Taken together, we can say that Deslauriers uses his quick steps to spring the breakout and get into good scoring positions. Enough so, that he ranks 8th on the team for individual high danger chances (adjusted for TOI), above noted names such as Ryan Getzlaf, Jakob Silfverberg, Troy Terry, and Trevor Zegras. When he can't score himself, his heavy shots create havoc and rebounds. For the price of $1,000,000, that's not bad value for a 4th liner.
Traditional Fourth Line Stuff
Defensively, Deslauriers is a bit of a mixed bag. Like most fourth-liners, shot attempts against him are amongst the highest on the team. What is notable, however, is that shots-against on net while he's on the ice are extremely low. He ranks the 5th best of all the Anaheim Ducks forwards in this department.
However, what is notable is that when Derek Grant is removed from the equation, Deslauriers' results improve dramatically. His Corsi-against (CA/60) rates improve by ~6 attempts per 60, moving him into the top 9 forwards. Shots on the net improve by ~5 per 60 minutes, which moves him into the top position on the team in that metric.
Scoring chances improve by ~3.5, to move him into the top 9. High danger chances improve by ~1.8 to move him into the top 5 on the team. All of which accumulates toward an improvement in expected goals against of 0.44 (moving him into the top 5 on the team).
It's hard to separate Deslauriers from Grant, given they play so often together, but the data sets show clearly that Grant is depressing Deslauriers' results. As an interesting comparison, when Grant plays away from Deslauriers, his on-ice CA/60 increase by ~18 attempts, and his on-ice save percentage plummets by ~4.4%. It behooves us fans to at least spend some time determining what each result looks like in isolation when discussing players.
On an individual basis, he turns the puck over less (adjusted for TOI), than anyone else on the Ducks. Given the Anaheim Ducks turn the puck over like they're paid for it, this may not mean a lot to many, thus it's worth considering that of players who have played in at least 10o minutes this season, only 7 have turned the puck over fewer times. Essentially, Deslauriers is safe as houses when the puck is on his stick.
Added to that, Deslauriers is a prolific hitter who ranks in the top-15 players in the league when adjusting for time on ice. For a Ducks team that dreams of being a fast, hard-hitting team, Deslauriers ticks both of these boxes.
The Wrap Up
All in all, the above is a lot of words for a seemingly generic 4th line player. However, I think his results are actually far stronger than many people recognize. It is incredibly difficult to play four skill lines in the NHL, simply due to collecting that much talent is near on impossible. For those teams, like the Ducks, who cannot, Deslauriers offers a rare combination of size and speed.
That he rarely turns the puck over is a boon, as is his ability to transition the puck from defense to offense, with his speed. All teams can use a player who creates rebounds and that need goes for double for low-skill teams like the Anaheim Ducks who tend to need to score from "greasy" goals in the paint.
I think from all the above, it can be said that Deslauriers does have a place on a good team. He's certainly not the liability that many seem to think he is, at the very least. Could he be replaced? Certainly.
Could he be a Brad May type piece that helps a team get to a cup? I'd argue he certainly could be. Of course, the Ducks aren't in that position and won't be for some time. Yet, I believe he can help them force a new style of play. One that hits hard and skates fast. He a player who has those tools.
One even wonders if there's a case to be made that Deslauriers could play on the power play. Consider that the Ducks have 7 players who have played on the power play, create even a single rebound this season, yet have had 11 players commit turnovers.
At the very worst, it cannot hurt. Adjusting for TOI, only 5 of the 17 skaters who have skated on the Anaheim Ducks power play have an xGF of above the league average this season. Rakell, Comtois, Getzlaf, Silfverberg and Jones. The rest have underwhelmed; Zegras. Terry. Henrique. Steel. Milano. Heinen. All of them are under the league average.
It's time to try something new and a new way to play. Getzlaf can pass. Rakell and Comtois can shoot from the paint. Jones can create havoc in front of the net. The Ducks need someone who can shoot for a rebound and give Jones, Comtois, and Rakell something to work with. Let's not forget that Deslauriers is the owner of the quickest hattrick in franchise history. The man can score… and he wears Dave Steckel's famous #20.
Is that someone Nicolas Deslauriers? Well, it's worth a shot.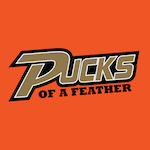 Want your voice heard? Join the Pucks Of A Feather team!
Write for us!
Are you a passionate Anaheim Ducks fan that loves reading Pucks of a Feather? If so, we would love to have you on board as a contributor! Just follow the link above for more information on how to join the crew.