Anaheim Ducks: Nicolas Deslauriers is Better Than You Think
Nicolas Deslauriers has signed a two-year extension with the Anaheim Ducks and digging a little deeper, he could be more useful to the team than just throwing down the gloves.
So you're Bob Murray, the General Manager of the Anaheim Ducks. That franchise is having one of it's worst seasons in recent history, as the new coach hasn't had the team clicking, the young players haven't quite come on as expected, and the netminders are both in the midst of career-worst seasons. However, the trade deadline is coming up and while you may not have big pieces to play, you have enough that you might be able to add to your teams' future success.
What Do You Do?
The actual Bob Murray went out and extended one of those minor pieces that could have maybe been traded for a future. Nicolas Deslauriers gets an additional 2 years with an annual price tag of $1 million dollars. In essence, it's just slightly more than the league minimum and provides another forward that the Ducks will likely expose to the Seattle team when the expansion draft comes around at the end of next season.
So, what do we have with Deslauriers that makes Murray believe that he's likely to be a greater part of the future than whatever draft selection he may have gotten in return. Keeping in mind Murray himself gave up a 4th round draft pick to secure Deslauriers from Montreal. At first blush, it's certainly a tough call to suggest he provides much value.
At 28 years old, Nicolas Deslauriers has had 6 seasons prior to the current season in the NHL, and in all but one of those has had a negative +/-. He has a career-high of 15 points. Not great numbers, but then if they were stronger he wouldn't be as cheap, nor a career 4th liner.
The Entertainment Factor
What Nic does provide, and provide in spades, are haymakers. Lots and lots of haymakers. This season Deslauriers leads the league in fighting majors with 12. He makes up a small cohort of Ducks who sit within the top 20 for sheer number of fighting majors this season. There's still some race track left for him to gallop upon. What is interesting about Deslauriers fights is that an overwhelming majority of them are on home ice, which may suggest that, in some part, they're being performed for the entertainment of the fans.
Take into consideration the Anaheim Ducks game against Calgary recently. The Ducks went down by 3 goals early in the piece, and fans started to leave. Deslauriers threw down the gauntlet and started throwing hands. There was no retaliation for Calgary doing anything wrong, so the enforcer argument flies out the window. There was no spark from the Anaheim Ducks, so the energy argument goes out the window (and honestly who gets fired up watching two guys cuddle and miss each other with love taps anyway?)
Thus, we're only left with entertainment. Deslauriers put his health at risk, catching punches to the face for the entertainment of the fans. Sure, fewer fans are going to games this year than most of the rest of the last 10 years, but those that do get 30 seconds of noodle arms flaccidly flailing at each other until someone falls over.
However, that's just my own cynicism coming to the fore. I don't like fighting in hockey, despite being a former semi-competitive fighter and current combat sports coach. It's stupid, only causes more injuries, and is quite frankly unskilled and dull. Would you interrupt a boxing match to watch beginner ice skaters? I doubt it.
However, I digress. I also don't like that Deslauriers is wearing the original Elite 1C, David Steckel's, jersey number. Steckel was the greatest cult I've followed in my days as an Anaheim Ducks fan and foreshadowed the greatness that is Derek Grant. The audacity to touch that greatness is infuriating.
Once again, I digress. I'm not alone in my panning of this extension. In most cases, those who follow analytics have in a large part knocked the move to extend Deslauriers, instead they wish the roster spot would go to a better hockey player. However, are we armchair GM's, and know-it-all's, on top of it? Perhaps not.
Nicolas Deslauriers is Better Than We Think
For the most part, the numbers while Deslauriers is on the ice are fairly underwhelming. Corsi attempts directed towards the opposition net rate amongst the lowest of the forwards on this team. Only his regular linemate, Carter Rowney has seen fewer attempts directed forward on a per-game basis.
When accounting for time on ice, Deslauriers ranks 13th amongst forwards for Corsi attempts seen while on the ice. We suspected he wasn't much of an offensive player when looking over his career points totals. However, perhaps we're doing Nic a disservice. Shooting metrics may simply not be his thing. On an individual basis, he ranks 12th on the team overall for Corsi attempts per game and 11th amongst forwards accounting for time on ice. So, we can understand that he's not necessarily a trigger puller.
With that one-time goal against Toronto in mind, maybe he should consider it more, however. This goes for double when taking into account the sheer number of rebounds Deslauriers shot provides. On the Anaheim Ducks, Nic leads the team for rebounds created per 60 minutes of ice time, which some may shut down as the Ducks merely being a bad team.
However, he also ranks 62nd in the league amongst all forwards. A rank that creeps up 19 places when accounting for at least 10 games played. You're reading that correctly. Of all the forwards in the league who have played at least 10 games this season, Nic ranks 43rd overall for rebound creation. That makes his shot a threat and his line more dangerous than it may appear at first glance.
Outside of a threatening shot of his own, what Deslauriers does provide is great puck protection. His large 6'3" frame and long limbs help him to shield the puck and he drives it up ice. He's not a slow skater for his size, and when these attributes are taken together they allow him to motor up the ice creating odd-man rushes.
While it may not necessarily feel like there are numerous attempts at this, due to the lack of finish on the line as a whole, it's worth noting that Nic ranks 5th on the team for rush attempts amongst the forward group; 3rd if you care to discount the 8 and 9 games that Daniel Sprong and Sam Carrick have respectively played. This would rank him 200th overall amongst league forwards who have played at least 10 games (185th of those who have played at least 20), which places him only just outside of top 6 forward numbers.
Perhaps as a result of these rush attempts Nicolas Deslauriers sits 8th on the team for high-danger Corsi attempts and 9th for expected goals when accounting for time on ice. Once again, feeding his dangerous shot. These rushes are also allowing him to draw penalties at a team-leading rate, which could be incredibly advantageous should the Anaheim Ducks power play return even so far as the league average.
So adept is he at drawing penalties that only 12 forwards in the league, amongst players with at least 10 games, draw them at a higher rate (per minute of ice time). Only 8 forwards with at least 20 games under their belt can do better. Those are absurd numbers. Sidney Crosby. Alex Ovechkin. Nathan MacKinnon. Pick a name and the odds are that none of them can draw calls like Nicolas Deslauriers.
One of the biggest issues with bringing in young players and not having any space to play them in top 6, or even top 9, roles, is that they're often left wallowing with a lower level of teammate while still being forced to do the heavy lifting against a similar level of competition. For the most part, it's the offensively orientated prospects who suffer the most. They need a helping hand bringing the puck up, they need to learn to go to the dirty areas on the ice to pick up tips and rebound goals.
Deslauriers Comes at a Good Price, but He Can Be More Effective
Deslauriers may not be a shiny new toy that gets the fans excited, but he may be a cheap piece that can facilitate the development of this current prospect group when they run out of roster spots to place them. He may give the more pugilistic fans a taste of what they want to see. At his price, he's also a disposable piece they can toss aside the instant they don't feel like he's got enough going on.
Going through the numbers, I'm not too big to avoid saying that I've made a mistake with my snap judgment on this extension. It's a good signing for the Ducks. It's a nice bit of security for a career bottom 6 player. The only question I truly have left is, why is a player who drives play like he can and create rebounds (and thus scoring chances as he can) being tasked to fight so often?
Surely there is a method to the madness that his regular linemate, the most elite of the 1C's, Mr. Derek Grant, is scoring at such a prolific rate. I can't help but wonder if Deslauriers would be more effective not sitting in the sin bin so often.
There's no doubt he's not going to start scoring 30, but a few more goals and a bunch more powerplays could certainly go a long way towards the Anaheim Ducks once again hitting the league median and mean for goals per game. Maybe its time for the coach to run him out and see what he can become. Dallas Eakins, the balls in your court.
**All statistics provided are for 5v5 unless otherwise stated. They can be sourced from naturalstattrick.com.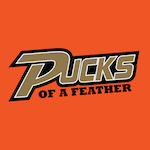 Want your voice heard? Join the Pucks Of A Feather team!
Write for us!
Are you a passionate Anaheim Ducks fan that loves reading Pucks of a Feather? If so, we would love to have you on board as a contributor! Just follow the link above for more information on how to join the crew.