Anaheim Ducks: Sam Steel and Troy Terry Miscast in Current Roles
The once hyped prospects of the Anaheim Ducks have ridden a bumpy road of recent years. Troy Terry has gone from the high of dominating the Olympics (admittedly in a year the professionals didn't attend) to his most recent slump of form. We need to travel back to the 23rd of February 2020 to see Terry trouble the scored board. Since then he was dropped after the 2020 trade deadline and has been dropped on two occasions this season.
Sam Steel has gone from his D+1 season in which he put up 131 regular-season points and 30 playoff points to almost looking afraid to score these past two seasons. In the 2020 season, it wasn't strange to see Steel whiff on wide-open nets or have the puck bobble off of his stick. It looks to be the same again in the early going of this fractured 2021 season.
So with that said, can either player reclaim or live up to the hype they once had as saviors of the Anaheim Ducks franchise post-Getzlaf?
The above quote is quite obviously about Jake Virtanen. However, I can't help but wonder if it applies here too. What are Terry and Steel? While both players do have a skill set they showcase at times, I don't think anyone today is going to confuse them with being highly skilled players who make their money from that and that alone. Their lack of finish alone suggests their skills do not place them in that category of player. Do they have the grit to become something else?
Is Terry Being Miscast in his Role with the Anaheim Ducks?
Six months ago, I wrote about Terry in terms of his contract and nous as a defensive player. He really, truly, made significant strides last season towards being a defensive forward. He had the ability to break up play and then transition the puck into the offensive zone. However, that seems to have faded this season. He still has the skills to perform that role, yet he seems to rarely be in the position to utilize them.
What then is his role on the Anaheim Ducks exactly? He doesn't have a particularly dangerous shot, and while his perimeter passing is fine, he struggles to get those passes through high danger areas. It was an issue last season and it appears to be an issue this season as well. In many ways, he appears to be the EA Sports "Create A Player" who ran put all of his stats into skating and forgot about the offensive ones.
If I had to hazard a guess, it almost seems like the team is trying to force the Captain America thing along, following his Olympics now so long ago. Unfortunately, for player and team, it doesn't appear to be playing to the player's strengths.
Certainly, Terry has pockets of quality play, but the consistency simply isn't there for him. Clearly, the coach agrees, as Terry has been dropped relatively regularly since last year's trade deadline, with even his TOI/GP amongst the lowest of all forwards on the team (5v5) when he does play.
The Anaheim Ducks coaching staff need to recognize that Terry isn't TJ Oshie and the Olympics is a long time in the rear-view mirror. If he's not creating offensively then perhaps his role should be adjusted to reflect what his strengths are, not what the coaching staff wishes they were.
Does Terry have the grit to play a purely defensive role? It's tough to say. The eye test suggests to me that he shy's away from contact, and is somewhat supported by him being the lowest hitting forward on the team. Though he does seem to take his fair share of contact from the opposition, so perhaps I'm being unfair towards him.
It's not impossible to eke out an existence as a defensive forward with minimal physical contact. Derek Grant is the 3rd lowest hitting forward and has the lowest hits-taken rate of all players on the team as a ready-made example. Grant, of course, blocks shots like a beast, whereas Terry doesn't have one to his name this season.
With all of this said, it's not impossible for Terry to own a bottom 6 role if he can break up play and transition the puck forward. It seems unlikely that he'll ever live up to the hype he once had on the offensive end (I'm not sure if Crosby could have lived up to Terry's hype), but perhaps he can become an effective NHL player and lean towards his strengths.
Allow him to break up plays and transition the puck forward. He doesn't need to be a goal scorer in the NHL, but at 23-years-old, he does need to find a role he can command as his own.
Would a Simplified Game Help Steel Thrive?
Steel's a bit of a different beast. As one of the few centers on the Anaheim Ducks, he's largely been kept to that role. It seems like he's been tasked to run an offensive game alongside Terry and Max Comtois, yet he himself isn't a particularly adept scorer.
His game appears most suited to be a playmaker as he's decreased his shooting rate (shots over time) by nearly half since his debut season. However, one of his linemates isn't a great shot and Steel doesn't appear to be able to get the puck to them with regularity.
Further, Steel appears to be turnover prone. He has one of the highest giveaway rates on the team and takes a bunch of poor penalties from being out of position. The "defensive" aspect of playing the pivot simply doesn't seem like it's his strong point, though admittedly it's hard to truly judge in the unorganized environment that we are currently in.
What if Steel wasn't a center, but a wing? I appreciate that his face-off prowess has improved each season, however, that isn't all there is to playing the position. Perhaps if Steel weren't tasked to be the primary puck handler, he would be able to take that playmakers role and run it from the wing position, using his vision to find the open player. It could be that he takes the face-off before shifting to the wings role and responsibilities or it could be that he switches between the positions to give the coach options for the playbook.
Nonetheless, I believe that Steel is a player lacking in confidence and that simplifying his role could help bring that confidence back up. Firstly, the player seems snake-bitten as a shooter, and as a result, his shooting rate has declined over the past three seasons. Secondly, are his turnovers due to a lack of skill, or is it in part due to "freezing" with his decision making and second-guessing himself?
Would these concerns be somewhat mitigated if Steel was no longer tasked with being a primary puck handler or with the defensive responsibilities of playing the pivot? On a well-drilled team, it would seem likely that each player would have a strong understanding of where their linemates would be skating to and where the open ice will be. That knowledge would cut down on the time required to think and observe, which may also, in turn, cut down on puck handling errors and turnovers.
I do think Steel is a flawed player, and that those flaws will prevent him from being a top-6 offensive weapon for the Anaheim Ducks. However, Ryan Getzlaf is someone who turns the puck over with regularity, yet was once a top 5 player in the league. Steel likely isn't the defensive forward Getzlaf turned into and he certainly doesn't have the big frame to create his own space as Getzlaf has.
He doesn't have the speed or elusive skating to create space in a different way. Thus, I can imagine the time afforded to him in a less responsible role would help him find players and to adjust his shot, just a little more. He can be an effective third-line option. Certainly more effective than he is at present.
What are They? What Should They Do?
With regards to the Ferraro quote, it might be that pushing these kids to live off their skills in the manner that they currently are might be the wrong way to go about it. Terry could stand to add some more grit and jam to his game. Steel could possibly live off of his skill set but in a different role. Neither are succeeding at present, and it's the second consecutive season they've slipped in their play.
It would behoove the Anaheim Ducks to make sure they know what they have before they trade both players away. Hopefully, the team has learned its lessons from watching all of the players the Ducks have let go, perform almost excellently in their new homes. Though given that the team has yet to change either player's role, it's hard to imagine that's the case.
At this stage, one wonders what their success will look like when they eventually find their new homes because at this stage they don't look like they'll be long-term Ducks, let alone match their early career hype.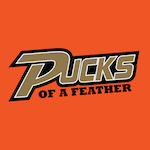 Want your voice heard? Join the Pucks Of A Feather team!
Write for us!
Are you a passionate Anaheim Ducks fan that loves reading Pucks of a Feather? If so, we would love to have you on board as a contributor! Just follow the link above for more information on how to join the crew.