Anaheim Ducks: Troy Terry's New Contract Protects the Ducks
Troy Terry's contract extension is looking like a very good deal for both the young forward and the Anaheim Ducks.
The dust has well and truly settled on Troy Terry's contract extension with the Anaheim Ducks, and while it may be late to the party, we at Pucks of a Feather felt that we should weigh in with our thoughts.
Right out in front, the deal is for the next three seasons, kicking in at the commencement of the 2020-2021 season.) It holds an annual average salary (AAV) and cap hit of $1.45 million, though the base salary increases by $100k each year, from $1.35 million in year one to $1.55 million in year three.
For this price, the Anaheim Ducks have purchased one RFA season without arbitration rights and two RFA seasons with arbitration rights. It's worth noting that at the end of this contract, Terry will still be an RFA with arbitration rights. In essence, the structure of this deal builds in a lot of protection for the Ducks from a team-building perspective, while not necessarily giving the player a lot of room to move in the future.
Terry won't be able to punch his own ticket as he would as a UFA, nor will he have a great deal of wiggle room in negotiating with the team, as they can easily take him to the arbitration board. Though this goes in both directions if the Ducks were to truly lowball him at that time.
Troy Terry's Contract is Reminiscent of Kyle Palmeri's
In some respects, there is a remarkable likeness between this new Terry extension and the first deal Bob Murray signed Kyle Palmieri to as he came off his entry-level contract (ELC.) Palmieri had scored 21 points in 42 games (~0.50 points per game pace) in his final ELC season. He was given a three-year extension with an AAV of $1,466,667 that started with a base salary of $1.35 million and increased each season through to $1.6 million in its final season.
Though it should be noted, Palmieri's contract took up a greater percentage of the salary cap (~2.28%) than Terry's will (~1.78%), which is likely a reflection of Palmieri's 1st round draft status and greater point production. Like Terry's new deal, Palmieri's similarly had him remain as an RFA when he came out of contract at the end.
This provided the Ducks with attractive trade piece, which they famously traded to the New Jersey Devils prior to the 2014-2015 season. Palmeri, of course, went on to score 30 goals and 57 points in that next season before the Devil's extended him to a $4.65M (AAV) deal, spanning five seasons.
It would appear that the Ducks have an eye on the future by having Terry sign this team-friendly deal. Taking up merely 1.78% of the salary cap gives the Ducks an opportunity to trade Terry leading into the expansion draft should they consider that route. At present, the Ducks will not be able to protect all of the forwards they may consider valuable, thus trading for future assets may be a consideration.
Alternatively, having a cheap option to place either in the bottom or top 6 provides them with team building options in the future should the team rebound in a meaningful way. Firstly, if we assume that Terry is an offensive weapon waiting to break out, then $1.45 million for a top 6 option would then allow the Anaheim Ducks to spend heavily in other areas.
Teams need cheap scoring options and Terry, should he succeed, may provide that. Should he not necessarily reach the heights of being a top 6 forward, then it may also be said that a bottom 6 forward taking up less than 2% of the salary cap will not break the bank either.
Comparisons Across the NHL
With that in mind, consider some of the following comparisons across the league:
In this first group, we have some elder players who have comparable points totals to Terry's in this past season. Straight up there is a far higher percentage of the cap being attributed to "leadership" or whatever many of these players bring to the table that is worth their salary.
The second group is closer to Terry's age bracket and, for the most part, have comparable results. Virtanen is the natural standout, yet he was a #6 overall selection and he should be scoring more than a 5th round pick, on his RFA deal. The other players on this list are all ~2-3 years older and are clearly in reach of Terry from where we sit presently.
It is clear that the contract extension Terry has signed is in line with players around the league. It is also clear that the Anaheim Ducks have been doing relatively well to avoid signing an older player to a far greater contract, in order for them to fill the same role. It's a savvy move should the cookie crumble that way, and something they should keep in mind no matter what happens with Terry's development.
Could Tory Terry Make His Mark as a Defensive Forward?
Personally, I believe in expecting the best and planning for the worst, thus my sights would be set on Terry commanding a bottom 6 role in the future. This expectation is based on a few different rationales. Firstly, like many of the Anaheim Ducks young players, he took a step back offensively under Dallas Eakins (~0.41 down to ~0.36 point per game pace) in his NHL play.
Though it is notable that his AHL point pace increased by ~0.14 between Eakins in 2018-2019 and Kevin Dineen this previous season. Either way, aging curves would suggest that at age 22, Terry should be in or very near, the peak of his scoring powers. He has room to move but typically speaking, perhaps not substantially. It is also worth noting that Terry has already exceeded his eNHL projections from his D and D-1 seasons.
The Anaheim Ducks can't do much more for Terry than play him with Ryan Getzlaf, who was one of his most common linemates this past season. Thus, it may be time to, still hope that he may break out, focus on other aspects of play.
Thus perhaps Terry can make his mark as a defensive forward, rather than an offensive one. Ducks fans would remember Andrew Cogliano well, and perhaps following in his footsteps would be a solid blueprint for the young man. Cogliano, like Terry, moved into the college ranks from junior hockey and became a scoring star before moving into a top 6 role in the NHL almost straight away.
Also similar to Terry, Cogliano's first NHL season was relatively strong in terms of point production, before his scoring dwindled away. He, of course, went on to make his mark as a defensive forward, and to become quite possibly one of the most underrated penalty killers in the league for a number of years.
He eventually wound up helping Jakob Silfverberg carry Ryan Kesler around the rink on the 2nd line for a number of years. In Terry's case, he has been a lesser scorer than Cogliano at every level and doesn't quite have the tools or raw speed that Cogliano possessed. Yet, he may have a better defensive ability despite that.
Firstly, let us work on the premise that as a player develops greater knowledge of the game, their ability to read the play and to maintain positioning will improve. This hypothesis isn't necessarily true, as many elite defensive forwards are merely former scoring stars who no longer had the physical tools (or roster spots!) to maintain a good scoring pace.
Survivorship bias is a very real thing in the NHL. However, even given that it's likely that defensive play will improve somewhat as a player moves from their teenage years into their mid-20's. At 22 years of age, Terry has some room to grow as a defensive forward. Particularly if he is tasked with that role to exclusively focus upon. Though even should he not have this focus, it bears mentioning that Terry is already one of the strongest defensive players on the Anaheim Ducks roster.
The Stats to Back It Up
Last season, Terry stood out amongst his peers in the following defensive areas:
1. Breaking up opposition plays as they enter the zone (denials)
2. Loose puck recovery
3. Defensive exit carries (amongst forwards only)
4. Rel* Corsi Allowed per 60 minutes of play
5. Rel* expected Goals Allowed per 60 minutes of play
6. Rel* Goals Allowed per 60 minutes of play
7. On-ice Goals Allowed per 60 minutes of play
*Relative to teammates.
Thus we come to the realization that Terry is already stronger than many of the current Anaheim Ducks across a number of defensive statistics. Naturally, there is a lot of moving parts to this, and further research would be required, but it also highlights an interesting starting point should the Ducks choose to go in this direction. Keep in mind, Terry was primarily gifted with a top 6 scoring role this season.
In that offensive role, Terry put up middle of the table primary assist numbers which may be related somewhat to the incredibly low number of high-danger area passes he executed. Thus, consider that a player primarily considered a playmaker was not making passes to dangerous areas of the ice. In some ways, this may be considered a high growth area for the player going forward, yet it may also be a sign that the player isn't necessarily a big-time point producer at NHL level.
Added to that, Terry was the 11th ranked forward for shots per 60 minutes of player, amongst all Ducks who played in excess of 10 games last season. He isn't a goal-scoring threat, nor is his playmaking ability dangerous at present.
However, Terry has some tools that the Ducks would love to take advantage of. Primarily, Terry is one of the top 20 players in the entire NHL at neutral zone carries. While this could be considered an offensive asset, and it is, consider that the role of the defensive unit in modern hockey is to regain the puck and turn defense into offense.
Terry is currently showing great signs at breaking up opposition plays, at recovering loose pucks, and at exiting the defensive zone while carrying the puck. If we assume that he can skate the puck out of the defensive zone and through the neutral zone, all that remains is to enter the offensive zone. In this too, Terry has shown he is strong (relative to his teammates) at offensive zone entry carries. He's quite literally shown himself to be the archetypical modern-day defensive player. If he had the ability to shoot the puck or distribute it to a big-time shooter, he may develop the ability to rise to the league's top echelons. Thus, we can see the upside to the contract extension.
However, thus far Terry has failed to show much offensively outside of his carrying abilities. Could the Ducks then consider Terry as a defensive forward who could recover the puck in their own zone then transition it into offense before making a line change? That would seemingly give Terry an opportunity to produce offense in the initial offensive foray, but also allow him to focus on his strengths as a disruptor of opposition play and a defensive stalwart.
The line change would then allow for more offensively dominant players to shine in their way. Starting in the offensive zone when the Ducks have the puck already, or by starting their off of a face-off (assuming the netminder had frozen the puck on the initial zone entry).
Playing Terry in this manner would allow the coach to optimize the strengths of a greater number of players, which would then likely contribute to the Ducks' success as a team. This would also likely suppress the financial increases of any of Terry's future contracts given that he would not be in a purely point producing role. With the future of Anaheim Ducks scoring stars likely starting with Trevor Zegras, stretching out the value of contracts could be a strong consideration for Ducks management. Though as noted above, a solid defensive player taking up less than 2% of the salary cap is hardly a large concern for a team that would have designs on competing for a cup.
A Good Deal for the Anaheim Ducks
Cutting a long story short, I believe that the extension signed by Terry has a lot of protection built-in for the Anaheim Ducks. There are multiple upsides to the deal, including that Terry realizes a potential that so many Ducks fans want him to have, and becomes the top 6, point-producing, forward that the team desperately needs, like his progenitor Palmieri.
He may also become a defensive stalwart adept at transitioning defense into scoring opportunities for his team, like the former fan favorite, Andrew Cogliano. He may even be an attractive trade piece that other teams may be willing to pony up expansion draft uneligible assets to acquire. All the while, the only downside is that he is a 2-year younger version of recent cup winner Ivan Barbashev, scoring at an ~0.06 slower point per game pace for $25k less per year. It's a great deal for the Anaheim Ducks.
Data collected from @EvolvingHockey, @CapFriendly, @PuckIQ, @ShutdownLine, @NHL, @HockeyGraphs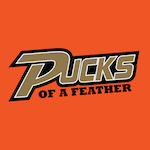 Want your voice heard? Join the Pucks Of A Feather team!
Write for us!
Are you a passionate Anaheim Ducks fan that loves reading Pucks of a Feather? If so, we would love to have you on board as a contributor! Just follow the link above for more information on how to join the crew.