Anaheim Ducks: 5 Up-and-Coming Players to be Excited About
The Anaheim Ducks have a lot of prospects to get excited about. However, these five up-and-coming players have the potential to make a positive change sooner rather than later.
To be an Anaheim Ducks fan in 2020 means accepting mediocrity. Any stakeholder of this team knows that there is work to be done and likely dark days ahead. However, due to 5 players that our team has pinpointed, there is reason for optimism.
Given that the majority of our team is still made up of aging veterans, and some of our prospects may not see NHL ice this year, it has altered how I've gone about this piece. And this isn't to say that I'm not excited about roster players that will see the ice this year, but help is indeed coming, and it has me excited. So, here is my list of current and incoming players that have us excited…
Trevor Zegras
At this point, you'd be hard-pressed to find a Ducks' fan that doesn't pencil Zegras in as the prospect they're most excited for. After his dominant freshman year at BU, in which he scored at higher than a point-per-game pace, he continues to project as a high-end prospect, capable of centering a team's first line.
Ducks' fans should expect the call-up to happen sooner rather than later, and I wouldn't be surprised if the Anaheim Ducks give him a taste this year. His playmaking skills force players around him to step up and play on his level night in and night out. Maybe most importantly; he provides the entire franchise with hope and intrigue moving forward. Simply put, Zegras is a game-changer.
Jamie Drysdale
Jamie Drysdale is the prototype of the new generation of NHL defenders. His relative lack of physicality and diminutive size is less worrying when you consider what else he brings to the table. Suffice to say, Drysdale drives play when he's on the ice.
Pining hockey fans were recently given a chance to curb their desires by watching Hockey Canada's WJC intra-squad scrimmage. The two games featured Jamie Drysdale anchoring the presumed first line of defense along with Bowen Byram. The confidence radiated. The poise was palpable. It was a sight to see.
With players like Quinn Hughes and Cale Makar entering into the league and quickly making their marks, I see no reason why Drysdale can't be the next in line to challenge for a Calder Trophy as a defenseman. This is especially true because he will likely be paired up with a quality NHL defender in his rookie year. Whether it be Cam Fowler, Hampus Lindholm, or somebody else, remains to be seen. But there are surely enough veteran minds in the Anaheim Ducks' defensive corps who will be able to usher him into the next level with ease.
Troy Terry
Troy Terry has potential, and that is undeniable. Whether or not he lives up to this potential is up for debate. At 23 years old, some people feel as though he should've progressed more than what currently meets the eye. I think those people need to gain some perspective.
As my fellow contributor Ben pointed out earlier this year, Terry provides value in many ways. Particularly, he shows a defensive prowess that is unmatched amongst his Duck peers. His Corsi percentages and puck-carrying skills also suggest that he has untapped offensive potential.
Regardless of his usage, Terry will be a strong presence for the Anaheim Ducks in the coming years. And let's all remember that he is a fifth-round pick. Fifth-round picks often don't even step foot on an NHL rink. The fact that we are talking about Terry in this regard at all is a win in and of itself.
Sam Steel
Sam Steel is similar to Terry in the sense that there is an evident potential that hasn't nearly been reached. We hope. Given the Anaheim Ducks' recent poor play, it will undoubtedly be harder for young players like Steel to pick up their offensive production. Adding into the mix veterans like David Backes, Carter Rowney, Derek Grant, and others who will take opportunities away from him, and this task only becomes more difficult.
Even while accounting for the above, I don't think anybody would be surprised if the former WHL 100-point-scorer chips in 45+ points at the NHL level. It feels almost unnecessary to be justifying the growing pains of a 22-year-old hockey player; and one that plays on an offensively inept team, no less. Steel has shown flashes that should indicate to any Ducks' fans that he will reach his potential.
Lukas Dostal
To preface this choice: I'll be the first to admit that it feels weird not including John Gibson in this list. He's still only 27, meaning he presumably has at least half a decade of prime goaltending years ahead of him. And he has regularly proven to be one of the top goaltenders in the NHL to this point. However, due to the current state of the Anaheim Ducks, I don't believe it is a guarantee that he will play out his current contract with the Ducks. There is always the possibility that he gets moved at a deadline for future assets.
That being said, Dostal would make this hypothetical trade much easier. The Anaheim Ducks seem to have good luck with goalies, and Dostal is no exception. As a 19-year-old playing in Finland's top professional league, Dostal won the "Urpo Ylonen Trophy" as the league's best goaltender. As a 19-year-old.
The Finnish Liiga has proven to be an NHL goalie hotbed. Goalies like Tim Thomas, Niklas Backstrom, Antti Raanta, and Kari Lehtonen have not only competed in this league, but have also won the same trophy that Dostal currently claims as his own.
The caveat here is that goalies tend to have up and down years for one reason or another. And while Dostal's sample size is still fairly small, his consistent play is promising, to say the least. He first started playing in the Finnish Liiga in 2018 and kicked off his professional career with a sub 2.00 GAA and a Save % above .920. Great marks for such a young player.
He followed his Liiga debut up with the aforementioned Urpo Ylonen Trophy by posting a 1.78 GAA and a .928 save %. Could he keep this up for another year, one might ask? Well, after 11 games this year, he has once again lowered his GAA, and raised his save %, all while recording just one loss. As I said, the Anaheim Ducks are lucky when it comes to goaltenders.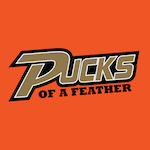 Want your voice heard? Join the Pucks Of A Feather team!
Write for us!
Are you a passionate Anaheim Ducks fan that loves reading Pucks of a Feather? If so, we would love to have you on board as a contributor! Just follow the link above for more information on how to join the crew.