Derek Grant Returns to the Anaheim Ducks After Inking 3-Year Deal
The Anaheim Ducks first big move during free agency was locking down Derek Grant for the next 3-years.
It was just about a week ago that signing Derek Grant to another contract seemed like the most unlikely of situations for the Anaheim Ducks. Nevertheless, Bob Murray, by trading Erik Gudbranson, cleared about $4M in cap space. On the first day of free agency, the first player he signed was none other than our beloved Elite 1 C.
According to CapFriendly.com, the 30-year-old forward has inked a 3-year contract that values $4.5M, with an AAV of $1.5M. That is a nice little pay raise from his 1-year, $700k, contract he signed in 2019. However, it is much deserved after his performance with the Anaheim Ducks throughout the 2019-20 season.
This will be Grant's third stint with the Ducks in the last four years. At the trade deadline, Murray traded him to the Philadelphia Flyers for Kyle Criscuolo and the Nashville Predators 2020 4th round pick. At the 2020 NHL Entry Draft, the Ducks used that pick to select defenseman Thimo Nickl with the 104th overall selection.
Between the two teams, Grant posted a 25 point season (on pace for a 37 point season) which is his best season to date. Despite being traded in February, the 4th line center was 4th on the team in goals, potting 14 in 49 games, including a hat trick against the St. Louis Blues in November.
Bob Murray has made it clear that he is tired of rebuilding and wants his team to be competitive again and ready for the playoffs. Clearly, he believes that Grant might be a part of that solution. Despite his advanced statistics being less than stellar, he still managed to put points on the board for a team that struggled in that very aspect.
He continues to thrive in Anaheim and, hopefully, he continues to do so. Where exactly Grant fits in the lineup remains to be seen. My best guess is that he returns to the fourth line between Carter Rowney and Nicolas Deslauriers, as the three had incredible chemistry last season. However, the return of Grant likely snuffs out the dreams of hopeful fans who thought this would be Trevor Zegras rookie season with the big club.
Regardless, most Anaheim Ducks fans are elated to have Derek Grant back in the fold for three more years. And if you're looking to purchase a new jersey for the 2020-21 season, he's a pretty good choice considering that Murray always seems to circle back to Elite 1 C, Derek Grant.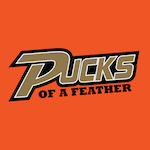 Want your voice heard? Join the Pucks Of A Feather team!
Write for us!
Are you a passionate Anaheim Ducks fan that loves reading Pucks of a Feather? If so, we would love to have you on board as a contributor! Just follow the link above for more information on how to join the crew.