Derek Grant No Longer Makes Sense for the Anaheim Ducks
Since he was traded at the 2020 Trade Deadline, we have been waiting for the return of Derek Grant. However, he may no longer make sense for the Anaheim Ducks.
Before he landed in Anaheim, Derek Grant floated around the NHL. Hoping to find a place where he fit in and could put down roots, he continued to bounce from team to team, playing for four teams in four seasons. However, he finally seemed to have a breakthrough when Bob Murray gave him a chance and signed him to the Anaheim Ducks via free agency in 2017.
His previous 4 point season-high was bested six times over when he put up 24 points in his 2017 campaign with the Ducks. In a weird twist of fate, Granted ended up centering the top line for a hot minute while the team was wracked with injury, earning him the beloved name of Elite 1 C from the fans.
After being traded to the Philadelphia Flyers at the 2020 NHL Trade Deadline, fans have been anxiously awaiting the return of fan-favorite, Derek Grant. Free Agency is quickly approaching. However, there is a very high probability that Grant no longer fits into the plans for the Anaheim Ducks going forward.
Talking Cap
The biggest obstacle for the Anaheim Ducks going into Free Agency is the cap. Taking on David Backes' contract and Corey Perry's buyout, Bob Murray may have bitten off a little more than he can chew. According to CapFriendly.com, the Anaheim Ducks have a projected Cap Space of $470,001 for the 2020-21 season.
Murray still needs to sign a backup goaltender, whether it's Ryan Miller or someone else, and he has a limited amount of room to do it. Granted, the Ducks will have a little wiggle room with Ryan Kesler on LTIR. However, that doesn't help them out much in the grand scheme of things. Derek Grant is unlikely to demand an extravagant contract, but whatever contract Grant would demand is more than what the Anaheim Ducks can likely afford.
There is always the possibility of trading a player like Adam Henrique, Josh Manson, or Jakob Silfverberg to open up a little bit of cap space. But, the likelihood of Murray being able to open up a significant amount of cap space is slim to none. A team willing to take on one of those three contracts would more than likely demand that the Anaheim Ducks get a similar package in return, giving them no wiggle room.
The Roadblock that is David Backes
Another roadblock that could prevent Derek Grant from returning to Anaheim is a player by the name of David Backes. Backes was a contract dump for the Boston Bruins. The Anaheim Ducks also received the Bruins 2020 1st round draft pick and Boston was gifted with Ondrej Kase. However, Backes' contract of $4,500,000 over the next season, presents a problem.
While Backes is a 36-year-old forward who has already begun the steep descent of his decline, the Anaheim Ducks have expressed their disinterest in buying out his contract. So, why let $4.5M sit on the bench for an entire season, barring injures? That, in itself, would be the definition of insanity.
Backes had a 6 point season in 2019-20. Three of those points were acquired during his 6 games run with the Anaheim Ducks. Had he been given the chance to play for the entire season, Backes was on pace to have a 22 point season.
Derek Grant saw an increase in his goal-scoring and contributed considerably for the Anaheim Ducks, Grant was on pace to have a 37 point season. While there is a gap between their predicted production, it is not one of incredible significance. So, again, there is no point in bringing Derek Grant back to the team if David Backes can contribute, especially with $4.5M on the books.
Maybe Someday…
While it pains me to write this, unless Bob Murray has one last miracle left up his sleeve, Derek Grant's days in Anaheim are likely over, at least for now. When the Anaheim Ducks are able to put David Backes' contract behind them, there's always the possibility of a reunion with Elite 1 C. However, for the time being, Derek Grant doesn't logically fit into the equation for the Anaheim Ducks.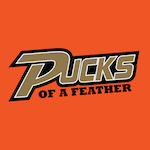 Want your voice heard? Join the Pucks Of A Feather team!
Write for us!
Are you a passionate Anaheim Ducks fan that loves reading Pucks of a Feather? If so, we would love to have you on board as a contributor! Just follow the link above for more information on how to join the crew.