Anaheim Ducks: The Carolina Hurricanes Should Inquire about Ryan Miller
The Carolina Hurricanes need some help between the pipes. Anaheim Ducks backup goaltender, Ryan Miller, could be a great addition to the hopeful playoff contenders.
In a shocking twist of events, the Carolina Hurricanes lost both of their goaltenders to injury during their Saturday night 6-3 win against the Toronto Maple Leafs. David Ayres, the Toronto Maple Leafs in-house emergency goaltender, came to the Canes rescue. Trading for a goaltender could be a priority for Don Waddell before the Monday trade deadline and it might be in his best interest to get the Anaheim Ducks on the phone.
Losing both goaltenders to injury this late in the season is not ideal for a team that is in the playoff hunt. The Carolina Hurricanes are barely holding onto a wildcard spot as it is, with Columbus on their tale and New York and Florida not far behind either. Despite losing James Reimer and Petr Mrazek, however, the goaltending tandem has posted an underwhelming combined .904% save percentage throughout the season.
It is the raw talent of players like Sebastian Aho, Andrei Svechnikov, and Teuvo Teravainen who have kept the team in the playoff hunt. The unfortunate hit to their blueline, with the injuries of Dougie Hamilton and Brett Pesce, is another issue that must be addressed. However, the team has young studs like Jake Bean awaiting a callup from the AHL. Could Ryan Miller be an easy fix to their goaltending conundrum?
A Difficult Trade, but Not Impossible
There are a few obstacles that could potentially make this a difficult trade. The first and most prevalent obstacle for the Anaheim Ducks is Ryan Miller's Modified No-Trade Clause. Last season, he declined a trade around the trade deadline in favor of staying in Orange County with his wife and son. Extended over the summer, Bob Murray agreed to add a Modified NTC to Miller's contract. The veteran goaltender's clause details include a submitted 6 team trade list according to CapFriendly.
There is also the issue of the Justin Faulk and Ondrej Kase trade that fell through. While it has not been confirmed who leaked the information before Murray was able to notify Kase about the possibility of moving him to Carolina, the broken trust between Waddell and Murray could be a negative factor in future negotiations.
On the flip side, the Canes have two incredible prospects developing with the Charlotte Checkers. At the beginning of the season, it was a tight race between Alex Nedeljkovic and James Reimer for the backup position. 27-year-old Anton Forsberg has also been compared by Canes fans to Jordan Binnington and Elvis Merzlikins. Considering that they are both reliable options for the big club, and with Mrazek assumed to be out for a short period of time, it is quite possible that Carolina feels no need to look elsewhere for a goaltender.
Nevertheless, rumors that Robin Lehner has been on their radar for quite some time means that Waddell and the Canes have been weighing their options. According to Pierre LeBrun, however, Chicago's asking price for Lehner could be too high. All things considered, if the Ducks are serious about accruing assets and the Canes want a seasoned veteran to back them up in net throughout their playoff hunt, this trade, while it may be difficult, is not impossible for both parties involved.
Why Should the Hurricanes Consider Ryan Miller?
There is the obvious concern that Ryan Miller has been somewhat streaky this season. His .907% save percentage and 3.06 GAA could be a turn off for a team with playoff dreams. Nevertheless, the Carolina Hurricanes have something the Anaheim Ducks don't have in the slightest, a defense that plays… defense.
Aside from a few blunders here and there, the Canes defense has been steady throughout the season. Granted, their recent injuries will certainly shake things up with Hamilton and Pesce out, but a few minor adjustments shouldn't make it difficult for the team to compete. Dallas Eakins' unwillingness to let his team play a defensive style of hockey has been difficult on both the Anaheim Ducks netminders.
John Gibson has statistically been having his worst season to date. Miller is struggling in a similar fashion, seeing a decline in his stats as the Ducks backup goaltender. What can be said about Miller, however, is that he has not lost his competitive spirit. He has remained tenacious and spirited despite having no coverage from his team.
While he has a 7-6-3 win-loss record this year, he has single-handedly kept his team in games they should have lost and kept them from being blown out in games where there has otherwise been no effort. Miller works harder than anyone else on the Anaheim Ducks roster when he is in net, and while, by his own omission, he has found this season to be more difficult on his body than years before, he could be the key to a team like the Carolina Hurricanes playoff formula.
Dedication, perseverance, and experience are three components to Miller's game that could make him a desirable acquisition. Mind you, he is the greatest American born goaltender in NHL history! While that doesn't make him qualified to be a starter in the NHL at this point in his career, he could offer guidance and reinforcement to one of the inexperienced AHL goaltenders looking to make their mark between the pipes for the Carolina Hurricanes.
Despite several incredible years in the NHL, Miller has never once touched the Stanley Cup. His window is closing, and being traded to a contender could be his final opportunity at winning the ultimate prize. While his dedication to his family and the Anaheim Ducks is admirable, Miller is a UFA at the end of the season. The Ducks could easily resign him if he's up for another year, and he wouldn't be spending too much time away from his family should he be traded.
There are still a lot of questions. The Carolina Hurricanes may not be willing to pay the price asked by the Anaheim Ducks and vice versa. Nevertheless, Don Waddell would be a fool not to at least pick up the phone, mend the bridges that have been burned, and inquire about Ryan Miller's availability.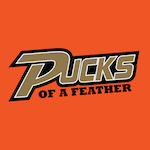 Want your voice heard? Join the Pucks Of A Feather team!
Write for us!
Are you a passionate Anaheim Ducks fan that loves reading Pucks of a Feather? If so, we would love to have you on board as a contributor! Just follow the link above for more information on how to join the crew.