Anaheim Ducks: Does Ryan Miller Have One More Year Left in Him?
Ryan Miller will be 40 years old at the conclusion of his current contract with the Anaheim Ducks. However, the veteran netminder might have one more year left in him.
After Friday night's 3-1 win against the LA Kings, the proven hero of the game was none other than Ryan Miller. Stopping 46 of 47 shots, he held the Anaheim Ducks in the game when exhaustion from the previous night began to set in. With Miller's current contract set to expire at the conclusion of the season, his performance this year begs the question: does Ryan Miller have another year left in him?
Retirement is inevitable for the veteran netminder, as Father Time will catch up with him soon, if it hasn't already. Nevertheless, having both John Gibson and Miller between the pipes has been a breath of fresh air for fans who have been subjected to the stress of the 2019-20 season. This season definetly hasn't been easy on either masked man, especially with the lack of support from their team, but despite his age, Miller has managed to keep up and show up when he takes over the duties of his protege.
Miller's .912% save percentage is keeping him right on pace to match, or even exceed, his stats from last season. Although he lost four games between December 6th and January 7th, in his last two starts, he has limited the opposition to one goal, giving the Anaheim Ducks the extra edge to win against the Carolina Hurricanes and LA Kings.
It is unlikely that Miller will see many more games this season. The Anaheim Ducks have a few back to backs lined up this month, but if Gibson remains healthy, he is projected to take most of the starts. This gives Miller time to rest his body and prepare for what is sure to be a difficult descent to the season.
There is always the option that General Manager Bob Murray seeks to move him at the Trade Deadline. However, after keeping Miller with the team after last year's Trade Deadline, there is a big possibility RM30 will remain. He has not been silent about the fact that he wants to support his wife and her career here in Southern California. Moving is likely not an option for him unless he wants to make one last push with a contending team for the Stanley Cup.
Both Anthony Stolarz or Kevin Boyle could be an adequate option as Gibson's backups next season. Nevertheless, Miller still has a lot of wisdom to offer the franchise, especially the young goaltenders currently in the system such as Roman Durny, Lukas Dostal, and Olle Eriksson-Ek. His incredible work ethic, talent, and ability to guide and teach younger goaltenders has not gone unnoticed.
Despite being 26 and in the height of his prime, John Gibson still has much to learn. Subjecting the growing goaltenders to a mentor who is humble in nature and exudes integrity would do them a world of good. Besides, who doesn't want to learn from a former Vezina Trophy winner and the greatest American born goaltender of all time?
In my humble opinion, I believe Ryan Miller could be a serviceable backup for one more season. Should Miller have gas in the tank for one more season, there is no question about it: the Anaheim Ducks should sign him for one more year. Not only would the team be better for it, but it would be an honor to have Ryan Miller retire with the Anaheim Ducks.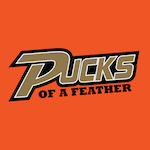 Want your voice heard? Join the Pucks Of A Feather team!
Write for us!
Are you an Anaheim Ducks fanatic that would enjoy writing for Pucks of a Feather? If so, just follow the link above for information on how you can join us!