Anaheim Ducks 2019-20 Mid-Season Grades: Left Wings
We are continuing with the Anaheim Ducks mid-season grades. Switching gears, we're turning to the wingers, looking to the men who play on the left.
The All-Star weekend has long since passed, and we're a little behind in our mid-season grades. Nevertheless, it wouldn't be fair to leave out everyone else when we've already graded the men down the middle and the great goaltending tandem. We asked for your help! You voted, we voted, and it's time to take a look at the men who play left wing for the Anaheim Ducks.
Nicolas Deslauriers
When Nicolas Deslauriers was acquired by the Anaheim Ducks during the offseason, fans were livid. What was Bob Murray thinking, letting a 4th round draft selection go to the Montreal Canadiens for a player who's never produced more than 15 points? Nevertheless, despite our initial skepticism, Deslaurier has quickly become a favorite among Anaheim Ducks fans.
Say what you will about the downward trend of fighting in hockey, Deslaurier has taken on an old school role and made it his own. Often, when he challenges another player to a fight, it sparks new life into his teammates. He also seems like a great locker room guy, often taking younger players under his wing.
While he will never be a prolific scorer, he's good in the role Dallas Eakins has entrusted him with. It's a little disappointing to watch Devin Shore ride the bench every night, but Deslaurier offers certain energy that the Shore simply cannot reproduce.
Whether you want to admit it or not, his fights are pretty entertaining. It doesn't just get his teammates back into the game, it gets the fans back into the game as well. You know you've enjoyed watching him try and beat the tar out of guys like Kurtis MacDermid and Austin Watson.
Reader Grades: C
Writer Grades: B-
NICOLAS DESLAURIES
LW,
Anaheim Ducks
C+
Max Jones
Max Jones has been one of our favorite rookies to watch here at Pucks of a Feather. While he is one of the lowest scoring rookies on the roster, with 8 points credited to his name, he is fun to watch. Some may criticize him for his lack of production due to the hype of the youth movement, but remember, Jones is classified as a power forward.
Jones doesn't always shine in every game, but his hard work doesn't go unnoticed. He's determined and passionate during every shift. While he has spent some time down in San Diego this season, he has outshone his AHL teammates, making it impossible for the Ducks to keep him down there long.
With a little more development and maybe some consistency, Jones will turn into a decent power forward one day. He is developing some beautiful chemistry with Ondrej Kase and Sam Steel, and it will be fun to watch them grow together as a line the more they play together this season.
Reader Grades: C
Writer Grades: B-
MAX JONES
LW,
Anaheim Ducks
C+
Maxime Comtois
Max Comtois is the rookie that everyone had such high hopes for at the beginning of the season. After his incredible start in Anaheim during the 2018-19 season, fans wanted more from the young winger. While he's produced decent numbers this season compared to his fellow rookies (5-6-11 in 29 games) he hasn't yet turned into the superstar we all hoped he would become.
Nevertheless, it is unfair of us to ask that much of Comtois in his first real go around in the NHL. It has been my opinion from the beginning that he would bode well from some development in the AHL. Apparently the Ducks agree with me, at least right now, and have sent him down to San Diego to further hone his craft in a more low key, yet still professional, environment.
Reader Grades: C
Writer Grades: C
MAXIME COMTOIS
LW,
Anaheim Ducks
C
Rickard Rakell
Rickard Rakell has had a decent season so far. He's on pace to have a better season than 2018-19, looking to have a 50+ point season if he keeps playing the way he has been. Some fans find that disappointing due to his 69 point season in 2017-18. He may not be playing to his full capacity this season, and part of that might be the inconsistency in linemates or trying to navigate a new system. Nevertheless, his point production this season fits his aging curve nicely. He has consistently been one of the Ducks better forwards.
Reader Grades: B
Writer Grades: B-
RICKARD RAKELL
LW,
Anaheim Ducks
B-
Nick Ritchie
Nick Ritchie isn't necessarily a fan favorite, but there is no question that he has taken a few steps back this season. However, this isn't necessarily his fault, as Dallas Eakins has put him in more of a grinding enforcer role rather than giving him a role as a power forward. Granted, Ritchie has also battled through injury this season. The good news is, despite spending inordinate amounts of time in the sin bin, he's shown an improvement in discipline, as well as other areas of his game. Nevertheless, his style doesn't really fit with Eakins' unconventional system.
Reader Grades: D+
Writer Grades: C-
NICK RITCHIE
LW,
Anaheim Ducks
C-
Chase De Leo
Chase De Leo has played one game with the Anaheim Ducks so far this season. That isn't necessarily enough time for fans to make an accurate assessment. However, he played an okay game against the Nashville Predators, but it wasn't anything to write home about.
Reader Grades: C
Writer Grades: C
CHASE DE LEO
LW,
Anaheim Ducks
C
Devin Shore
As unfortunate as it is, Devin Shore has spent the majority of the season as a healthy scratch. He doesn't really have a role on the Anaheim Ducks roster aside from slotting in when injury strikes. Shore is, however, a hard worker and can fulfill a bottom-six role for the Ducks if the need arises. In the games he's seen this season, he's played decently but it hasn't been enough for Dallas Eakins to give him a real shot. There is a lot of speculation from fans as to whether or not he will be used as trade bait during the upcoming trade deadline.
Reader Grades: B
Writer Grades: C-
DEVIN SHORE
LW, C,
Anaheim Ducks
C+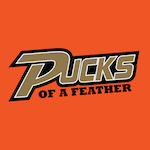 Want your voice heard? Join the Pucks Of A Feather team!
Write for us!
Are you a suffering Anaheim Ducks fan that would enjoy writing about your team? Whether you are suffering or not, we would love to have you on board as a contributor! Follow the link above for more information on how to join us.