Anaheim Ducks Mid-Season Grades: The Men Down the Middle
We return today, continuing with our midseason grades for the Anaheim Ducks. Next up, we review the men down the middle.
With the All-Star break this weekend, we have reached the NHL's (unofficial) halfway point of the season. The Anaheim Ducks have played in 48 games to this point of the season and sit with a record of 19-24-5, sitting next to last in the Western Conference between the LA Kings and San Jose Sharks. It's safe to say, the season hasn't gone the way we wanted; as inconsistent, sometimes uninspired, play has been a detriment this year.
With the season on pause going into the All-Star break, let's take a look at the next part of our mid-season grades. Today we are going to talk about the centers. These players have spent most of their time down the middle and expected to take the key faceoffs from game to game. This is the second part of this series, be sure to view part one where we rated the goalies. For a refresher, our rating system will be based on both the readers and writers, with an average as the final grade. Now let's get started with a familiar face.
Ryan Getzlaf
This rating for the captain may seem a bit high seeing how the season has gone so far. However, for Ryan Getzlaf, the way this season has gone, he deserves his fair amount of praise. If we start with the relevant numbers, Getzlaf is still producing at valuable level. Through 46 games this year, Getzlaf has produced a line of 11-22-33 which leads the team in assists and points.
Though the numbers don't come anywhere close to his career-high, Getzlaf has been doing so without any consistency on his wing. Names included but not limited to the likes of Rickard Rakell, Ondrej Kase, Troy Terry, Adam Henrique, among others, there hasn't been a ton of consistency for the captain, which makes his production just as crucial for the team. Side note, he also gets a few bonus points for playing game 1,000 this year.
Reader's mid-season grade: A
Writer's mid-season grade: B+
RYAN GETZLAF
Center,
Anaheim Ducks
A-
Adam Henrique
Currently, Adam Henrique is sitting at a line of 15-10-25 going into the All-Star break. It looks like Rico will hit the 20 goal mark this season for the 5th time in his career, however, throughout the year he has been streaky, which has been frustrating to watch. Recently he has been commonly found on Ryan Getzlaf's left-wing. There was a point between the months of November and December where Henrique registered 1 point in 12 games, tough for a player who you a looking at as a key contributor and leader on the team.
Henrique definitely has shown flashes of potential to be that 2nd line/1b Center for the team, but whether it is inconsistency with linemates or an undefined role, there have been struggles and Rico's value may become more relevant in a trade situation.
Reader's mid-season grade: B
Writer's mid-season grade: B-
ADAM HENRIQUE
Center,
Anaheim Ducks
B-
Sam Steel
This is a very tricky decision, as Sam Steel is only in his second year in the NHL, and recently, he has shown more improvements on the ice. However, the lack of production based on the promise that we were given, really drops this rating. Steel is one of the young players that is difficult to vouch for his struggles, as he has been given ample opportunity. After finishing off the 2018-19 season centering Rickard Rakell and Jakob Silfverberg, Steel started this season in the same position, as well as seeing time on the top Powerplay unit.
Throughout the year though, the 21-year-old has been unable to really get any consistency in his game. With only posting 4-11-15 in 43 games so far, which included his first goal not being scored until November 18th against the Capitals. Lately, the Young Center has shown improvements in his game, so here's hoping that this development continues and he shows his potential to become a solid top 6 forward.
Reader's mid-season grade: C
Writer's mid-season grade: C-
SAM STEEL
Center,
Anaheim Ducks
C-
Derek Grant
If the Ducks were to do a poll at the end of the year asking who the most popular player this season has been, I think there would be a good share of votes go to Derek Grant. From his two multi-goal games (including a hattrick) to go along with the #elite1C tweets, Grant has really given the fans some moments to smile about. While his numbers will not quite match to being elite, with a 10-3-13 slash line in 36 games, for a guy who has been as versatile as Grant, I'm sure the $700k investment has been worth every penny.
On top of the scoring outbursts, Grant has, once again, brought an energy to the team when he is on the ice. Having games where he, along with linemates including Devin Shore, Carter Rowney, and Nicolas Deslauriers, start the game for the team, it really shows how much Dallas Eakins trusts these lines and looks for them to supply a spark for the team.
Reader's mid-season grade: A
Writer's mid-season grade: A-
DEREK GRANT
Center,
Anaheim Ducks
A-
Isac Lundestrom
Similar to Sam Steel, Isac Lundestrom's recent performance since returning to the Ducks have been impressive, showing more of the potential that made him a first-rounder. However, inconsistent play throughout his time big club has left much to be desired. In a small sample size this year in 15 games, Lundestrom has recorded 4 assists, all of which came after his recall in December.
Lundestrom is one of the players I feel has most to prove. The Ducks have continuously shown how high they are on Sam Steel, and with Trevor Zegras waiting in line in the prospect pool, it will be important for Lundestrom to show his value while the Ducks top prospect continues his development.
Reader's mid-season grade: C
Writer's mid-season grade: C-
ISAC LUNDESTROM
Center,
Anaheim Ducks
C-
Sam Carrick
Sam Carrick is a guy I feel for. The guy has become the definition of a career minor leaguer, not having seen the NHL for two years until he made his debut for the Ducks last year. This year while the team was struggling with injuries, Carrick received the call up to the big club where he spent some time on Ryan Getzlaf's wing.
It is very hard to judge his game so far this year as a role player, in his 9 games he has registered a goal and an assist. The biggest part of his game this year is that he hasn't really stood out at all, either for the good or bad, he has done his job when called upon and hasn't been an issue for the team.
Reader's mid-season grade: D+
Writer's mid-season grade: B
SAM CARRICK
Center,
Anaheim Ducks
C+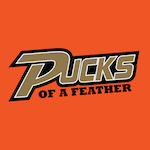 Want your voice heard? Join the Pucks Of A Feather team!
Write for us!
Are you an Anaheim Ducks fanatic that would enjoy writing for Pucks of a Feather? If so, just follow the link above for information on how you can join us!