Anaheim Ducks: Seattle Expansion Draft Plan
With the Stanley Cup just awarded to the Tampa Bay Lightning, for the second straight year, the Anaheim Ducks and the rest of the NHL are about to dive headfirst into the off-season and the whirlwind it will be. Teams have less than two weeks to prepare before the Seattle Expansion Draft, the 2021 NHL Entry Draft, and the start of Free Agency, which will all happen within a week of one another.
However, things must be attacked one at a time. So, first up on the docket in this important off-season for the Anaheim Ducks is the Seattle Expansion Draft that will take place on Wednesday, July 21st.
Learning from Mistakes
It is no secret Bob Murray and the Ducks made a grave mistake during the 2017 Expansion Draft with the Vegas Golden Knights. To ensure VGK would take the terrible contract of Clayton Stoner, they traded up-and-coming defenseman, Shea Theodore.
In the few years since, Theodore has quickly become one of the best players on the Golden Knights roster and one of the league's best defensemen. And to pour salt in our still open wound, they get to rub it in the face of Ducks fans multiple times a season.
However, there is no good dwelling on the past. What's done is done and the Anaheim Ducks need to learn from their mistakes and do whatever it takes not to make the same errors in judgment this time around.
2021 Seattle Expansion Draft Rules
The Seattle expansion draft will follow the same rules as the 2017 Vegas Golden Knights Expansion Draft; and in case you need a refresher, here they are:
Current NHL teams can protect seven forwards, three defensemen, and one goalie, or eight skaters (forwards/defensemen) and one goalie, under the following conditions.
All players with no-movement clauses at the time of the draft, and who decline to waive those clauses, must be protected and will be counted toward their team's applicable protection limits.
All first- and second-year NHL players, and all unsigned draft choices, will be exempt from selection (and will not be counted toward protection limits.)
There are more rules but here is the quick and dirty recap and, with that, here is what the Ducks plan should be.
Anaheim Ducks Forwards
Protected: Jakob Silfverberg, Rickard Rakell, Troy Terry, Max Jones
Exposed: Adam Henrique, Danton Heinen, Sonny Milano, Derek Grant, Carter Rowney, Nicolas Deslauriers, Isac Lundestrom, Sam Steel, Alexander Volkov
Going into this I was certain I would go with the 7-3-1 format, but the more I looked the 8-1 format makes so much more sense for the Ducks. The most important forwards for Anaheim right now are Max Comtois, Trevor Zegras, and until he retires, Ryan Getzlaf.
Under the current rules, Comtois and Zegras are exempt and do not need to be protected. Technically, the Kraken could take Getzlaf's rights, but they would then need to sign him and from everything Getzlaf has stated publicly, it's Anaheim or retirement. So, the Kraken wouldn't waste their time trying to pluck the eldest Duck.
This allows the Ducks to hold onto two veterans in Silverberg and Rakell. Both who, surrounded by the right talent, still have plenty of high-end game left in them. They will also be able to protect the next wave with Terry and Jones, two players who are looking to take the reins in the near future.
As far as the exposed players, really the only one that is a slight hit to lose would be Lundestrom. Henrique and Heinen are good players, but if this past season is any indication, Murray would like both of them gone; as evidence by waving the former and essentially benching the latter.
The rest of the group are depth forwards, at best, that can easily be replaced via free agency or with up and coming players in the Anaheim Ducks farm system, such as Jacob Perreault and Benoit-Olivier Groulx.
Anaheim Ducks Defensemen
Protected: Cam Fowler, Hampus Lindholm, Josh Manson, Haydn Fleury
Exposed: Kevin Shattenkirk, Jacob Larsson, Brendan Guhle, Andy Welinski, Josh Mahura
Despite the rough season, the Anaheim Ducks' better players are on the back-end, and thus require more protection in order to ice the best team and for trade bait purposes.
Fowler and Lindholm are main-stays on the Ducks back-end. To maintain a competitive team, now and in the future, keeping the two of them patrolling the blue line is a must.
I have nothing against Josh Manson, I think he has been a great piece for the Ducks' blue-line. He is hard-nosed, physical, and at his peak, a good shut-down defenseman. But I'd be lying if I said protecting him wasn't two-fold. Leaving Manson exposed would most likely be the most attractive player for the Kraken to snag and if the Ducks need more time on the rebuild I wouldn't want to lose Manson for nothing.
If the Anaheim Ducks are once again sellers at the deadline next season, Manson could fetch a good return. His cap hit is only $4.1M until the end of the season, and this would allow a contending team to bring him in for a playoff run and look to sign him in the off-season or just as a rental. But, the right team that thinks they are a piece away could give up a lot to chase a Cup and the Ducks could benefit from that.
Last season's deadline addition, Haydn Fleury, improved with every game he played in Anaheim and he could be a big part of the D-corps going forward. Fleury is young and talented and seemed to get caught up in a numbers game in Carolina.
Leaving him exposed would almost assuredly lock him in as the pick for the Kraken and he could help usher in the next wave of Ducks D-men along with Jamie Drysdale (who is also exempt from the expansion draft). With the small sample size we have had with Fleury, I would love to see what he could be with a real shot over a full 82.
Anaheim Ducks Goaltenders
Protected: John Gibson
Exposed: Anthony Stolarz
Not much needs to be said in this section. John Gibson is protected and, well, the reasons are numerous and self-explanatory. With Ryan Miller retiring, the only goalie that fits the criteria to expose is Anthony Stolarz.
Stolarz was overall great in his limited action this past season and appears ready to handle full-time backup duties. However, if the Anaheim Ducks are smart, you bring in a serviceable on the cheap just to see if last season was a fluke or not to make sure there are ample reinforcements behind Gibson.
I don't think Seattle looks too hard at Stolarz, as the sample size is too small, and there will definitely be better goalies exposed that they would feel more comfortable with. But, if Stolarz is taken the Ducks will be able to find a serviceable back-up in free agency, so there is no real risk.
Early Predictions
With all that being said, the Anaheim Ducks protected list should look something like Jakob Silfverberg, Rickard Rakell, Troy Terry, Max Jones, Cam Fowler, Hampus Lindholm, Josh Manson, Haydn Fleury, and John Gibson
My guess would be the Kraken take either Henrique or Shattenkirk if they want a veteran or Lundestrom or Mahura if they want a younger up-and-coming player. It would be tough to see the likes of Lundestrom or Mahura leave, as I think they both have the potential to be good NHL players.
But, this is what the expansion draft does and those two players are not franchise-altering. If the Kraken take Henrique or Shattenkirk, the Ducks front office will be setting off confetti with the added cap space. These two players can also be easily replaced. We will find out exactly what the Ducks do in just a couple of weeks as the first of three major off-season events that will shape the Ducks heading into October.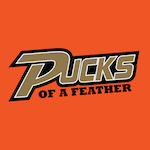 Want your voice heard? Join the Pucks Of A Feather team!
Write for us!
Are you a passionate Anaheim Ducks fan that loves reading Pucks of a Feather? If so, we would love to have you on board as a contributor! Just follow the link above for more information on how to join the crew.