Anaheim Ducks: The Case to Trade for Jack Eichel
One of my co-writers, Chris Bushell, recently wrote about the Jack Eichel rumors in relation to the Anaheim Ducks. His take-home message was that this was a bad idea for the organization. In essence, I don't disagree with him, yet there is, in fact, a case to be made for acquiring a young star signed through all of his prime years.
First, let's objectively look at what is on the table here. Point-per-game stars under 24-years-old are very rarely if ever, placed on the trading block. The young players who are made available, are most often traded for players of a similar "value." Jonathon Drouin was traded for Mikhail Sergachev. Patrick Laine was traded for Pierre-Luc Dubois. The list, small as it is, goes on.
It's worth noting here, that should this type of trade be made available, the Ducks do not have the required capital to consider that trade. Trevor Zegras is a great young talent, but he doesn't have the aura, nor the results, that should even have him in the same sentence as Eichel.
Jack Eichel's Injury and Discontentment
In this case, however, Jack Eichel has made a case for himself as a long-term discontent who has consistently complained about the management of the franchise he plays for. That's not necessarily a slight on him as a person or player, just that it is not the public face most young stars in the NHL portray.
Additionally, at present, Eichel is suffering from an injury that is treated almost 90% of the time in a conservative manner. That is the path his current franchise has advised, and one which the player has vocally disagreed with. Given that the Buffalo Sabres team has been in a half-assed rebuild for as long as most can remember, it seems now is the time for them to seriously consider a rebuild in earnest.
Thus, Eichel now appears to be available and for a price that many lower-tiered teams who wish to embark on a similar rebuild to the Sabres last decade, can afford. Thus the Ducks are suddenly a prime consideration for his services.
Jack Eichel Makes the Anaheim Ducks More Exciting
Murray has made it clear over the past season and a half that he considers himself to have commenced a rebuild, that he started it a little late, and that he wants it to be over already. Despite what we as fans may think, and we all think that it's stupid I'm sure, the Ducks appear to want to buy themselves out of the basement and into mediocrity. Which is where Eichel can come into the mix.
Aside from this past season, in which he suffered an injury, Eichel has been a big-time scorer in the NHL. Adding that kind of scoring to a low-scoring team is almost assuredly going to provide an avenue for improvement. As the lowest-scoring team this past season, and one of the lowest-scoring teams of the past decade, the fans have rapidly begun to tune out.
Last season their TV viewership was amongst the lowest in the league, while the season before (and before Covid hit) stadium attendance was at a 10-year low. The introduction of a legitimate scoring threat could mobilize the fanbase in the way that Paul Kariya and Teemu Selanne were able to do in the lean years before Brian Burke took over the management of the team. At least, I'm sure that is the hope.
The Anaheim Ducks have the Flexibility to Bring in Eichel
It's worth considering that Eichel is also signed for the next 5 years at his current price point. With Corey Perry's buyout money dipping this season, and Ryan Kesler off the books next season, the Ducks have that money to play within the short term. As the world's economic wheel slowly begins to grind into motion again after being shut down by the pandemic, it's highly likely that the salary cap will rise in the medium-to-long term.
This would mean that his cap hit would become more palatable as his production dropped as his age slowly creeps ups. Nonetheless, acquiring Eichel now gives the Anaheim Ducks control over a point-per-game star in his prime hockey years. Assuming he recovers from injury of course.
Adding the kind of star power Eichel can bring to a team that not even many of its own fans care about is a big move for a traditional budget franchise that no doubt craves relevancy in the NHL. It's also worth noting that the Anaheim Ducks' current roster is somewhat bland or beige, and largely invisible on social media.
Eichel is not. He's brash and vocal. There's something to be said about all publicity being good publicity, and there's no doubt that Eichel has brought that publicity to Buffalo over the past few years. It wouldn't be a surprise to see Anaheim similarly wish a bigger slice of the media pie, in a market saturated with sports and entertainment news.
What Would The Anaheim Ducks Give Up In Trade?
Second to what is on offer, is of course, what the payoff is. While acquiring a star player and media relevance is important, the media relevance will come with winning games, and the Ducks' ability to win games in the future is going to be largely dependant on what they are required to give up to make a trade with Buffalo. In this regard, I think the Ducks offer some flexibility that would appeal to the now (presumably) serious about rebuilding Buffalo team.
Typically speaking over the years, star player trades typically go somewhere along the lines of a 1st round draft pick, a useful NHL rostered player, and a prospect of some note. Occasionally, an additional 1st round pick is added, and sometimes the quality of the prospect is better or worse.
Given that a first-round pick is the logical starting point, I think most people would assume that the Anaheim Ducks' 3rd overall draft pick would be in play for any trade talks. This is where I believe the Ducks could make a deal that benefits them.
The Buffalo Sabres are a team that has lacked in a number of areas for a long time. This gives the Ducks some flexibility should they remain patient. For instance, few would argue that the Sabres have lacked a solid option in net for the duration of their rebuild. This past season they iced numerous netminders and all were very underwhelming. The Ducks, however, can provide Lukas Dostal, who appears to be an absolute stud goaltender on the way up.
The Buffalo team could choose to select Jesper Wallstedt with their 1st overall selection, or with the Ducks' 3rd overall pick, and personally, I believe that is probably the smartest thing that they can do. Particularly given he's considered the safest netminder pick since Carey Price, and that each of the conference finalists this playoffs selected their netminder in the first round.
However, the Seattle Kraken team could opt to select him 2nd overall and lock their future netminder into place for the next decade. Alternatively, Buffalo could decide that they would like to take some combination of Matthew Beniers, Owen Power, Luke Hughes, Brandt Clarke, Fabian Lysell, William Eklund, or any other combination of players.
Essentially, should Buffalo choose to acquire Dostal from the Ducks, they could easily acquire a top-6 forward, a top-4 defenceman, and a starting netminder in one swoop. It's an enticing prospect for the Buffalo team and if I were the Ducks management team, one which I would seriously be pressing them to consider.
The alternative to including Dostal is some combination of Maxime Comtois, Troy Terry, Trevor Zegras, Jamie Drysdale, Sam Steel, or Max Jones. I would imagine that Zegras and Drysdale are off the table from the Ducks' perspective. Comtois is intriguing to the Sabres and would allow them to draft their netminder (Wallstedt) and a defenceman (Power, Hughes, or Clarke).
Terry is a gamble since no one really knows who or what he will become. Is he his last 20 games, or he the full calendar year of not scoring? That's a big ask for a team to take on for their marque player. Steel and Jones are 3rd liners and not in any way appealing.
Thus the question of Comtois versus Dostal is probably the most likely one for the Sabres to consider. Given that they have the first choice of selecting a top-6 pivot in Beniers, and that finding quality centers is one of the harder tasks in a rebuild, it would seem that acquiring Dostal is the best option for the Buffalo team.
So far we're at the 3rd overall draft selection and young stud prospect, Lukas Dostal. So what else?
Josh Manson Could be a Valuable Piece to Buffalo
From the Ducks' perspective, they currently have too many defencemen to adequately protect at the expansion draft. Luckily for them, the defencemen that they do have hold value to other teams. To some degree, Ducks fans have also wanted to trade a few of them to kick start a rebuild for some time.
In particular, I would suggest Josh Manson is the one most likely to go. First, Simon Benoit came into the team and played a game that was physically similar to Manson's, thus providing them with a ready option to take over should be he moved.
Second, Manson is a UFA after next season which puts the Ducks on the clock deciding what to do with him. Moving him, simply allows the Ducks freedom, potential cap space, and an open roster spot for their young up-and-coming blueliners.
Manson should be enticing to Buffalo as well. As a player, he is capable of throwing big hits and that's exciting to some fan bases. It's also worth considering that his play this past season was actually not too bad when he was shifted away from Drysdale and onto a different pairing.
Perhaps more pertinently, Manson provides Buffalo with further trade options. Do they trade Manson himself, and move him for a late first-round pick, or even one in a future draft? Does it allow them to move on from their current defenceman for the same or a similar price?
If you consider that Manson could be shifted for a middle-to-late first-round selection, then the entire trade from the Buffalo perspective looks like former 2nd overall pick (Jack Eichel) for 3rd overall pick, a great prospect (Lukas Dostal), and a mid-round 1st round pick. It's a clear rebuilding move, but it fills all of the key positions on-ice and provides the chance to acquire a further solid young prospect at the draft.
Where Does This Leave The Anaheim Ducks?
At first blush, the trade probably takes the Ducks out of the lottery for the next two seasons. For those among us who dearly wanted to draft Brad Lambert or Matvei Michkov over the next two seasons, that dream would likely be dead. However, it should be noted the Anaheim Ducks would draft these players hoping they would become at least as good as Eichel. As the saying goes, a bird in the hand is worth two in the bush.
With that in mind, the Ducks would be able to trot out a spine that included Jack Eichel, Trevor Zegras, Ryan Getzlaf, and Benoit-Olivier Groulx in the center position next season. Should Getzlaf decide to retire or move on to another team, a third-line pivot is no difficult matter to find. Adam Henrique is already on the team, and he may be best suited to a third-line role at this stage of his career.
Maxime Comtois and Jacob Perreault would still be under Ducks' control, which provides them with young offensive threats from the wings as the future progressively comes. Certainly, the Ducks would need to flesh those top-6 wing positions out as time goes on, however, with Troy Terry and Max Jones available to man the third line, finding a couple of top-6 wings isn't insurmountable.
The Ducks would also be able to maintain control of Cam Fowler, Hampus Lindholm, Haydn Fleury, and Jamie Drysdale for the medium term. All are under 30-years-of-age and could conceivably be with the Ducks for the rest of the rebuild and even as they approach Stanely Cup contention.
Perhaps the biggest hole in the trade is who plays in the net. Despite showing a consistent decline over the past four seasons, John Gibson is signed long-term and is the solution for the time being. At best, he is available for another 5 years, performing at an above-average level. At worst he's holding the fort until the Ducks can draft or acquire another netminding prospect. Either way, they have time to work out the solution.
Trading for Jack Eichel Could be Too Good to Pass Up
Overall, I believe this trade could present the Ducks with an option to move forward in a significant way. It isn't a big enough trade in isolation to take them from the cellar to the cup, and we've seen that in Buffalo. Jack Eichel can't do it all. However, it does provide the Ducks with a platform to move forward from.
They're still likely a couple of years away from contending, but those years will at least have an interesting scorer to watch, all of their current good skating prospects, and the potential acquisition of further draft picks as they progressively trade away their current older playing group.
Don't forget that Rickard Rakell and company are still under the Anaheim Ducks' control, and likely to be protected in expansion, now that one of their notable blueliners no longer needs that protection slot. It's not inconceivable that the Ducks could trade all of them this off-season and really remake the team. However, if not, that change is likely coming with or without Eichel on board.
If we assume Eichel takes much of next season to recover from his current injury in the same way the Brooklyn Nets allowed Kevin Durant to recover for a year from his injury (very different injuries, but take the point being made), then there is every chance that the Anaheim Ducks can draft highly next season, and can acquire a number of assets in a trade. Trading for Eichel now, and providing him the time to really recover from injury could essentially allow the Ducks to have their cake and eat it too. Although that might be a dream too far.
Nonetheless, acquiring Eichel doesn't inhibit the Anaheim Ducks from rebuilding, it merely reduces the odds of them rebuilding through the draft. It does, however, make them a team that their fans may tune in to watch just that little bit more than they do at present.
For the low cost of a draft pick in an uncertain draft, a prospect who isn't going to play for a few years, and a player most fans want to be traded already, the prospect of acquiring Eichel may simply be too good to pass up for the Ducks administration.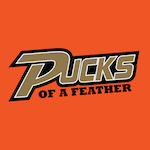 Want your voice heard? Join the Pucks Of A Feather team!
Write for us!
Are you a passionate Anaheim Ducks fan that loves reading Pucks of a Feather? If so, we would love to have you on board as a contributor! Just follow the link above for information on how to join the crew.