Anaheim Ducks: End of Season Grades for 2020-21 Goaltenders
Despite a rough year for the Anaheim Ducks, the goaltenders continued to show up and defend the post to the best of their abilities. 2020-2021 was a season fans are happy to put behind them in the pursuit of another strong playoff contender.
If there is one part of this team that isn't broken beyond repair, it would be the men between the pipes. The goalies for the Anaheim Ducks remained strong under pressure, and despite a very lackluster defense, and almost no offensive capability at all, they hung in there to steal a few games for Anaheim.
The trio of John Gibson, Ryan Miller, and Anthony Stolarz was a mostly solid group, despite not getting much help from the team in front of them. The statistics aren't pretty, but then again, nothing about this past season was pretty. Let's dive into the three goalies to see which one fared the best.
John Gibson
Goalie #1, the always miraculous and reliable John Gibson. At least, he was before these few previous rough seasons. Realistically, Gibson is doing even better than what most human beings would be capable of doing in net with a team in front of them that can't score or defend. When you play for a team that came in dead last for goals scored and also came in 9th for goals against, it would be a challenge to keep any sort of nice statistics going.
Gibson went 9-19-7 in 35 games through 2020-21, his worst season yet. While this seems like a sign of a worsening goalie, there were quite a lot of factors that went into Gibson not doing as well as usual. Because of the shortened season, and also due to a few injuries back in March, he was scratched from the lineup much more than usual.
Gibson played his 3rd lowest amount of games in his entire career last season, and his first under-40 game season in the last 5 years. It was going to be rough for Gibson to begin with, but lady luck wasn't feeling particularly good feelings towards him to boot.
Still, despite the bad, there was some good for Gibby. He managed to drop his Goals-Against Average (GAA) down from last season, now sitting at 2.98 from 3.00. His Save Percentage (SV%) also stayed relatively the same, dropping only .001% from the season prior, from .904% to .903%. Those might be the worst numbers he has put up in his career, but I suppose it is the thought that counts when not much else is going right for a player or his team.
As much as all Anaheim Ducks fans have a special place in their hearts for John Gibson, it has to be said that this season wasn't much of anything for him. The word that comes to mind is just "unfortunate".
It is too soon to panic, however. There were a lot of very weird feelings this season for a lot of people after a very, very long break, and Gibson had fewer games to prove himself than usual. It was mediocre, but with how things fell for Gibson, that is a miracle in and of itself.
Final Grade: C
Ryan Miller
If there is one thing I write that might bring tears to my eyes, it is this. Ryan Miller's career has finally come to an end. I have been a big supporter of Miller since his early days in Buffalo. While it is sad to see him go, I wish him nothing but the very best in this well-deserved retirement.
Miller's career was a truly special one, and it is a shame that he couldn't have ended off on a better note. Unfortunately, he played the least amount of games he has played in a season since 2003-2004, and he didn't get a lot of time to prove how great his sendoff could have been.
RM30 ended the season with the second-worst SV% of his 18-year career. He also posted the worst GAA of his career while playing the lowest amount of minutes. It was less than enjoyable to watch his final season be squandered by the lack of effort shown by his teammates.
Miller's brother went out with a Stanley Cup to his name, back with the Anaheim Ducks in 2007. It is the biggest shame that Ryan didn't have the opportunity to try and do the same. He deserved to lift Lord Stanley, but he still had an amazing career, nonetheless.
Still, this amazing career coming to such a depressing end is unfortunately the work of a General Manager that might need to take note and follow in Ryan Miller's footsteps soon (retirement might look good on GMBM.) Thankfully, Ryan Miller will be remembered as one of the greatest goalies to grace the ice. Bob Murray, on the other hand, will be remembered as the GM who destroyed what was a Stanley Cup contending franchise for years on end.
From the bottom of my heart, I hope that Ryan Miller gets the happy retirement that he deserves, and I also hope that Bob Murray finds himself retired from anything even remotely close to hockey very soon as well.
Grade: C+ (Gave it his all, happy retirement.)
Anthony Stolarz
It is always good to see minor league players get their minutes in the big league. Anthony Stolarz played his 2nd most games for one team this season, and he was the only goalie to come out over .500 with his win-loss record. Stolarz went 4-3-0 and did a great job being a reliable choice when Gibby and Miller were tired. In reality, he also stepped up big and had a better save percentage than both Miller and Gibson.
Although he might not be a long-term goalie here in Anaheim, Stolarz has been pretty solid since he came over from Edmonton. His GAA this season was only 2.20, and that was about on par with his best GAA numbers at 2.05 and 2.07. Stolarz also managed to keep up on what was a shutout streak, and now has a shutout in every season except for 2019-2020, and he only played one game that season. Overall, he was as solid as you could ask him to be in the 8 games he played in.
Stolarz did have 17 goals scored against him in his 8 games played, and although that number could have been much better, that is really the only true complaint you could have about a guy that came in and worked a good workload in a season that was long over before the end of the season.
Grade: B+
The Wrap Up for the Anaheim Ducks Goaltending Trio
Overall, the goaltending for the Anaheim Ducks this season was about as good as you could hope behind a less than stellar team. There was no real defensive urgency, no scoring output to help the netminders, and yet, the trio still managed to steal a few wins in a season that we wish we could push from our memories.
Anthony Stolarz, surprisingly, came in as the best-graded goalie, followed by Ryan Miller in his retirement year, and John Gibson in last with a very unlucky and short season. None of them did particularly great or terrible, but it was good to see them hang in there for what might be better days in the future. Ducks fans are hoping for the same thing with Gibson and Stolarz going forward, a season to actually remember.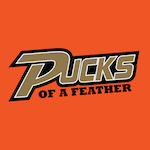 Want your voice heard? Join the Pucks Of A Feather team!
Write for us!
Are you a passionate Anaheim Ducks fan that loves reading Pucks of a Feather? If so, we would love to have you on board as a contributor! Just follow the link above for information on how to join the crew.