Anaheim Ducks Allowing Fans Back at Honda Center
On March 11, 2020, Anthony Stolarz appeared in his first game with the Anaheim Ducks, Finnish Defenseman, Jani Hakanpaa scored his first goal with the club, and the Ducks lost to the St. Louis Blues, 4-2. Under normal circumstances, this game would have been unforgettable. However, it was the final game at Honda Center before the country shut down and the NHL went on a five-month hiatus.
For the last 388 days, the stands of Honda Center have remained empty. We have watched from the comfort and safety of our own homes, dreaming of the day when it would be safe enough for us to cheer together in the stands once again.
While Honda Center's doors have remained closed to the general public, the organization has utilized the space uniquely over the last year. The Anaheim Ducks have hosted blood drives, toy drives, food drives, drive-thru election voting, and even weddings to support the community during these uncertain and difficult times.
With the introduction of the vaccine and the decrease of COVID-19 cases, the NHL has slowly been allowing fans to return to games; although at a reduced capacity. The world finally seems to be healing after a devastating year. California has begun to open back up and with fans being allowed at Angles Stadium for Opening Day, we knew it was only a matter of time before Honda Center would reopen its doors.
The Anaheim Ducks are Welcoming Fans Back at Honda Center
The official announcement came yesterday via the Anaheim Ducks social media. Starting April 16th, against the Vegas Golden Knights, fans will finally be allowed back at games. In an effort to continue keeping the community safe, venue capacity and safety protocols will be put into place.
Season ticket holders will be given top priority to attend the final five home games of the 2020-21 regular season. Hopefully, it is only a matter of time before Honda Center will be filled to capacity so we can all be together once again, but for now, this is a step in the right direction.
In the meantime, stay safe friends. Continue to wear your mask, wash your hands, stay six feet apart, and social distance. We can't wait to celebrate with you at Honda Center in the near future!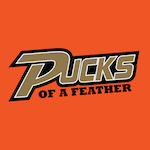 Want your voice heard? Join the Pucks Of A Feather team!
Write for us!
Are you a passionate Anaheim Ducks fan that loves reading Pucks of a Feather? If so, we would love to have you on board as a contributor! Just follow the link above for more information on how to join the crew.