Anaheim Ducks Shouldn't Rush Jamie Drysdale's Development
Jamie Drysdale has spent the last few weeks bouncing back and forth between the San Diego Gulls and the Anaheim Ducks taxi squad. This has fans curious. Does his promotion to the taxi squad mean that his NHL debut is just around the corner?
With both Hampus Lindholm and Josh Manson currently out of the lineup due to injury, the blueline is suffering, and in turn, the entire team is discombobulated. Josh Mahura is finally being given a fair shot in their absence, but the recent performance of Jacob Larsson is bringing up some major questions about his future with the franchise.
It may be just a matter of time before the young Swedish d-man sees some time in the press box. Should Dallas Eakins deem this necessary, this could open up the door for Drysdale to get the call-up and make his NHL debut. It shouldn't be for more than a few games, but this could be a chance for the coaching staff, Bob Murray, the fans, and Drysdale himself, to see just how well he handled the pressure of the big league before he ultimately returns to Erie.
"Jamie's with us right now. I'd like to get him into some games. He's seen the American League. Now he needs to see the National League because there is a big jump. He needs to see it. He got a puck in the face last week, knocked a couple of teeth out. He hasn't eaten. I'd like to get his weight back up first." –Bob Murray, Comments to Orange County Register
Jamie Drysdale Should Get a Few Games with the Anaheim Ducks
The stage seems set for Jamie to make his NHL debut in the coming days. With no timetable on the return of the OHL, this is the perfect opportunity for him to get his feet wet with the Anaheim Ducks. He has shown tremendous promise at the AHL level, posting 10 points (4g, 6a) in 14 games.
From day one, he has established himself as a solid contributor for coach Kevin Dineen and the San Diego Gulls. His smooth skating and incredible puck handling skills are great, but what sets him apart is his decision-making, which is well beyond his years. He has the competitive spirit and determination the Anaheim Ducks will need when they are competitive once again.
In just a few short weeks, he has developed a special bond with the next wave of Anaheim Ducks youth in Trevor Zegras, Jacob Perreault, and Brayden Tracey. While it is important for these four to forage a bond and grow together as players, playing a few games in the NHL will allow him the opportunity to create these kinds of relationships with players he may find himself sharing the ice within just a few short years.
Seeing Drysdale on the ice would also be a treat for the fans. Over the past few weeks, we've endured a lot. We have stood by the Anaheim Ducks, but it hasn't come without tremendous frustration. While icing Jamie would not right all of Bob Murray and Dallas Eakins' wrongs, it would be somewhat of a peace offering.
Spending a few games in the NHL would be good for the youngster. Nevertheless, this is where the Ducks need to use extreme caution. If they want to avoid mistakes they've made in the past, the organization cannot rush Jamie's development, especially with an impending rebuild.
What Not to Do: Looking to Buffalo
While it would be exciting to see a fresh new face with the Anaheim Ducks full time, right now may not be the best time for Drysdale to make the jump into the NHL. A few games are harmless, but anything more than that, and it would likely be a mistake. There have been a lot of comparisons drawn between this organization and the Buffalo Sabres, and a big name that stands out is the 20-year-old Swedish defenseman, Rasmus Dahlin.
Drafted first overall by the Sabres in the 2018 NHL Entry Draft, he was highly touted by scouts and considered to be a generational talent. Following his draft year, the Sabres rushed him into their lineup; they were hopeful the young Swede would be the final piece to their rebuild. As an offensively minded defenseman, he registered 44 and 40 points respectably in his first two seasons.
However, during his third season in the Buffalo royal blue, the blueline regular has shown signs of regression at only 20-years-old. He stands out on a nightly basis, but it is, more often than not, his mistakes thrusting him into the spotlight. Dahlin has an incredible work ethic and wants to compete every night, don't let the state of his team fool you.
Nevertheless, he often looks extremely overwhelmed. The once self-assured key cog in the Buffalo Sabres system has seemingly lost all of his confidence. He has been creating turnovers that have been costly for his team, and he has issues simply controlling the play. While it is sad to say, he seems like a shell of his former self. The Sabres wanted a quick fix, and rushed Dahlin and his development, therefore stunting his growth.
How does Dahlin's development pertain to Drysdale's? The Anaheim Ducks are in a similar situation. Bob Murray has put off a rebuild and it's finally time for him to decide whether the team is going to take the plunge and blow it up or if they're going to take the route similar to Buffalo and try to fix their broken bones with a bandaid.
There is no question that the Ducks blueline is in desperate need of help. There is also no doubt that a player like Dry is going to be a cornerstone piece in their rebuild. However, the Ducks are still missing vital pieces that are years out from being acquired. Trevor Zegras is in the fold, but he is not this team's marquee piece that they should be building around, nor is Drysdale. So, for now, there is no point in rushing either player.
Individual Player Development is Crucial
With that in mind, it is key that the Anaheim Ducks not rush his development too quickly and skip the important steps. Sure, if you bring him in he might be a quick fix for now, but if his development stalls down the line, this causes another host of problems for the team, much like the Dahlin in Buffalo scenario.
It might seem easier to "win now" by emphasizing the "team first" mentality over the individual development of players, but that puts the Ducks right back at square one. While focusing so much on an individual player's development might seem selfish, allowing Drysdale to hone his skills at a lower level gives him the opportunity to have more control over his own game.
Allowing him the chance to continue developing his individual skills in a lower stress environment, in the future, will make him better suited for a more competitive level of team play. This goes for all of the Anaheim Ducks' prospects and their development. The more the organization encourages and guides the individual development of their prospects, their team will ultimately have superior skills to that of their opponents when these players enter the league.
Take Cale Makar and Quinn Hughes for example. Both players have been the comparison for Drysdale, and if one day he can live up to that potential the Anaheim Ducks should thank their lucky stars. But neither of these players was rushed into the NHL. Both spent two seasons in the NCAA before making the transition, and they are two of the best players on their respective teams because of it.
The NHL is not a development league. It is a premier playing league for the best of the best. Putting Drysdale in the NHL this early on is basically saying, "he has nothing left to learn." While he is the next new and exciting thing in Anaheim, the 18-year-old still has plenty left to learn. Patience is the best policy in this situation, and in a few year's time, Dry could be an incredible asset to the team in a similar vein to Scott Niedermayer.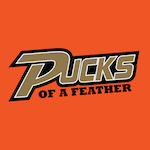 Want your voice heard? Join the Pucks Of A Feather team!
Write for us!
Are you a passionate Anaheim Ducks fan that loves reading Pucks of a Feather? If so, we would love to have you on board as a contributor! Just follow the link above for more information on how to join the crew.