Anaheim Ducks Blow Two Consecutive 3 Goal Leads in Arizona
Once upon a time, Anaheim Ducks fans looked forward to playing against the Arizona Coyotes. It wasn't very often than Ryan Getzlaf and co. walked away from Gila River Arena defeated. The team was almost always guaranteed two points, backed up by their 78-40-5-17 all-time win-loss record against our desert-dwelling neighbors.
The 2020-21 season tells another story, however. In four games, the Anaheim Ducks have a 1-2-1 record against the Arizona Coyotes, having blown a 3 goal lead against the 'Yotes in their last two games. And as the frustration of the fans continues to grow, they are starting to call for the jobs of the men behind the madness.
But, what exactly happened in Glendale this week? There has to be a reason the Anaheim Ducks lost in the same fashion not just once, but twice. The further you dig, the harder the startling realization of how deep the Anaheim Ducks issues actually go hits.
Trevor Zegras' Disappointing Anaheim Ducks Debut
After more than a quarter of the season had gone by, the Anaheim Ducks finally made the decision to call up Trevor Zegras. His performance on the international stage and in the AHL was a compelling case for his call up to the NHL. Did we expect him to save the Ducks season? After everything that has happened, I think fans would all agree with a resounding "no!"
Nevertheless, we were more than thrilled to have Z join the flock and give us a show. Yet, with two games under his belt, Anaheim Ducks fans are even more frustrated than before. Our frustration is not directed at Zegras; on the contrary. It is directed solely at the bench boss, Dallas Eakins.
While his intentions may have been in the right place, his execution when it came to dealing with Zegras was poor. While it is true that Zegras may need some level of protection, especially considering how physical the Ducks played against Arizona, Eakins seemed to have the youngster on a pretty short leash.
However, for the short time we saw Z out on the ice, while his performance wasn't flawless, it was impressive. The Anaheim Ducks' power play looked instantaneously better with him slotting in on their top unit.
He generated chances, created rebounds, and displayed his incredible playmaking abilities. Yet, instead of rewarding him, Dallas Eakins kept the youngster glued to the bench for extended periods of time. At 5v5 Eakins limited him TOI (time on ice) to 7:40 and 12:10 respectively, one of the lowest on the team.
While Zegras kept a positive attitude, disappointment was written all over his face whenever the cameras panned to him during the broadcast. He's watched his friends, such as Arthur Kaliyev, score their first NHL goals. Their respective clubs have put their utmost faith in their young prospects. It's probably incredibly frustrating to not be afforded the same opportunities by Dallas Eakins.
Fourth Line Favoritism
While the story behind Derek Grant as Elite1C will always be a favorite in the Anaheim Ducks history books, let's be real here for a moment. Derek Grant is not a good hockey player. Sure, he had an incredible season last year, but his numbers were unsustainable, and I think, deep down, we all knew it.
Yet, despite his dismal underlying stats, Dallas Eakins thought it a brilliant idea to play Derek Grant in place of Trevor Zegras. Despite Z having one of the better performances on the team, with limited ice time, it was Grant who was put out on the ice to try and help the Ducks overcome the deficit they had created after blowing a 3-0 lead. This decision even came after a turn over by, you guessed it, Derek Grant, which led to one of the Coyote's goals in their first 4-3 loss.
In their second contest against the 'Yotes, Sonny Milano made his return after a conditioning stint in San Diego. He had one of the best performances for the Anaheim Ducks. He was on the ice, in all situations, for only 2 shots against. He led the team with a 78.57 CF% (Corsi for), 80.95 FF% (Fenwick for), 83.98 xGF% (expected goals for), and an 80.00 HDCF% (high danger chances for.)
Nevertheless, we saw Dallas Eakins' fourth line favoritism come into play once more when he opted to put Nicolas Deslauriers out on the ice in an attempt to defend their 3-2 lead. It is infuriating to see the coach reward the players who don't deserve it while simultaneously benching the players who should be out on the ice.
Sitting the Better Men
Last night's healthy scratches included Adam Henrique, Danton Heinen, and Troy Terry. These three players sat in favor of fourth-liners Derek Grant and Vinni Lettieri. The logic behind this decision is baffling.
Playing any combination of Henrique, Heinen, and Terry over Grant and Lettieri makes the Anaheim Ducks a significantly better team. After blowing a 3 goal lead just two nights prior, it would make sense to put players on the ice who can improve the odds of winning, right?
Adam Henrique might have been put on waivers, but he hasn't had that bad of a season. In terms of production, he could have done better, but he is, without a doubt, a better option than Grant. Danton Heinen is currently 6th on the team in points, with 3 goals and 3 helpers in 17 games. Troy Terry also has 4 points, and while we'd like to see more production from him as well, he plays a pretty decent defensive game.
Tonight's game could have had a different outcome if any one of these three would have been inserted into the lineup over Grant, Lettiere, or even Nicolas Deslauriers. While what's done is done, how can this decision not call Dallas Eakins' coaching methods into question?
Where Do We Go From Here?
With all of that being said, the Anaheim Ducks losing streak extends to 5 games. From here, the schedule gets increasingly more difficult. Over the next seven games, the Anaheim Ducks face the top teams in the West, the Vegas Golden Knights, St. Louis Blues, Colorado Avalanche, and surprisingly, the Los Angeles Kings.
The only solution that seems logical to most Anaheim Ducks fans is firing Dallas Eakins; especially in the wake of Montreal Canadiens head coach, Claude Julien, being relieved of his duties. Nevertheless, we know the Anaheim Ducks organization better than that.
In a way, it feels like we're reliving the 2018-19 season when we desperately wanted Bob Murray to fire Randy Carlyle. While it took two incredibly long and difficult losing streaks to get it done, this situation is a little bit different than before.
Dallas Eakins' contract expires following the conclusion of this season. The cheaper option for the organization is to keep him behind the bench for the remainder of the year. Looking at the bigger picture, this bodes well for the Anaheim Ducks if their ultimate goal is to get another high draft pick. Nevertheless, that doesn't mean that the decisions of both Bob Murray and Dallas Eakins aren't driving us completely bonkers.
So, I suppose we suffer together, just as we did in 2018-19. But, we found ways to make it fun; cheering for the streak, rooting for the tank, and making friends along the way. Maybe it's time to dust off the Anaheim Ducks drinking game and raise a glass to the Tank 2.0.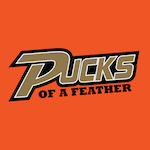 Want your voice heard? Join the Pucks Of A Feather team!
Write for us!
Are you a passionate Anaheim Ducks fan that loves reading Pucks of a Feather? If so, we would love to have you on board as a contributor! Just follow the link above for more information on how to join the crew.