The Anaheim Ducks are Missing the Mark With their Fans
The Anaheim Ducks have skated by with minimum effort the last few years, and in turn, are losing connection with their fans.
Over the past few seasons, it has become more evident that the Anaheim Ducks are behind on the times. Not only with their coaching philosophies, dump and chance tactics, and overall on-ice performance, but especially with their public image and fan engagement. As difficult as it is, it's time to call them out. Mediocrity is no longer acceptable.
Quarantine has been difficult for all of us, and finally, we're getting a small piece of normalcy back in our lives with the return of the NHL. There are several restrictions that will make this season much different than seasons past, the biggest one being the absence of fans. However, several teams around the league have taken steps to engage with and give their fans a unique at-home experience.
The St. Louis Blues, Minnesota Wild, Chicago Blackhawks, and other teams, have started streaming their scrimmages or practices. The LA Kings have released several interviews with their players to help the fans feel more connected. One of my personal favorites, the Carolina Hurricanes, once again, are killing it with their pre-season coverage.
As for Anaheim Ducks fans, we haven't gotten much of anything. Sure, we got an interview with Trevor Zegras, Jamie Drysdale, and a few fun training camp promo videos. The social media team does what they can, and for that, we are thankful. However, it sometimes feels like they are simply filling a quota for their sponsors. We've been without hockey for ten months. We want quality content with us in mind, and we want it now!
Platform For Change
The Anaheim Ducks also landed in a little bit of hot water with a lot of their fans over the summer as well. This team has a platform to speak up and lead the charge in creating change. Yet, when very important historical moments happened this year, they stayed silent or, once again, gave the bare minimum when it comes to effort.
Retro Reverse Jersey's
The organization also missed the mark with its retro reverse jersey's. Not only did they bring back, in my opinion, one of the worst logos in franchise history, but the jerseys are teal! Teal and jade are two very different colors. The team had so many better options that would have gotten a lot of fans way more excited. Imagine the things they could have done with the Wild Wing logo; they could have even revamped and redeemed their script alternate jerseys from 2003-06.
We Want Zegras!
Let's also talk about Trevor Zegras. The kid put up an incredible performance at the WJC, posting 18 points in 7 games, earning MVP, and leading his team to a gold medal. Does this mean he is ready for the big club? Not necessarily, but it's hard to argue otherwise. The WJC was the first time a lot of Ducks fans have been excited about a prospect in a long time.
Again, we have been without hockey for ten months. What is the harm in starting him on opening night? There is a chance he could get his chance with the big club this season, but fans would prefer it to be sooner than later. It's understandable that the Ducks don't want to push him after playing in an international tournament, but again, it's another missed opportunity to get the fans excited. Especially when Bob Murray has been preaching all about being competitive once again. Zegras could actually make that a reality.
Still No Puppers
I'm also still bitter that we never got a team dog. Rickard Rakell even founded his new charity, and still, we were one of the only teams in the league that refused to sponsor a service dog. This is just another example of a missed opportunity that could have significantly benefited the organization.
The team does incredible work within the community, and I will praise them for that all day long. However, when it comes to their fans, I don't think they realize just how these opportunities could benefit the organization if they were a little more open-minded and willing to take a risk every once in a while.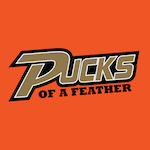 Want your voice heard? Join the Pucks Of A Feather team!
Write for us!
Are you a passionate Anaheim Ducks fan that loves reading Pucks of a Feather? If so, we would love to have you on board as a contributor! Just follow the link above for more information on how to join the crew.