Anaheim Ducks: Predicting the Opening Night Lineup
The Anaheim Ducks open their season against the Vegas Golden Knights on Thursday. What could their line-up look like on game day?
It has been quite a while since the Anaheim Ducks graced the ice with their presence. However, on Thursday night, at T-Mobile Arena in Las Vegas, our beloved team will take the ice for the first time in ten excruciatingly long months. While we are excited, I think I speak for all of us when I say that there are moments from last season we wish we could forget.
While there were a lot of things that didn't work for the Anaheim Ducks last year, there were a few things that did. But, changes still have to be made in order for this team to be even the slightest bit competitive. There are a limited amount of roster spots and a lot of players fighting for them.
Unfortunatley, we may see a few fan favorites pushed to the side this season. Will Dallas Eakins opt for Sonny Milano and Danton Heinen over Max Jones and Max Comtois? Does Trevor Zegras make the opening night roster? Who takes the final spot on the fourth line: David Backes or Carter Rowney?
There are a lot of questions yet to be answered, but we have the liberty to take a wild guess at what could happen. Even I still have questions about this roster. Nevertheless, I will try to predict the opening night roster as closely as I can by answering a very important question. WWDD? What would Dallas do?
Goaltending
Starting: John Gibson
Backup: Ryan Miller
There is no contest when it comes to the goaltending situation in Anaheim. John Gibson, goalie Jesus, is your number one between the pipes. However, after months of waiting, Ryan Miller, once again, joins the team for another tour of duty.
In a shortened season, one would expect Gibson to play a majority of the games. Nevertheless, to keep him fresh, just in the off chance the Anaheim Ducks do make a playoff run, Miller is a solid second choice in net. While a lot of tandems in the NHL have begun to split duties, due to Gibson's age and proven performance, he solidifies the starting position once again.
Defense
Hampus Lindholm–Kevin Shattenkirk
While most of us would love to see the dynamic duo of Hampus Lindholm and Josh Manson reunited, the fact of the matter is, something drastic needs to happen on the blueline, and pairing them together no longer makes sense. A top-four consisting of Cam Fowler, Kevin Shattenkirk, Josh Manson, and Hampus Lindholm gives you the perfect opportunity to have an offensively-minded defenseman and a defensively-minded defenseman for each pairing. This allows the defense to be more well rounded when they are out on the ice.
The Anaheim Ducks also still seem to have faith in Jacob Larsson. The young defenseman hasn't necessarily lived up to his first-round potential yet. However, Dallas Eakins, Bob Murray, and co. see something in the young Swede as they continue to take a chance on him.
With Christian Djoos no longer in the fold and Brendan Guhle out with an MCL injury, this makes the final spot on the blueline a mystery. With both Josh Mahura and Jamie Drysdale headed for San Diego, this leaves a tight race between Jani Hakanpaa, Kodie Curran, and Ben Hutton.
From the sound of it Jani Hakanpaa has impressed all throughout camp and, according to head coach Dallas Eakins, has shown quite a bit of improvement from his training camp performance last year:
"For me, it's amazing just going back to last year. His first exhibition game that I saw him play with us to who he was at the end of the year to who he is now is really impressive. That young man's done a lot of work." -Dallas Eakins
I would personally love to see Kodie Curran be given a chance on opening night. Nevertheless, because Hakanpaa already has experience with the Anaheim Ducks and Dallas Eakins, I believe familiarity will give Hakanpaa the edge over Curran at the end of the day. As for Ben Hutton, I don't know enough about him to form an opinion yet.
Forwards
Rickard Rakell–Ryan Getzlaf-Sonny Milano
Trevor Zegras-Adam Henrique–Jakob Silfverberg
Danton Heinen-Sam Steel–Troy Terry
Derek Grant-David Backes-Nicolas Deslauriers
Ryan Getzlaf obviously gets the nod as the Anaheim Ducks first-line center; no if's, and's, or but's about it. Despite the effects of father time catching up to him, he is still one of the best, if not the best, forward on this roster. And while I have stated time and time again that I believe it's time for the Ducks to cut the umbilical cord between Getzlaf and Rakell, I don't think that will happen anytime soon. On this roster, this pairing makes sense. They have both history and past success on their side.
Sonny Milano, while still unproven with the Ducks, has the potential to make this a very dangerous top line. If he can reach his scoring potential that he never did in Columbus, watch out. Putting him with Getzy puts him in the perfect position to unlock his full potential. If he cannot do it with the great Ryan Getzlaf, he may never turn out to be the first-round pick everyone thought he would be.
Trevor Zegras has entered the chat… After an incredible performance at the World Junior Championship, winning gold with Team USA, how do Bob Murray and Dallas Eakins not put him in the lineup on opening night? Not only is it what the fans want, but Zegras, despite all of my protesting, has proven that he is ready; and not even I can argue with the cold hard facts of life.
Zegras has proven that he can score goals, but he, like Getzlaf is a passer at heart. Pairing him with a player who put the puck in the back of the net, however, seems to me like the beginning of a beautiful partnership. Last season, Adam Henrique led the team in goals, with 26. Not far behind him was everyone's favorite lazy boy, Jakob Silfverberg, at 21.
Jokes aside, Silfy can also score, but he is also defensively sound (a big part of the former Anaheim Ducks shutdown line.) To me, this trio sounds like a match made by the hockey gods. Rico and Silf are also the two perfect players to help usher in the new generation. Both are natural leaders, who have proven they can shoulder ridiculous amounts of responsibility but are humble enough to let a rising star shine.
The Heinen-Steel-Terry line is an interesting one to me. These three players haven't formed a line together before, but Steel has struggled amidst both Terry and Heinen. So why put them together? It just makes sense, and I have no idea why other than the fact that this line could be a good defensive line. Terry and Heinen both play a good defensive game, and if Steel is willing to rise to the occasion, we could see a new shutdown line in the Anaheim Ducks lineup.
As for the fourth line, before you all throw rocks my way, hear me out. We all know that Derek Grant and Nicolas Deslauriers have mad chemistry together, so it's already a given that they remain simpatico. But, with David Backes making $4.5M, and not playing horribly for the Ducks last season, having him ride the bench, playing on the taxi squad, or sending him to San Diego makes absolutely no sense.
And seeing as how Backes has made a career for himself as a center, Derek Grant's willingness to be flexible with his favorite franchise, and just plain logic, Elite 1 C could be moving to the wing. Do we like it? No. But from a logical standpoint, it's what makes the most sense.
Come opening day, Dallas Eakins could pull a completely different lineup out of his sleeve and I will look like a fool. There really is no method to my madness. Nevertheless, I think the lineup above, or something similar, could get the Anaheim Ducks decent results in the 2020-21 NHL season.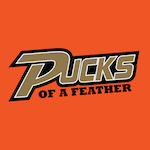 Want your voice heard? Join the Pucks Of A Feather team!
Write for us!
Are you a passionate Anaheim Ducks fan that loves reading Pucks of a Feather? If so, we would love to have you on board as a contributor! Just follow the link above for more information on how to join the crew.