Anaheim Ducks: 3 Areas to Focus on Going into the 2020-21 Season
The 2020-21 season begins in less than a week. If the Anaheim Ducks hope to redeem themselves, there are a few areas the team needs to focus on.
The last time we saw the Anaheim Ducks take the ice was on March 11, 2020. In typical 2019-20 Ducks fashion, they were outwitted, outplayed, and embarrassed by their opponents, the St. Louis Blues. It has been nearly ten months since they have taken the ice as a team, and a lot has changed over the course of their excruciatingly long hiatus.
Nevertheless, the time has come. The 2020-21 season is about to begin and the Ducks have a lot to prove if they hope to be a competitive powerhouse, as General Manager Bob Murray has speculated they could be, in the recently redrawn West Division.
They open the season against the Vegas Golden Knights, a team that has been a thorn in their side since their inception. While most experts expect the Anaheim Ducks to be an easy team to beat this season, the team as a whole seems motivated to make their way back to the top. But, to start the season off on the right foot, there are a few areas the Ducks must improve upon if they have any hopes of holding their own against their tough competition.
Revamping Special Teams
Special teams have been a big issue for the Anaheim Ducks over the past few years. They just can't seem to get all of their ducks in a row when it comes to the power play and penalty kill. Last season, the Ducks finished 30th in the league on the power play (14.7%) and 26th on the penalty kill (77%). Those stats don't exactly scream playoff potential.
The good news for the Anaheim Ducks, however, is that Bob Murray went out and scored them a new power play quarterback in Kevin Shattenkirk. Dallas Eakins has also made some changes to the power-play unit, moving the recently reacquired Derek Grant to the top unit. Getzlaf, who has spent most of his career on the half-wall or at the point, has been moved to a role that will see him have more of a net-front presence.
"There's a lot of plays, a lot of goals coming from that net-front guy. Whether he is big and strong and able to hold and screen. Or he's able to make quick plays to the slot. Quick plays to the back door. Quick plays around his back. Those players where they get moving behind the net. The other thing is that the net-front guy's got to be a guy that's very, very strong on the puck. He's a guy that's going to be the first to recover in the corner off of a shot, a bounce, whatever it is. And Ryan checks all of those boxes." –Dallas Eakins, Head Coach of the Anaheim Ducks
Eakins has taken note of what didn't work for his team last season, and he's willing to make changes. While it has yet to be tested out in actual battle, so far, things seem to be on the up and up for the Anaheim Ducks' severely lethargic power play.
Another thing the Ducks must work on is staying out of the penalty box. Last season, the team spent a combined 725 PIM in the sin bin, good enough for second in the league. And while taking penalties seemed to be one thing the Ducks were good at, that's not something they should be particularly proud of.
Granted, a lot of their issues have been eliminated with the departure of players like Nick Ritchie and Erik Gudbranson. Nevertheless, the undisciplined nature of some of the players on this team needs to be put in check (we're looking at you, Nicolas Deslauriers.)
Constantly being outnumbered and outplayed did not fare well for the Ducks last season. Their penalty kill percentage sat well below the league average; which for a team who had issues scoring goals at even strength, was not a prime position for them to be in.
Solve the Scoring Woes
182. That is the number of goals credited to the Anaheim Ducks during the 2019-20 season. This statistic was barely enough to snag them 26th in scoring, and honestly, it's embarrassing. Only two players on the roster scored over 20 goals last year; Adam Henrique leading the way with 26 and Jakob Silfverberg not far behind with 21.
From there, things look pretty bleak for our feathered friends, as only 5 players on the entire roster managed to score more than 10 goals. But isn't that the name of the game? How can a team possibly win games when they struggle to put tallies on the board? John Gibson could have a flawless game, but if the team in front of him isn't putting the puck in the net, his efforts are all for nothing.
The scoring has to come from somewhere. But if all they're getting is another 20+ goal season from Rico and Silf, they might as well throw the towel in now. It's time for the young players to take that next step in their career and contribute alongside the middle age and veteran guys.
Last season, you could sense that there young guys like Troy Terry, Sam Steel, and Max Jones put a lot of pressure on themselves to produce. They forgot to trust themselves and their instincts because they were so focused on forcing things. As we all know, the more you try to force things, the more you lose confidence when things don't go your way.
Yes, they need to be difference makers. They're not rookies anymore. But, they have to remember to trust their gut and not get in their own way. Anaheim Ducks center, Adam Henrique puts it into perspective perfectly in an interview with Eric Stephens from the Athletic:
"I think at some point you have to just simply put it on yourself to be a difference-maker. And that's not saying you have to go out and not be the player that you are. You've made it to this point for a reason because you're a great player and you have a special talent. I find a lot of young guys (are) trying to play outside of your game and try to force certain things, then it just spirals the other way and can kind of take away that confidence or a bit of that swagger. And then all of a sudden you're not playing your game for what got you here in the first place."
The young guys know what needs to be done in order to progress in their NHL career and be those difference makers. If they can figure things out, everyone else will fall in line behind them. The more confidence and cohesion we see up and down the lineup, the more goals we will likely see flying into the back of the net.
Ducks Fly Together
One thing that was lacking on the Anaheim Ducks roster last season was unity and accountability. Everyone seemed to be on a different page come game time. Granted, when you're at the bottom of the league and can't quite seem to put the pieces together, it's difficult to find that cohesion and chemistry. It also doesn't help when your coach seemingly puts the lineup into a blender after the team is finally starting to figure things out.
But, despite the obstacles the team will face this year, one thing is for certain; they all have to set course on the same path if they want to find their way. No more stepping onto the ice looking defeated. They are either all in or they've already lost before the seconds start ticking off the clock.
They must trust each other, open the lines of communication, and push one another to be better night in and night out. Along with Captain Ryan Getzlaf and his Alternate Captains, Jakob Silfverberg and Josh Manson, players like Cam Fowler, Rickard Rakell, Hampus Lindholm, Kevin Shattenkirk, Adam Henrique, Ryan Miller, and John Gibson need to rise up and lead this team.
The young guys need accountability, but even veteran players like Getzlaf, Fowler, and Silfverberg need guidance sometimes. If something isn't working, they cannot be afraid to speak up. And much as it pains me to say it, they must have confidence in Dallas Eakins and his coaching philosophies.
There is a reason that ducks fly together. In a group, it is easier to confuse or overwhelm a predator. Flying together increases the odds of survival for all members of the flock. And if the Anaheim Ducks have their sights set on contending, they must learn a very valuable lesson from the wise waterfowl that have inspired their very existence.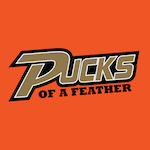 Want your voice heard? Join the Pucks Of A Feather team!
Write for us!
Are you a passionate Anaheim Ducks fan that loves reading Pucks of a Feather? If so, we would love to have you on board as a contributor! Just follow the link above for more information on how to join the crew.