Anaheim Ducks: 5 Reasons to get Excited about the 2020-21 Season
The Anaheim Ducks will be back on the ice soon, and we've got five reasons you should be excited for the 2020-21 season.
With all of the negativity going on in today's world, it can be hard to remember that it was just a few short months ago that the Stanely Cup Playoff's concluded. However, the last time we saw the Anaheim Ducks play was in March, against the St. Louis Blues.
Since then, the Ducks have been in hibernation. Until now. Now, we finally have a target start date for the 2020-21 NHL Season: January 13, 2021. It will be a sprint to the finish, but that might be fun, all things considered.
That being said: despite the uncertainty of the season, there are still a lot of things for Anaheim Ducks fans to get excited about. No, things won't be the same, as fans probably won't be allowed at games, and it is still unknown when they will be. But that shouldn't take away from the fact that our beloved team will be back on the ice soon.
Though we didn't have a lot of positive moments last season, or the past few years, in a season filled with lots of anticipation, wackiness, and downright excitement, this could be the year the Anaheim Ducks show positive signs of progress. And these are five reasons to prove my theory.
Sonny Side Up
One of the additions from last year that I am excited about is Sonny Milano. He was traded to the Ducks from the Columbus Blue Jackets, and though he had played nine games with the Ducks, he made his presence felt when he scored the overtime game-winner against the Edmonton Oilers.
Milano's game-winner was a bright spot in a season filled with turmoil and strife. My personal belief is that Milano can be a forty to forty-five-point scorer and if that is the case, he might earn a long-term spot here in the OC.
Though his body of work is small, his youth energizes an already older forward group. I also liked what he did in Columbus. Though he may not wow you with the stats, I think Milano has promise, good talent, and can help some of the younger and new guys on the team. Wherever he gets slotted this year, I predict Milano to make his presence felt and earn a spot on the team. Plus, if, and when, he scores, I can use my "Sonny-side up" pun to kingdom come.
The Return of Rik-Rak-Attack
Rickard Rakell. Rik Rak Attack. He's been a pleasant mainstay, but for the last two years, there hasn't been the same zip from Rakell's game. In the last two years, Rakell has scored 43 and 42 points respectively. He only scored eighteen and fifteen goals these last few years. A far cry from a few years ago when he netted fifty-one and sixty-nine points in '16-17 and '17-18.
Some have speculated what has been the reason behind his huge drop. Some have placed the blame on Eakins' coaching and not putting Rakell in a position to be productive. Others have attributed to Corey Perry's absence. No matter what the reasoning, this year, Rakell needs to show that he can snap out of his slump.
Last year, Rakell's' OT GWG against the Avalanche was a thing to behold. His scoring prowess will be key as the team will need to score to keep up with the West's best teams. I also think Rakell can be a valuable leader on the team.
With Ryan Kesler and Perry gone as the alternate captains, I think Rakell needs to be assertive and be a leader amongst the forward group. Do I think he'll be like Getz and be more vocal, maybe, maybe not? What I do know is his presence must be elevated if the Anaheim Ducks want to show signs of promise for years to come.
Captain (Shatten)kirk
Kevin Shattenkirk. Stanley Cup champion. His defensive prowess has made him one of the most valuable defensemen in the game today. When he played for the Blues, Shattenkirk scored over forty points four straight years. In those four years, he had thirty or more assists. He also scored forty-three goals in those four years, but what made him so lethal is that he scored twenty-four power-play goals. That's key because the Anaheim Ducks have lacked a prominent power-play quarterback for many years.
With Kevin Shattenkirk, Cam Fowler, and Josh Manson as the experienced defensemen, I would pair Shattenkirk with Hampus Lindholm, Josh Manson with Fowler. I believe his presence on the ice can help provide some stability at the power-play quarterback position. He along with Cam would be perfect co-captains on defense, as his experience will boost the entire team's defense. If the defense improves, John Gibson won't have to over-extend himself like he has been these last few years.
The New Ducklings
Another reason to be excited this season are the newbies. A lot of hoopla and hype has surrounded our new draft picks, particularly Jamie Drysdale and Jacob Perrault. What I am excited about is just seeing them play and seeing them don the jersey. These last few years haven't been easy as the Anaheim Ducks franchise has missed the playoffs the last few years. To see the new guys have their chance to shine, could give us a look into what lies ahead.
If I could give the draft picks some advice, it would be: treasure the time you have here. We may not have the history like the traditional franchises like Detroit, Boston, Chicago, or even the Canadian franchises have, but what we do have is heart. This franchise was born from those who dreamed to fly. Yes, you'll take your lumps, but if you stick it out, these fans will stick by you.
I won't make any out-of-this-world predictions that they'll soar to new heights this season. What I will say is, to the fans, grant them patience. They must learn how to fly, and yes there will be times where they will struggle. But, if the veterans teach them well, they will fly in due time. Don't expect them to soar to new heights right off the bat, give them time to grow into the Anaheim Ducks they will become.
Time to Realign
The final reason to be excited is that we probably will be realigning divisions again. With COVID running rampant, a proposed realigning of the divisions would take the Canadian teams out of the normal Pacific division to form their own. That would leave the California teams, Vegas and Arizona. Colorado, St. Louis, and Dallas move from the Central to the newly formed "Western Division", if all things are confirmed.
If that is the case, I like it because we don't have to deal with the Canadian teams in this newly-formed division. Do I think we'll win, no, but for one year we don't have to hear Flames and Oilers fans complain about playoff losses to us in years past.
What I also like about this possible divisional realignment is that we keep our rivalries against the Kings and Sharks. We still deal with Arizona and Vegas, but we also get our former divisional rival back in Dallas along with a new divisional rival in Colorado. As the season gets closer I'll make my preseason prediction, but for right now, I'll say that we'll struggle early, but in the end, it'll pay off.
Plus, I somewhat like Colorado, as I like the Gabriel Landeskog-Nathan MacKinnon-Mikko Rantanen line, (best forward line not related to the Anaheim Ducks). The divisional matchups will be awesome, and I will be in front of my TV once the games are back on. Plus, there is a solid chance the Ducks will be on TV because of who is in their division now.
So, sit back and relax and enjoy the ride. Will it always be smooth? Nope. Will it be exciting? Yes! In the end, it doesn't matter because for the first time in nearly a year we will be hearing our favorite announcers in John Ahlers and Brian Hayward. So, in the words of Lester Averman, "The Quack Attack is back Jack!"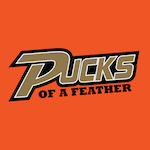 Want your voice heard? Join the Pucks Of A Feather team!
Write for us!
Are you a passionate Anaheim Ducks fan that loves reading Pucks of a Feather? If so, we would love to have you on board as a contributor! Just follow the link above for more information on how to join the crew.