Four Anaheim Ducks Prospects Make Team USA 2021 WJC Preliminary Roster
Team USA has released its preliminary roster for the World Junior Championship. Four of the Anaheim Ducks prospects are in contention to make the cut.
Set to take place in Edmonton, Alberta from December 25th to January 5th, the IIHF's World Junior Championship is often an exciting event for both the hockey players and fans alike. Prospects hoping to make the jump to the NHL in the future get to showcase their talent in the international spotlight, in hopes of bringing home the gold for their home country. This year, four prospects from the Anaheim Ducks system have landed on Team USA's preliminary roster.
Before the journey to Alberta begins, players on the preliminary roster must prove they have what it takes to make the cut. Prior to the WJC, Team USA will hold their training camp, from December 6-13th. During that time, the 29 players who have been invited will be auditioning for a role on the final roster. Four players will be sent home at the conclusion of camp, and the final roster will be announced on December 13th.
Trevor Zegras, Jackson LaCombe, Sam Colangelo, and Henry Thrun are in contention for a coveted spot on Team USA's final roster. Last year, Team USA did not medal at the World Junior Championship, and they will undoubtedly attempt to construct a team that has what it takes to go all the way.
Trevor Zegras
Anaheim Ducks shining star, Trevor Zegras, is already a lock for the team. He was underutilized by coaching staff during last year's WJC, yet still managed to score 9 points (all primary assists) in 5 games. I doubt his coaches will make that mistake again.
He was dubbed the "Wizard of Pass", becoming one of the first players in an IIHF tournament to lead his team in scoring without ever actually scoring a goal. Typically, Zegras plays down the middle, but his performance last year proved just how versatile the young forward is, playing a majority of the tournament on the wing. This could bode well for Team USA.
While his performance during last years WJC was impressive, and more than likely has already earned him a spot on the final roster, he has continued to excel at every level, making a big splash in his freshman year with Boston University. With 36 points in 33 games, Zegras has continued to make many strides in his development. If Team USA has any hope of taking home the gold, Zegras will be the one to lead them there.
Sam Colangelo
Sam Colangelo has a tough challenge ahead of him. Team USA's preliminary roster is stacked full of incredible talent. However, Colangelo doesn't seem like the kind of player who afraid of a challenge.
Going into training camp, Colangelo is one of the biggest players that could snag a spot on Team USA's final roster. Standing at 6'2", and not afraid to use every inch of his frame, he is a physical presence that could benefit Team USA against their toughest opponents. However, the biggest thing Colangelo has going for him is past chemistry and knowledge of several other players vying for a spot at the WJC.
A lot of Anaheim Ducks fans were elated to know that Colangelo was best friends with our most prized prospect, Trevor Zegras. The two grew up playing hockey together. Sam also has experience training alongside fellow Anaheim Duck prospect Henry Thrun, another prospect in the running for Team USA's final roster. Brendan Brisson is also a consideration for the final roster, and the two played together last season for the Chicago Steel.
With the restrictions that have come with COVID-19, constructing a roster with players that have past chemistry together could be a good strategy going forward. Especially for a team that struggled in the World Juniors last year. While change is good, familiar connections are also essential to a team's success.
Jackson LaCombe
Playing with Team USA at the WJC would be an incredible opportunity for a player like Jackson LaCombe. As a former prep school player, LaCombe doesn't have any experience playing in international tournaments. His time at the University of Minnesota has certainly done a lot for his development over the last season, but playing in the WJC would give him the opportunity he needs to increase his confidence as well as offer him the chance to play against some of the best junior players in the world.
LaCombe is unique to the other defenseman he is competing for a spot against. While he plays on the blueline now, he transitioned from playing forward. He is a very dynamic player who is both a bit of an offensive genius and a terror defensively. His game could round out Team USA's blueline, as he excels on all areas of the ice.
Henry Thrun
The 19-year-old defenseman is a very capable and balanced player, which is what Team USA needs after a disappointing showing at last year's WJC. His skill set seems to fit in with Team USA's vision better than a few of the other names on the roster.
Thrun has also played with over half of the players on Team USA's preliminary roster during his time with the U.S. National U18 Team. So, going back to what was previously written about Colangelo, Thrun also has chemistry on his side, and at a larger volume. Team USA's preliminary blueline is, in my opinion, a little underwhelming. Thrun is a player for them to watch, as he could be a key piece in bringing cohesion to Team USA.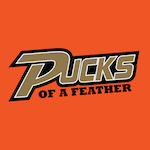 Want your voice heard? Join the Pucks Of A Feather team!
Write for us!
Are you a passionate Anaheim Ducks fan that loves reading Pucks of a Feather? If so, we would love to have you on board as a contributor! Just follow the link above for more information on how to join the crew.