Anaheim Ducks Q&A: Chase De Leo Is Living His Dream
Chase De Leo is living his dream of playing in the Anaheim Ducks pipeline. His story is a fun one and makes us proud to have him in our organization.
A common phrase one might hear in the hockey world is: "livin' the dream." Chase De Leo, a forward in the Anaheim Ducks' pipeline, is undeniably "livin' the dream." Beloved amongst Anaheim Ducks fans for having been a diehard fan himself growing up, he has the once-in-a-lifetime opportunity to play for the team he idolized in his youth.
Having spent the last few seasons with the San Diego Gulls, and being a reliable call up with the Anaheim Ducks, he quickly became a fan favorite. I, along with many others, love his story. And recently, I was able to have a conversation with him about his story. Check out the story of Chase De Leo's journey to pursuing his dreams and ultimately ending up with the Anaheim Ducks organization.
Anaheim Ducks Reverse Retro Jersey
Garrett: Really quick, I have to ask your opinion. What do you think of the Anaheim Ducks new Reverse Retro jerseys?
Chase: Personally, I love them. Wild Wing was pretty crucial to me in my life, being a little kid and going to all the games. I remember him coming down from the rafters before every game. That was pretty special for me. It goes to show how much mascots are involved in growing the game, especially in California.
G: Him coming down from the rafters can't be replicated. It's just vintage Anaheim Ducks.
C: Exactly. There will never be days like that again at "The Pond" when he used to repel down, with all of the lights going on. I think that was as cool as it gets.
Journey to the Pros
G: Now, for our audience members who don't yet know your story, could you walk us through your journey in hockey? Starting from your youth days in California.
C: I actually started playing roller hockey at Brea Hockey Club. I was a goalie because I loved Patrick Roy. I had a VHS tape of the Colorado Avalanche team with Joe Sakic and Peter Forsberg when they won the Cup. They had a behind the scenes for that season. I would watch it pretty much every day when I got home from the rink or school.
Then, I went over to the Norwalk Knights, that was my first time ever playing ice hockey. I was probably four years old. I was still a goalie, but I wore player skates in net, and I had a Joe Sakic jersey on. My dad always thought it was funny that I was wearing the "19" for Sakic, but I was playing goalie. Eventually, I gradually switched out to player.
Then, I went to the LA Jr. Kings in Mites. I had a coach named Sandy Gasseau. I was with the Jr. Kings for 1-2 years, and then Sandy actually started the LA Hockey Club and I stuck with him the whole way. He was my coach for 7 or 8 years. That was when there was a big rivalry between the California Wave, the LA Hockey Club, and the LA Jr. Kings.
The '93 and '94 birth years would always have the games before us and they had a good amount of people watching. The teams hated each other, and the parents were getting into it, so that was definitely fun. The LA Hockey Club turned into the Selects, and we won three national championships with the group that we had. When you're with the group for that many years in a row it's pretty special, it doesn't happen too often.
Eric Comrie was my goalie. I met him when I was doing private lessons in Westminster. I saw that he had his pads over his shoulder, and I used to hate skating by myself when there was no goalie. So when I saw him come into the rink, I instantly became best friends with him. And since then, we were at the rink all day every day.
We were both going to go to college. We flew to Denver University; his parents and my parents. George Gwozdecky, the coach at the time, sat us both down and offered us scholarships. A week later the WHL Draft came around. I got drafted to the Portland Winterhawks and (Comrie) got drafted to the Tri-City Americans. My mom was always school first, and we weren't very familiar with the WHL being from California.
I also went to the National Team Development Camp and had an offer to play with the USNTDP team. So, this was a pretty big decision for myself and my family to make. I was either going to play with the USNTDP and then go to Denver or if I was going to go to the WHL and try to make it to the NHL.
We went to Portland for the development camp and Ryan Johansen, Nino Niederreiter, and Sven Baertschi are all there. All these guys are NHL superstars. So, once I got there, I told my parents, "this is the hardest decision I've had to make, but I want to go to the WHL". I didn't want to have any regrets, and I would be able to stay in Portland for all 4 years, rather than going to the USNTDP, then going to college, and then having to leave college early.
There's definitely no wrong or right way, and it wasn't an easy decision, but looking back, I have no regrets. We had an unbelievable fan base in Portland. I think we had 13,000 fans at every game. When you're 16, playing in front of that many fans, it's pretty special.
We had a really good core there for 2-3 years. You're watching your buddies and your line-mates play in the World Juniors or getting drafted, and it's probably the coolest thing. Every year, me and my parents would be watching the World Juniors, and I remember telling them, "I am going to do whatever it takes to play for Team USA". I just put my head down and asked myself, "why not me"?
My mom would tell me that there was about a 1% chance that I would make it and I told her that I was going to be that 1%. My parents helped me out a lot by letting me make my own decisions, and they were always there for me. Especially now, getting older, you see how expensive it is playing hockey. Being from California, you had to travel every single weekend, it was pretty crazy. Back then you don't really realize it.
I'm so thankful that my parents were able to make my dream a reality. I knew a lot of kids weren't able to travel to the tournaments and play against the top Canadian teams. So I think it was pretty special that my parents were able to help me out with that.
Getting drafted (to the NHL) was the next step. I was ranked in the top 50, and we decided to go to the draft in Philadelphia. I had meetings with all of the teams, and it was a cool experience. It's a crazy couple of months going from WHL playoffs to the Memorial Cup, and then to the Draft Combine, and then to the actual draft, and then to development camp. It was crazy.
I didn't get picked in the first two rounds, but I had a lot of my buddies there supporting me – Jake Virtanen, Michael Dal Colle, and Brendan Lemieux. It was definitely a relief when I heard Winnipeg call my name.
Nic Petan was already in Winnipeg, he was my best friend and teammate in Portland. Obviously, Eric Comrie was already drafted to Winnipeg too. That was the first thing I thought of when Winnipeg picked me; "I'm going to be reunited with two of my best friends".
I had a lot of good learning experiences in the development camps with Winnipeg. Eventually, I went down to the Manitoba Moose. I had a big role, being on the power-play, penalty-kill, and being the first-line center. And it was definitely a big step going from juniors to pros.
You learn a lot of stuff. The whole mental side of the game is where the biggest growth comes. I've grown so much in the last five years, just being at the rink every day and seeing how guys carry themselves.
Dreaming of Playing with the Anaheim Ducks
G: I want to go back to something you touched on there: the 2014 NHL Draft. Was there a thought in the back of your head like, "hopefully Anaheim takes me"?
Yeah, of course. I had a really good meeting with Anaheim at the combine. Obviously, I put on my best suit and tie for that one. I was super excited about that meeting. It was always my dream to be a Duck.
Going back, I loved Jiggy (Jean-Sebastien Giguere), Paul Kariya, and Teemu Selanne. I didn't miss many Anaheim Ducks' games when I was little. I remember having to race back from school, get my homework done as fast as possible, and then my dad would take me to the rink. After practice, I would shower up and go straight to the Ducks' game. Then I would do it all over again the next day.
I have the inaugural, first-ever tickets to The Pond in '93. My parents have a plaque of the first four tickets, and it's framed in my room. I have a Wild-Wing granite statue that they only made a hundred of. I have a Dan Bylsma-signed stick that has been hanging in my room my entire life.
So I've always dreamed of it, and it's always been in the back of my mind. When you turn pro, you learn how equal everybody is, so you need to figure out how to give yourself an advantage. Since I've gotten to Anaheim, Dallas Eakins sat me down and told me that he wanted me to embrace and learn how to play Wing, and become a successful penalty-killer. That was going to be my green light to the league, and it was the path that he saw for me. I would be a high-energy, depth guy that could work up and down the lineup.
That was a pretty big lesson for me – having to change my game and learn to play that hard-style game. Being versatile, doing more in less time, and finding a way to produce are all ways that I'm expected to help the team.
Kariya, Getzlaf, and Grass Roots
G: You mentioned Jiggy, PK, and Teemu. Have you been able to talk to any former Anaheim Ducks since you've arrived?
I actually worked with Steve Kariya, Paul's brother, in Portland. He was our video coach. I had tons of conversations with him. I was able to pick his brain, and he helped me out a ton. He was always on the ice with us. I just told him how much I look up to his brother, and how much he motivated me and inspired me as an undersized player.
I was at the game when he got cold-clocked by Scott Stevens, and everybody thought he was dead pretty much. He was at center ice, just lying there motionless – probably one of the biggest hits in hockey history. And then he returns to the game later and ends up scoring the game-winning goal. So that just goes to show his perseverance and the never-give-up mindset.
G: After being back in Anaheim for a couple of years, have you been able to see any change or growth in the game?
C: Absolutely. Every day I go to the rink, there are more and more kids coming in. There are really good programs that they have here now with the Jr. Ducks. California's a beautiful place to live, so I think a lot of retired players like to come here. That just helps to grow the game even more because those are the guys that know what it takes to get to the next level.
When I was little, and going to lots of games, I was able to go down to the locker rooms. I would always be trying to get sticks, or pucks, or anything. It's just the little things that I look back on now— something as little as fist bumps going down the tunnel.
Now, it's very, very cool to be on the other side of things. I always make sure to flip a puck over, or if I have an extra stick, I'll try to give it away to a little kid. All of those little things inspired me, and it goes a long way, for sure.
G: We talked about what it was like for you to watch Kariya. Let's talk about Getzlaf. He was drafted by the Anaheim Ducks in '03, when you were 8. What's it like playing with someone you grew up watching?
C: Getzy's an awesome leader. He's the definition of a captain; the guy you want in the room who's going to take charge and lead. I've only had a couple in-game experiences with him. When I was in Winnipeg still, I was actually training at Anaheim Ice with Cogliano and Getzlaf. They were my training buddies, which was pretty special for me being able to learn from two of the best pros in hockey.
They taught me from day one. Learning from those guys is unmatched, I'm pretty much a sponge whenever I'm around them. Getzy's just such a big body, he's hard to get the puck off of. He just knows the game so well. He's won at pretty much every level you could win at. Just an ultimate leader. I'm going to give them whatever it takes to be able to get some more games with him, and go to battle on his side.
Routine with COVID
G: Second offseason in California, COVID obviously has major effects on how you guys are training. Is there a daily routine for you guys?
C: Well my last game was way back in March when I was down in San Diego. For me, I'm a big fitness guy, and I don't like taking too much time off because I hate trying to get back into game shape.
Rest is important. But for me, I would rather just try to maintain. Everybody's so close; everybody can shoot, skate, and pass. So like I said, you got to find the little difference that can take you to the next level, and give you an edge on other guys.
For me, I maybe took a week or two off. I was laughing at the gym today, I told the guys, "I feel like I'm training for the Olympics". I've been training for 8 months straight. I feel great. I think I might be in the best shape of my entire life.
I'm definitely prepared. It sucks not playing games, that's the best part of hockey. But hopefully, sooner or later, we'll be able to resume and figure something out. But I know there's bigger things going on. There's guys behind the scenes working on it, making sure everything's safe.
I am a big routine guy. I eat the same thing for breakfast, lunch, and dinner every day. I like to set goals before every season, but quarantine has been a good lesson for me. It forced me to take things day-by-day. Focus on the now, and not too far ahead, because no one can prepare for what's going to happen.
G: It'll be interesting to see when things start up again what "game shape" will look like.
C: Everybody's different. Some guys like to take 2 or 3 months off, especially the older guys that have families and kids. You just need to find what works for you. You need to listen to your body and your mind. I'm just going to keep pushing it until I can't push it anymore.
Animal Lover
Before I wrap things up, I need to ask about this. I scrolled through your Twitter, and I don't think I've seen a bigger animal guy than you in hockey. You have at least 10 dogs, ponies, horses, pigs. You saved a squirrel on the side of the road.
C: Yeah, yeah. That's funny, I've always been a huge animal-lover. My family lives in La Mirada, California, and we have about an acre-and-a-half. My sister grew up showing horses. We always had a barn with barn animals. We've always had, at a minimum, 5 dogs ever since I was 4-years old.
I have a donkey, named Hanzel, who is a year older than me, so I've literally had him my entire life. I'm looking at him right now; he's just hanging out in the driveway eating grass. It's nice to be able to have that distraction. It's peaceful and takes your mind off of the real world with what's going on. Animals are so affectionate and have so much love.
In Winnipeg it was tough. When you're a pro, it's different. I didn't have my parents there for me, I was just on my own. You got to just learn and deal with it. So, for me, I got myself a dog. And he was great for my mental health. If I had a bad game, and I'm pissed off, I would come home to the door, and he's just so happy to see me. It's like he's never seen me before, he's just so excited.
It helps me so much. It allows you to flip that switch, and be able to leave stuff at the rink. (Animals) help me stay positive, and it's always pretty much been my "out" and my escape. Everyone has their hobbies. Lots of guys like to golf, or do other things to get their mind off of their jobs. But, for me, it's always been animals.
In Winnipeg, I was fortunate enough to work with the Winnipeg Humane Society. Once a week, I would go there and they would have an old dog there that had been having a tough time trying to find a home. I would pay for all the dogs fees and everything without telling anybody. Then, I would post a picture on social media, and hopefully word would spread. Families would eventually come down to get this dog, and find out that everything was already paid for. I just wanted to be sure that people were doing it for the right reasons, and that it would be going to a good home.
At the end of the day, I think everyone needs an animal, it's good for your mental health. For me, it's huge, they're nice to have. It's been nice staying at my family's house, and have all of them around, especially during quarantine, when everything is locked down.
My parents own a plumbing-supply company, and they've been going through some hard times recently with COVID. So I've taken some of the responsibility to help out with some of the animals. When you have 14 dogs, there's a lot of dog poop to pick up in the backyard. It's just trying to find any of the little things that I can help them out with, anything that can benefit them. But definitely— big animal guy.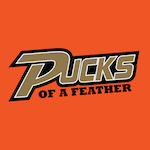 Want your voice heard? Join the Pucks Of A Feather team!
Write for us!
I think I speak for everyone when I say that the Anaheim Ducks' community is proud to have people like Chase in our organization. Thanks for taking the time to talk about your story. Good luck to all of the De Leo's this coming season.