Anaheim Ducks Sign Free Agent Kevin Shattenkirk to 3-Year Deal
Bob Murray has addressed a major need on the Anaheim Ducks blueline by signing free agent Kevin Shattenkirk.
We have just experienced a genuine swing-for-the-fences by Anaheim Ducks General Manager, Bob Murray. Notorious for underwhelming come July 1st (October 9th this year), Murray inked Shattenkirk to a three-year deal with an AAV of $3.9 million according to Chris Johnston of Sportsnet.
Shattenkirk brings playoff experience, powerplay quarterbacking ability, and fills out the Duck's top-four quite nicely. He was previously linked to the Ducks last year during the offseason, according to Eric Stephens of the Athletic. All he did in the last year was win a Stanley Cup with the Lightning— no big deal. This has allowed him to test the market, which was showing more interest this time around compared to last year.
Shattenkirk is battle-tested, and he brings a winning pedigree to a locker room filled with young players. This signing is especially beneficial for two specific reasons. First, he will dramatically improve the outlook of the Anaheim Ducks powerplay which was 30th in percentage last year. He is known to be a puck-moving specialist, especially on the man-advantage.
Secondly, a certain someone who just so happens to be an offensively gifted, right-handed defenseman, has recently joined the Duck's ranks. Jamie Drysdale excels in his own right in puck-moving and general offensive aptitude. He is sure to learn from Shattenkirk throughout their tenure together, and the prospect of this seems promising moving forward.
Shattenkirk has had conversations leading up to the signing of his deal with friend, and former Team USA teammate, Cam Fowler. According to Eric Stephens, the two have been having sporadic conversations over the last year or so. They've discussed the direction of the team, the idea of living in Southern California, and Fowler had his chance to recount his time within the organization.
As it turns out, the idea of playing with Lindholm or Fowler proved to be major selling points for Shattenkirk. He is quoted by The Athletic as saying:
"If you look at who they have on the back end – guys like Cam Fowler and Hampus Lindholm, premier left defenseman and guys that I would love to play with."
Fowler has commented on the signing, mentioning that he's excited for a friend of his to come and help the team. Shattenkirk may not be the most well-rounded defender, as he has been known to play sheltered minutes. He's not a liability though, and as a veteran, he knows how, and when he can help his team. Offensively, he has pitched in upwards of 40 points six times in his ten-year career, and two of the four times he missed that threshold came in seasons where he played less than 50 games.
On a team like the Ducks, where major struggles to put the puck in the net persist, it might be a stretch to reach that milestone again. However, he scored at a 39.8-point pace over 82 games last year on a stacked Lightning team. If he is able to shine in a more heavily-featured role, then he has a legitimate shot at getting there.
For the time being, Shattenkirk appears to dramatically increase the Anaheim Ducks position this season. He will be a steady veteran presence, capable of instilling the necessary wisdom in the younger players that will soon start to play more prominent roles. I tip my hat to GMBM.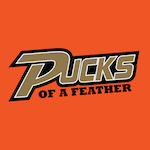 Want your voice heard? Join the Pucks Of A Feather team!
Write for us!
Are you a passionate Anaheim Ducks fan that loves reading Pucks of a Feather? If so, we would love to have you on board as a contributor! Just follow the link above for more information on how to join the crew.