Anaheim Ducks: Making Sense of the Jigsaw Pieces
How do the Anaheim Ducks pieces acquired in the last two drafts fit together and what do they need to consider going forward?
The first round of the 2020 entry draft is in the bag and it marks the second year in a row that the Anaheim Ducks have drafted twice in the first round. If the Ducks are entering into a soft rebuild then four first-rounders in two years is a good start to the process.
While last year's draft selections have been analyzed and everyone knows about Trevor Zegras, there are still questions about how this new dynamic two-some fit into the grand plan. Thus, I wanted to explore some ideas on how the recently acquired prospects fit into the team, and what that may mean for their peers and the team itself, as the future arrives.
Firstly, we should have an understanding that the Anaheim Ducks over the past few years have wallowed at the bottom end of the league in terms of goal scoring, power-play performance, and more recently, penalty killing and goal prevention. They're a struggling team that has a lot of areas to improve upon.
Secondly, we should recognize that in the 2019 entry draft the Ducks selected one of the hottest prospects outside of the NHL in the aforementioned Zegras, as well as the analytics darling Brayden Tracey. In some way's Tracey is a lump of wet clay to be molded into the type of player who may best fit with the Ducks future plans. Zegras of course is the heir apparent to Ryan Getzlaf's playmaker crown.
The scattergun approach management has taken up until now with regards to the rebuild many fans believe is necessary has befuddled many. Yet, does the picture become slightly clearer after yesterday's selections of Jamie Drysdale and Jacob Perreault? In some ways, I believe that the Anaheim Ducks have provided some clarity going forward
EVEN STRENGTH IDEAS
While many may consider Perreault a natural fit alongside last year's selection of Zegras, assuming that the natural sniper would be a perfect fit for a natural playmaker. However, I'm going to argue that this may not be the optimal setup in even-strength play.
Perrault is a pure sniper with one of the best shots in this draft class. It's accurate, hard, and he can score from anywhere. His ability to catch and shoot pucks in stride when the passes aren't in the wheelhouse is a transferable skill that will serve him well. – EliteProspects 2020 NHL Draft Guide
The ability to shoot the puck from non-perfect locations is a definable skill that is likely to serve Perreault well throughout his career. Yet, if Zegras is as good a playmaker as we believe he is, the skill set of Perreault may be somewhat underutilized. That is to say that if he's getting perfect passes on the tape, his ability to rip from slightly misplaced passes is going to go to waste.
Obviously, nothing is perfect 100% of the time in a chaotic sport like hockey, however, if more often than not, Zegras is able to dish Getzlafian passes, the Ducks may be better to utilize a shooter with a different skill set to take advantage of that. The converse is then that Perreault is left with a lesser playmaker, but one that may allow him to maximize his skill set.
It would be worth noting that line changes happen all the time throughout a game and that in games the Anaheim Ducks were trailing in, they would have the option to bring the players together. After all, it makes sense to bring your best offensive players together when you really need a goal.
However, hockey has been shown to be a strong link game in which teams that have better players on the ice for a greater portion of the game are more likely to be successful. Thus, splitting the scoring to create two lines ensures that the Ducks have a high level of talent on the ice more often than not.
In some ways, however, Perreault sits outside of the typical Ducks forward model. The player himself expresses a desire to become a two-way player, stating the following in an interview with the Ducks AHL affiliate.
"I want to be a two-way player coming in next year, make a difference at both ends of the ice. I've been doing a good job over the summer improving in those areas, and obviously I need to do a good job improving in the future." – Jacob Perreault.
However, this is a long way from his current level of play. Perreault was a "surprising" cut from the Canadian Hlinka tournament team despite his typical strong offensive performance, in camp. This cut came firmly about due to his piss poor pay outside of the offensive.
"His play without the puck can leave some to be desired, as effort and awareness on the backcheck is quite inconsistent. Growth is definitely required of him as a two-way player. Additionally, Perreault can be prone to turnovers in the neutral zone that cost his team. His puck management and decision making will need to improve." –McKeens Hockey
Thus, we can see that Perreault may require some help with defensive duties and may even require some sheltering until his defensive attributes catch up with his offensive abilities. This thinking provides a number of different aspects to consider. Firstly, that he's probably not a true first-line player, in that he's possibly going to need some sheltering from the leagues elite. Elite players who he would absolutely be faced up against in a top-line role.
It may also provide context to keeping him on a wing, with the lesser defensive responsibility of the forward positions. The Anaheim Ducks would certainly have drafted him as a wing, but the scope is there for him to be potentially trialed at the pivot. Poor defensive ability pours cold water on that.
However, this opens the door, for the stereotypically Ducks "two-way" forward to enter into the conversation. At present, the Anaheim Ducks are beholden to Jakob Silfverberg, however, he is getting older and may not be a force when the Perreault's and Zegras's are hitting their strides. If I were a betting man, I imagine that the Ducks will attempt to search for a more even-keeled player to play on the wings in the next couple of drafts to take over from Silfverberg and to compliment Perreault's skill set.
There are some questions then about how Brayden Tracey fits in moving forward. As a left-wing, the original thinking would be that he could fit with either Perreault of with Zegras. However, it's worth noting that Tracey also has a lot to be desired with his play without the puck. This makes him a bad match for Perreault.
Nevertheless, his success with other good players as an offensive all-rounder suggests that he could find a niche playing on the wing of a playmaker such as Zegras. Tracey would certainly need to improve his game significantly to be molded into that top-line forward, however, as a complementary player and not the focal point he could become a successful third wheel to Zegras and a forward still to be named.
In essence, the Ducks have filled in three of their top 6 forward slots. It remains to be seen if Maxime Comtois or Max Jones can fill in on one of the left-wing slots, however, a power forward creating havoc at the net face would seemingly be of great benefit to a shooter of Perreault's caliber.
At face value, it would seem that the quicker skating Jones may have an edge if he can at least, in part, keep up with Perreault's blazing speed. Though both Comtois and Jones would be effective at providing screens and a net presence on the cycle. Assuming that one of these players can pan out into that role, the Anaheim Ducks then only require a "two-way" top 6 type to help cover Perreault's flaws, as well as one further shooter for the top line. It's not an insurmountable task.
HOW DRYSDALE FITS IN
Jamie Drysdale was the consensus Anaheim selection for much of the recent past. Almost as soon as the Ducks locked in the #6 draft selection, pundits had the Ducks taking Cam Fowler's natural replacement.
In many ways, Drysdale helps to replenish a relatively weak defensive pool. The Anaheim Ducks have gone very heavy on forwards over the past few years and as a result, has seen their defensive group shrink over that same period of time. An offensively-orientated player with smooth skating, Drysdale has been described as the defenceman that every team is looking for.
"He's a brilliant skater, capable of quarterbacking a power play with ease and generating results both ways through the neutral zone. More of a playmaker than a shooter, Drysdale is adaptable first and foremost. He's going to make the best decision regardless, no matter the situation. He's the only defenceman in this year's draft with clear No. 1 defenceman upside." –EliteProspects 2020 NHL Draft Guide
How he fits into the Ducks moving forward, however, is a more difficult question to answer. Tabbed with the moniker of "#1 upside" Drysdale should by rights, be considered as a future top-pairing defenceman. That, however, would appear to be a long way into the future.
Currently, Cam Fowler occupies that playmaking, puck transition role on the top pairing, and he's young enough to be a Duck for quite some time yet. Unfortunately, Fowler doesn't particularly play well with other playmaking offensive defencemen which may regulate Drysdale to playing on a different pairing.
At present, that second pairing consists of Hampus Lindholm who is a former 6th overall draft selection of Bob Murray's, as well as Josh Manson. For better or worse the Ducks adore Manson, and he seems set to be a Duck for some time.
There is also the case that Lindholm and Manson play relatively well together, and have traditionally done so. If the Ducks were disinclined to trade away one of these players it would regulate their new 6th overall selection to a third-pairing role.
It would seem to me that the best option for Drysdale's development in the short term would be for him to get Junior hockey-playing time, however, when he is ready to move into the NHL, it may behoove the Anaheim Ducks to consider moving Josh Manson. This would allow the Ducks to run the defensively sound Lindholm as a protective partner for Drysdale, giving him a warm comforting security blanket from which to launch his offense.
There is something to be said about Lindholm's ability to repel the opposition's offense and provide an outlet pass to his defensive partner. With Drysdale's skating ability, the chances of him being able to spring the breakaway is quite high. It could prove to be a productive second pairing that maximizes each player's strengths. The only real question is, how long they hold onto Manson for?
Nonetheless, with Lindholm in the fold, Fowler currently under 30-years-of-age, and now Drysdale, the Ducks have three solid defencemen on the team for the foreseeable future. A strong defensive presence to play alongside Fowler may be on the cards, as well as a strong third pairing could be considered.
Perhaps Brendan Guhle, Henry Thrun, or Josh Mahura can take the third pairing roles. However, I suspect that a high draft selection will be used on a defenceman in the next two seasons, to find that player to go alongside Fowler (and his replacement in the distant future.)
POWER PLAY THOUGHTS
While the Even Strength section suggests separating Zegras and Perreault to create two stronger scoring lines, this would not necessarily be the case when the Ducks hold the man-advantage. Conversely, both players should be brought together so that they can connect with all of the extra space that is afforded to teams during this type of play.
In many ways, this seems like a no-brainer and is very likely the case moving forward. Who plays as the third (and fourth) forward on the unit may depend on who pans out. Tracey would seem to be an unlikely player to join them, given his current skill set. However, depending on how he develops that may change.
I would imagine that they would look for a front of net presence and/or a one-timer threat to add to the unit. Neither of these roles would naturally fall to Perreault or Zegras, though Perreault can hammer the one-timer in moderation.
The duo has each also played wing and center at times. With the man advantage, it would seem that Perreault's defensive lapses would be less of an issue and thus, he may be able to take the odd draw. The coach may even decide to switch between them on consecutive draws, giving the defense further things to consider when they set up their defenses.
Forcing the defense to react to changes you make is, more often than not, likely to create gaps in coverage for the smart player to take advantage of. If the Anaheim Ducks can tilt the ice in their favor, then their future power play may become far more deadly than the current version.
With regards to the defenceman and to their newcomer, Drysdale, Fowler also takes prime position on the powerplay. If Drysdale were more of a shooter, there could be a case made for both on the top unit, with Fowler playing the playmakers role (and of course his relatively benign wrister from the point) and Drysdale coming in with a big one-timer.
However, Drysdale's game is incredibly similar to Fowler's which suggests they may be redundant playing in the same five-man unit. All of which suggests that Drysdale may need to find his repetitions, at least early in his career, on the second unit. Playing with lesser talent is going to contribute to lower points per game output, and may eventually stifle the players game, thus the Anaheim Ducks will need to carefully manage this in the early days of him entering the league.
Typically speaking, it makes good sense to gift younger offensive players with softer minutes on the power play, to build their instincts and to boost their confidence. It's a bigger problem for defencemen in today's game with four-forward, one-defencemen, units being more widely used.
TYING IT ALL TOGETHER
Overall, I feel like the Anaheim Ducks have made a clear and conscious decision to draft (and acquire) players who can skate. Sonny Milano wasn't the first, but he was a clear indication that they wanted more foot speed. This probably started way back after the Playoff loss to the San Jose Sharks.
Last season's selections of Zegras and Tracey are both above average skaters, and now this season, the Ducks have gone for possibly the smoothest skating defenceman as well as a very quick forward. If nothing else, it shows the Ducks are moving into a new era that is at odds with the Ryan Getzlaf-Corey Perry era that we've largely been a part of these past ten years.
The NHL is certainly a copycat league and many of the league's top teams are far faster than they were even four or five years ago when the Ducks were attempting to contend with Getzlaf and Ryan Kesler as their top two pivots. Corey Perry was never a quick skater but he was cut away. Even relatively recent former 10th overall selection, Nick Ritchie, was given his marching orders. Thus, I think we can safely assume that the Ducks will put a premium on team speed over the next couple of years.
Given the current lineup and the draft selections of recent times, I would expect that the Anaheim Ducks begin a search for a player with a big one-timer. If they were looking at spending a high draft selection, this could easily come in the form of a big defenceman who could play the top pairing next to Cam Fowler at even strength, as well as hammer home big shots from the point.
Alternatively, they may find they are able to score a top 3 draft selection and take a center who can play responsible hockey and hammer it home from the circles. Whichever way they decide to go, however, the Anaheim Ducks have options. They also have some very clear deficiencies on their offensive end.
A one-timer threat should be considered to provide different offensive looks.
A "two-way" player to cover for the less defensively responsible players. A prime-aged Loui Eriksson comes to mind as the player type they may consider.
A strong center. Either a 1C or a 2C is likely to be required, as Getzlaf fades out of the top-6. That's no slight on Zegras suggesting the Ducks could get a 1C, just acknowledging that the Ducks are a poor team at present, and Wright and Lambert are both available in the 2022 draft.
Defensively, the Ducks are a lot more stable in the medium term. At 29-years-of-age, Fowler has a lot of racetracks left to him. Hampus Lindholm is but 26 and could be a Duck for another decade given the way he plays the game. I do believe Manson should possibly be traded to make room for Drysdale, but even should that come to pass, having three of the top-4 locked up is a strong boon for a team. Nonetheless, some requirements can be obtained.
A top pairing "defensive" defenceman to play alongside Fowler, and to provide a physical presence.
A booming shot from the blue line that can provide a different look to the pass-first offensive players they have in the hand currently
A steady third-pairing who can handle minutes to keep the top-4 group fresh. They may even have this already.
The real question is whether Bob Murray sees what I see. Does he think the pieces fit together in a way that will build a future Stanely Cup team? We'll find out over the next two seasons. As always, Brad Lambert in 2022!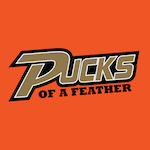 Want your voice heard? Join the Pucks Of A Feather team!
Write for us!
Are you a passionate Anaheim Ducks fan that loves reading Pucks of a Feather? If so, we would love to have you on board as a contributor! Just follow the link above for more information on how to join the crew.