A Salute to Former Anaheim Ducks Defenseman Ruslan Salei
It's been nine years since the passing of former Anaheim Ducks defenseman, Ruslan Salei. Today we remember him.
Today is a somber day for most Anaheim Ducks fans. It has been nine years since we were silenced by the tragic loss of one of our own, Ruslan "Rusty" Salei. Ruslan, along with his forty-three Lokomotiv Yaroslavl teammates and staff members, perished in a plane crash on their way to Belarus for the start of the KHL hockey season. When word of his death made it stateside, there were feelings of sadness and mourning. For the first time in Mighty Ducks history, we had lost one of our own.
Although Ruslan Salei may not have been my favorite player, he was responsible for making some of my favorite moments in MDA history happen. The 2003 Stanely Cup Finals against the New Jersey Devils are some of Ducks fans fondest memories. His overtime game-winner was the spark the Ducks needed to ride all the way to Game 7 and, in my humble opinion, was the leading catalyst to what was probably one of the best moments in Anaheim Ducks history.
Rusty played for the Ducks from 1996-2004, starting his NHL career at the age of 22 after being drafted 9th overall in the 1996 NHL Entry Draft. In his 9 year tenure with the team, he has 3 playoff appearances, in 1999, the famous one in 2003, and in 2006. Though he didn't have gaudy stats, Salei's impact on the blue line would be best remembered the year the Anaheim Ducks made their first run for the Stanely Cup.
He, along with Sandis Ozolinsh, lead the Ducks on defense to a top 6 finish in GAA, and he finished the campaign with a +3 rating in the playoffs. That, along with his game-winner against the Devils, are two aspects that all the OG M.D.A. fans will remember him for.
He was also a popular figure in Belarus, his home country. Salei played for the Belarus national team from 1994-2010, a year before his passing. Though he didn't earn a medal or top 3 finish in his Olympic/International tournaments, he stood out amongst the rest as far as the most popular players from his home country.
Though we cherish his time in the OC, his home country of Belarus would be the first to claim him as one of their own. Stats wise, Salei scored a combined total of thirty-one points in his time on the national team, lighting the lamp 13 times, and adding eighteen helpers.
As for his passing, it was a huge shock when we all heard the news. His team was supposed to head to Belarus for the start of their season when the crash occurred. For his home country, the pain was immense, as he was one of their own, and the fact that he was supposed to come back to play in front of them, just to die before his grand return made the death worse for them.
As for us Anaheim Ducks fans, Ruslan was one of our own, and to me, his death reminds me of D3 when Hans, the Mighty Ducks' mentor, passed and how it shocked the entire team. Though he wasn't one of the popular players, his death hit home for us OG MD fans, and for some, the anniversary of his death still hits close to home.
As an OG MDA fan, if I got to meet him, I would say thank you. Thank you for giving not only your home country something to root for, but thank you for wearing our colors and taking great pride in it. We continue to miss you, Rusty. You will forever be in the hearts of Anaheim Ducks fans.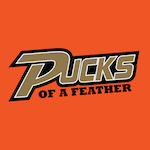 Want your voice heard? Join the Pucks Of A Feather team!
Write for us!
Are you a passionate Anaheim Ducks fan that loves reading Pucks of a Feather? If so, we would love to have you on board as a contributor! Just follow the link above for more information on how to join the crew.