Anaheim Ducks: Where Should Trevor Zegras Start the 2020-21 Season?
The Anaheim Ducks have finally signed Trevor Zegras to his ELC and one question is at the forefront of everyone's mind. Where should he start the 2020-21 season?
On March 27th, the Anaheim Ducks made the official announcement that Trevor Zegras had signed a 3-year ELC. With the ink on his contract dry, it is exciting to say that the organization has set a course down a bright path to the future. The 2019 9th overall draft pick is currently the organization's most exciting prospect, and with his inability to return to the NCAA, this bodes a very important question: where should Trevor Zegras play during the 2020-21 season?
There are really only two options for 19-year-old Zegras at this point. He can either play for the Anaheim Ducks or he can spend a season or two with the San Diego Gulls. There are reasonable arguments to let him play for either team, but at this moment in time, only one really makes sense.
Trevor Zegras Should Not Be NHL Bound This Season
Yes, I said it. Now, before you come after me with your pitchforks and torches, this statement is in no way me saying that I don't think Trevor Zegras is cut out for the NHL. Quite the contrary. There is no denying Zegras' incredible playmaking abilities at such a young age. After watching him play during the WJC's and with the University of Boston, he is clearly too good for the NCAA and is ready to take the next step in his hockey career.
However, with that being said, there is simply no room on the Anaheim Ducks roster for Zegras with their current lineup. The Ducks currently have Ryan Getzlaf and Adam Henrique as their 1-2 punch down the middle, with Sam Steel gaining valuable experience on the third line. It would pointless to start Zegras on the fourth line. Plus, the Ducks currently have David Backes and Andrew Agozzino in their organization, both players who would be valuable in the 4C position.
There is always the option that Zegras could play on the wing. He played on the wing during the WJC's and thrived in that position. However, again, where would he slot in without totally throwing a wrench in the Ducks' current lineup? Granted, Sonny Milano is an RFA come July, but he has already shown that he belongs in this lineup. It would be unfair after the work he has put in to prove that he belongs.
There is also the Dallas Eakins issue. While Eakins seems to be the right coach to get the Anaheim Ducks through this rebuild, he is not the coach that will lead them to the playoff promised land and Lord Stanley. His system doesn't have much structure from what we've seen in 2019-20. The younger players seemed to struggle at the NHL level under his guidance, aside from maybe Sam Steel.
The 2020 NHL Draft is Essential to Where Zegras Plays this Season
Whoever the Anaheim Ducks draft with the earlier of their two first-round picks should be a big determining factor in where Zegras spends the 2020-21 season. With their current positioning in the standings, the Ducks are favorable to draft 6th overall. This would allow them access to a group of very talented players. Every Ryan Getzlaf needs his Corey Perry, and Zegras is no different. The playmaking center needs a winger who can finish.
There are a lot of options, and we will discuss those players as we get closer to the draft, whenever that might be. But, it makes a lot of sense to draft a player who will compliment Zegras, sign him after the draft, and allow the pair to build their chemistry in a less stressful environment like the AHL.
This would also allow for the two players to be thrown into the NHL together in a year or two, and continue to build on their chemistry. Having Zegras, and whoever Bob Murray drafts, on the San Diego Gulls, could also thrust the team into contention for the Calder Cup once again. The Anaheim Ducks could also focus on rebuilding without putting tremendous pressure or potentially hurting Zergras' development.
If we also consider players like Jack Hughes and Kaapo Kakko, both drafted in 2019, it seems like an unwise decision to thrust Zegras into the NHL spotlight right now. Both Hughes and Kakko struggled in their first NHL season. Granted, both players procured more points than a majority of the Anaheim Ducks 2019-20 roster, they did the best job they could on their respective teams, and we can give them the benefit of the doubt since it was their first NHL season. Nevertheless, neither player impressed the NHL world like we thought they would.
Is that their fault? Unlikely. Both the New York Rangers and New Jersey Devils have their fair share of issues that need to be worked on teamwide. However, when you look at the standings, it is clear, the Anaheim Ducks have many more issues than both New York and New Jersey, and Trevor Zegras is not going to fix any of those issues.
Zegras is certainly strong-willed, and I'm sure he will play his heart out to prove that he belongs on the Anaheim Ducks roster. Again, stating that Zegras should play in the NHL is not my way of slapping him in the face. What is the harm of allowing him to spend some time in the AHL? All the best wine has to age and the best meat has to marinade. The same can be true for hockey players.
Plus, he doesn't need to be subjected to the drama that could come from a very difficult rebuild process that Bob Murray will likely put off. Put our most prized prospect in a safe place, until he can claim his rightful place on the roster with full confidence that he can help lead the Anaheim Ducks back to greatness.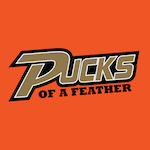 Want your voice heard? Join the Pucks Of A Feather team!
Write for us!
Are you a passionate Anaheim Ducks fan that would enjoy writing for Pucks of a Feather? If so, follow the link above to see how you can join our team!