Anaheim Ducks: Grading Bob Murray's 2020 Trade Deadline Moves
Bob Murray made some moves to shake up the Anaheim Ducks, but in hindsight, what grade does he deserve?
It's been two days since the trade deadline, and now that tempers have cooled and the reality that some fan favorites are no longer wearing Anaheim Ducks sweaters, the team at Pucks of a Feather has come together to give the deadline their overall grade. Come in to see how the teachers have graded their unruly student…
The Incoming Haul
2020 1st round pick (Boston), 2020 4th round pick (conditional*), 2022 6th round pick (Nashville), David Backes, Axel Andersson, Danton Heinen, Sonny Milano, Matt Irwin, Kyle Criscuolo, and Joel Persson.
*The conditional pick will be the earlier of Nashville or Philadephia's selection currently held by the Flyers.
The Outgoing Assets and Players
Ondrej Kase, Nick Ritchie, Derek Grant, Korbinian Holzer, Devin Shore, Daniel Sprong, Angus Redmond, and 2022 7th round pick (Ducks)
A Look at the New Lineup
As an extra wrinkle, last night's game against the Edmonton Oilers presented the following lines:
Grading Bob Murray's Trade Deadline Moves
Jonathan Morris: B
Heinen and Milano are both interesting pieces. Grant for a 4th is solid. Kase for a 1st and a prospect is good. You can eat a year of Backes. Irwin is a throw-away. I like getting Djoos for Sprong. Persson seems like a high upside Swede. I feel like this is a good shift for the Anaheim Ducks. They didn't get drastically better, but they are faster, more skill potential, and added picks. I feel like a couple of good moves at the draft and we can kickstart this rebuild in the way that they should have once we hit the wall with the former core of the team.
TJ Watson: C
As much as I liked Ritchie and Kase, Kase was injury-prone so to me it made sense to trade him. As for Ritchie, I view it more differently, he definitely had his moments and even some of the bad moments weren't his fault. To me, I can see why they traded him because of how much he didn't do as far as improvement was concerned. The Derek Grant trade was inevitable because of how well he had been playing. And in the end, BM got us some picks and to me, if we're going to embrace the rebuild, I wanted BM to get us some picks.
Bradley Senecal: C
Bob Murray made moves that I think can benefit this team. Moving on from Kase and getting a first-rounder in return really benefits this team, especially with the way this year's draft is laid out. I do believe they got a serviceable defenseman in the deal as well. I think the improvement for the depth of the roster and draft was well taken care of.
On the other hand, seeing how the rest of the league was, I think Bob Murray missed a couple of steps. When you look at the price Tampa gave up for Barclay Goodrow, I don't think the Derek Grant trade was handled well enough. Additionally, there were teams still looking for pieces for a playoff push/run, (Colorado needing a forward, Florida needing defensemen) thus I think Murray held on to a few pieces that he could've moved on from. I also believe that Ryan Miller should have been moved.
Ciara Durant: D+
Personal feelings aside, I still feel there is a need to be a little harsh concerning Bob Murray's trade deadline moves. There is a part of me that feels like he missed the mark, especially considering some of the moves other teams made and the impending rebuild. The players most of the fans are excited about are still very much unproven. While Anaheim may provide them with new opportunities, their ability to stay consistent is a question.
If they find their groove in Anaheim, great. However, the risk is potentially frightening. Granted, Murray took a risk on players that are unrestricted free agents in the next year or two, which settles a little better with me. Nevertheless, while I think these moves have the potential the make Anaheim slightly better, I don't think they move the needle very much. Nor do these moves address the major issues that have been plaguing the team since the season started aside from maybe (and I say that with extreme hesitation) improving the player play.
Matt Irwin isn't really an upgrade from Korbinian Holzer. I see him more as asset protection so that the younger guys can continue to develop in the AHL. Djoos likely won't be much of a factor for the Anaheim Ducks once Fowler and Gudbranson return. Persson and Criscuolo are immediate AHL pieces.
There is quite a bit of excitement surrounding Sonny Milano. I have high hopes for him, especially after watching him play last night. But, his lack of consistency in Columbus is concerning. He is unproven and can be extremely streaky. Heinen leaves me intrigued. He seems like a similar player to Ritchie, with slight differences, and gives the Ducks room to be a more disciplined team.
However, at the end of the day, the Ducks lost two of their better forwards and one of their top 3 goal scorers. To add insult to injury, Murray managed to get three draft picks out of his trades, two for this year and one for 2022. The 4th round isn't exactly Murray's forte and, in a way, I feel like it's going to be a wasted pick. The 2020 first-rounder will be great, especially in such a deep draft, but knowing the Bruins, they're likely to have a lengthy run in the playoffs this year, giving us a low first-round selection.
But, looking at other teams in the NHL that are looking to re-tool or rebuild, I can't help but feel a tinge of jealousy when I look at the LA Kings 22 picks, the Habs 24 selections, and the Detroit Red Wings 19 picks over the next two drafts. Compared to the Anaheim Ducks 13 selections between 2020-2021, I begin to wonder if GMBM is really serious about this rebuild?
Nevertheless, I give Murray props for putting himself out there and making moves. Typically, I don't expect him to do much of anything. I thought he was going to make the same old Murray moves, but he kind of surprised me. I will give him a B for effort, but overall, Murray barely gets a passing grade.
Ben Thomasian: F
To be completely frank, I think Murray's deadline assignment is somewhat incomplete and I'm not entirely sure if he followed the marking rubric.
If you're to follow Murray's own quotes, then I think it's clear that (he believes) the Anaheim Ducks require an injection of talent and youth if they're intending to contend in the future. I'm not certain that they achieved that or even trended in that direction. The 1st round pick is valuable, but it could also very likely be the 31st selection in the draft. Outside of that, however, it's much murkier.
The outgoing Kase was the strongest player on the Ducks for shot contributions and offensive zone entries. Ritchie ranked middle of the road but was amongst the Ducks best at generating rebounds and high-danger scoring attempts. Both of these players are young and skilled. Holzer was one of the better Ducks for defensive zone exits. Then we had the Elite 1C.
Sprong and Shore seemed out of the Ducks plans, but both present well statistically. As an aside, the moves made have also contributed to the Anaheim Ducks sending Terry and Guhle back to the AHL for the remainder of the NHL/AHL season. A move which appears to have negligible development appeal, and reduces the already minimal number of young players on the Ducks roster. A clear misdirection from the presumed path.
Coming in is a lot of maybe. Milano is a young player that hasn't put it together yet, although was once heralded as the savior of the Columbus franchise. He deserves a shot, but the question is whether he gets more of one than the outgoing Sprong. Irwin is a lesser defenceman than the outgoing Holzer, but change for the sake of change can be beneficial. Djoos is undersized but has some skill.
The real prize is Heinen, who ranked 10th on the Bruins for shot contributions and 8th for offensive zone entries. In a lot of ways, he is of similar ilk to Ritchie, yet a different player. He shoots the puck far less and creates fewer rebounds or high-danger scoring chances, yet he carries the puck into the offensive zone far more (although less than Kase), and would rank 6th for rush attempts on the Anaheim Ducks.
Taken together, it's hard to discern which direction the team is trying to go in. They traded away some of their best youth and got a little older overall. Ultimately they shuffled some deck chairs around on the third pairing and added some AHL depth players. The moves made have also contributed to Guhle and Terry being sent down to the AHL (unless they receive a future emergency call up.)
Thus the final product is a team that is a little older today, with the potential to acquire some talent in the future with the Boston Bruins draft selection. That's not to say that any move was a poor one. Conversely, each of the moves was at least ok based on their own merits.
But to give the deadline a grade? I don't even know what the marking syllabus was and I'm not sure the Anaheim Ducks do either. It's for that reason their grade is an F.
Average Grade: C-
Overall, with most of the writers giving Murray's deadline a C grade, the mean averages out around that mark. Mr. Morris's overwhelming positivity somewhat counteracted blackboard's sad-sack F.
For the most part, the writers all agree that some of the moves Murray made were necessary, and some of them were quite good. What say you loyal armchair GM's? Did Murray's Anaheim Ducks exceed your expectations or fill you with an underwhelming dread for the future?
**Data was collected from naturalstattrick.com and Corey Sznajder.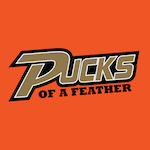 Want your voice heard? Join the Pucks Of A Feather team!
Write for us!
Are you a passionate Anaheim Ducks fan that loves reading Pucks of a Feather? If so, we would love to have you on board as a contributor! Just follow the link above for more information on how to join the crew.