Ducks vs Golden Knights: Betting Odds, Ondrej Kase Trade, Projected Lineups
The Vegas Golden Knights are coming to town tonight to cap off their season series with the Anaheim Ducks.
Tonight, our battle against the Vegas Golden Knights comes to a close in the fourth and final game of their season series. The Anaheim Ducks have a chance to tie it up, ending their season 2-2-0 against Vegas, but something in their strategy has to change. Vegas is on a hot five-game win streak and looking for their sixth. Anaheim has lost four of their last five, and a high draft pick looks to be in their future.
What You Need to Know Before Puck Drop
Game 62: Anaheim Ducks vs Vegas Golden Knights
Season Record: 24-30-7
Location: Honda Center— Anaheim, California
Time: 7:00pm PST
TV: NBCSN
Radio: AM830
Tickets: Looking for last minute tickets for tonight's game? Our friends at StubHub have got you covered! Purchase tickets for as low as $31.
Anaheim Ducks News: The Anaheim Ducks have traded Ondrej Kase to the Boston Bruins for David Backes, Axel Andersson, and a 2020 first-round draft pick.
Anaheim Ducks Betting Odds & Lines
Anaheim Ducks: +150
Vegas Golden Knights: -170
According to our friends at the Action Network, the Vegas Golden Knights are tonight's favorite to win at Honda Center. Vegas is looking to extend their five-game win streak to six and defend their spot at the top of the Pacific Division. The Ducks' lack of luck against their newest division rivals is a big reason many have the Golden Knights pegged as tonight's winner. Their struggles extend past not being able to win against Vegas, however.
The Ducks have lost four of their last five, and with the absence of players like Cam Fowler and Erik Gudbranson, they have not been playing well. Nevertheless, in typical Ducks fashion, they have won several games they should have lost. As they close out their season series against the Golden Knights, they will either fight with all of their energy or not try at all. There is no in-between.
Thoughts on the Ondrej Kase Trade
With tonight's contest likely being a difficult one and Anaheim's recent performance, it has been difficult coming up with three keys to winning the game when I'm feeling so discouraged about tonight's game. So, instead of suggesting what the Anaheim Ducks can do to win tonight and just having them ignore what is best for their success altogether, a few staff members are giving their thoughts on the recent Ondrej Kase trade.

Ducks Get
David Backes
Axel Andersson
2020 First Round Pick

TJ Watson: On a scale of 1 to 10, I'm at a 7. I get that Kase was loved here, but unlike the Andrew Cogliano trade, this one made more sense, in that he was more injury-prone so the risk looks not as bad. I know Cogs wasn't a scorer but I still think his style was more productive on the checking line. He was part of a line that shut down the opposing teams forward lines, so when he was traded, that was a gut check to me.
Ben Thomasian: I'd give it a C+. The Backes portion of the trade is what they should be doing. Collecting first-round picks is important if they're to acquire the type of player they foresee being part of the team when the rebuild is complete. Essentially the higher the draft pick the greater the number of options they have…. which leads to the Kase part.
Is the 11th ranked prospect in a middling prospect pool a player that they think is going to be a difference-maker in a rebuilt Ducks team? Given most reports suggest he projects as a 3rd pairing defencemen the answer is probably not. In that case, why not expand the deal and add more too it?
Maybe the Ducks need to give up a third to get a first from Boston for Backes, maybe they add a 2021 2nd to Kase you move up to get one of the Carolina 1st round picks. They absolutely should have traded Kase, as good as he is. He's an injury risk every year. But was a future Michael Del Zotto the best return they could ask for?
Bradley Senecal: I'm still a fan of the Kase trade because of the different situations getting another first-round pick could help the team. Also getting another leadership piece for a young team can really benefit a group in the midst of a rebuild.
Ciara Durant: Everyone knows how much I loved Ondrej as a player, and seeing him go to Boston is weird for me. That being said, I am okay with this trade. Do I think Murray could have done something else to make the trade a little better for his team? Probably. But, I am glad to see Backes get a new opportunity. Getting the first is great, but does it make me selfish hoping the Bruins get upset in the first round? Not a huge fan of Axel Andersson, however. I don't see how he fits into the Ducks' future plans other than just being the only piece that Dan Sweeney was willing to give up. But, he's a Swede which fits Murray's MO.
Anaheim Ducks Projected Lineup
The Anaheim Ducks projected lineup has been provided by NHL.com and is subject to change:
Max Jones–Ryan Getzlaf–Rickard Rakell

Nick Ritchie–Adam Henrique–Troy Terry

Devin Shore–Sam Steel–Jakob Silfverberg

Nicolas Deslauriers–Derek Grant–Carter Rowney

Brendan Guhle-Michael Del Zotto

Jacob Larsson–Korbinian Holzer

Starting Goaltender: John Gibson

Backup Goaltenders: Ryan Miller

Healthy Scratches: David Backes

Injured: Cam Fowler (lower body), Erik Gudbranson (upper body)
Vegas Golden Knights Projected Lineup
The Vegas Golden Knights projected lineup has been provided by NHL.com and is subject to change: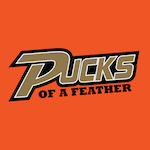 Want your voice heard? Join the Pucks Of A Feather team!
Write for us!
Are you a passionate Anaheim Ducks fan that loves reading Pucks of a Feather? If so, we would love to have you on board as a contributor! Just follow the link above for more information on how to join the crew.