Anaheim Ducks: David Backes Trade Sparks Fire in Veteran Center
David Backes' trade has sparked a fire in the veteran center as he prepares for his Anaheim Ducks debut.
On Friday, the Anaheim Ducks made their first move of the trade deadline season, sending Ondrej Kase to the Boston Bruins and releasing David Backes from his hockey purgatory. The 35-year-old veteran center's NHL dreams came to an abrupt halt earlier this season when his team placed him on waivers and had no interest in having him play for their AHL affiliate. Backes and the team came to a mutual agreement that they would try whatever it took to part ways, providing David with an opportunity to play in the NHL once more.
Bob Murray expressed his interest, several weeks ago, in taking on bad contracts to procure assets for the future of his team. Earlier in the year, rumors abounded that Murray was in cahoots with the Carolina Hurricanes, hoping to trade Ondrej Kase for defenseman Justin Faulk. However, the trade fell through, the reasons behind it speculated. Nevertheless, Kase's health has been in question; several concussions have caused the Czech winger to spend a large portion of both his AHL and NHL careers on the sidelines.
Despite his injuries, Kase is still young, energetic, and a fantastic addition to any lineup. Previously a 7th round draft pick, he has defied the odds, worked hard, and made a name for himself in the NHL. With a rebuild on the horizon, however, Murray had to make a move and do something to create a little more security for his team. Kase's contract was one of the easier ones to move, and Murray essentially spun straw into gold, snagging a first-round draft pick for the "Energizer Bunny."
No other team was willing to trade a first-round pick for Kase, however. With Stanley Cup dreams glimmering in their eyes once more, the Boston Bruins were willing. But, staying true to their promise to Backes, they seized the opportunity to take Murray up on his offer and negotiated a trade that would send David to sunny Orange County.
"We've said over and over again, we've got the cap space, so we might as well use it." –Bob Murray, Anaheim Ducks General Manager
It is unlikely that Backes will make his debut tonight against the Vegas Golden Knights, however, he has every intention of skating with the Ducks this morning. The plan is to possibly have him on the roster within the week. The veteran winger seems excited about this opportunity to play in the NHL again before his contract expires at the end of next season.
Where he will fit in the Anaheim Ducks lineup is currently unknown. Will Adam Henrique slide to the wing or will Bob Murray make another trade before the Monday trade deadline? Only time will tell what plans the Ducks have for Backes.
While David's 3 points in 16 games with the Bruins leaves much to be desired, sometimes a change in scenery is all a player needs to get back to regular form. It does not help his case that Boston saw no need for him, and essentially limited his opportunities. As a player respected by many, there is no doubt that he will become a fixture in the Anaheim Ducks leadership core and locker room environment.
It remains to be seen what impact he will have as the Anaheim Ducks season progresses. However, Backes has not given up on his dream of playing in the NHL once more and is ready to give this opportunity in Anaheim everything he has. Whether you like this trade or not, it's hard not to feel an overwhelming sense of anticipation for Backes to enter the lineup soon.
"I was praying, actually praying to get an opportunity that I could reassert myself and show that I still belong in the NHL. Not being a part of the game for six weeks and kind of feeling like it was taken from me a little bit has lit a fire in my body to get back in the game, give everything I have, get into that team setting again and hopefully make people around me better and together keep improving and help the team in any way we can." –David Backes
On behalf of Pucks of a Feather and the Anaheim Ducks fanbase, we would like to extend our sincere congratulations to David Backes! While a lot of us will miss Ondrej, we are excited about what this trade means for the future of our franchise! Welcome to Anaheim, David. We think you're going to like it here!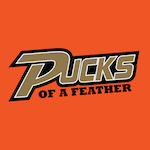 Want your voice heard? Join the Pucks Of A Feather team!
Write for us!
Are you a passionate Anaheim Ducks fan that loves reading Pucks of a Feather? If so, we would love to have you on board as a contributor! Just follow the link above for more information on how to join the crew.