Anaheim Ducks: Does Bob Murray Have a Trade Deadline Strategy?
The NHL trade deadline is in just a few days, and Anaheim Ducks fans are anxiously awaiting to see what General Manager Bob Murray will or won't do.
For hockey fans, the NHL trade deadline is much like Christmas. Buyers and sellers. Shiny new toys. And hope. However, over the last few seasons, the "holiday spirit" has eluded Anaheim Ducks fans. Gifted with players like Chris Kelly and Jason Chimera, with promised potential, but proven to be defective. Granted, Brandon Montour wagered a nice return. Nevertheless, Brendan Guhle is still unproven at the NHL level and we do not yet know what kind of player the overshadowed Brayden Tracey will become.
Like Christmas cookies that have been left out on the counter for far too long, late-round draft picks, AHL acquisitions, and Bob Murray's favorite, grit, have left a stale taste in our mouth. Yet, with an on the fly retool that didn't work, a rebuild is the only step worth taking next. Hopeful that Bob Murray might make a move that will radically help secure a steady future for his team, fans are patiently waiting for GMBM to pick up the phone.
However, there is also the fear that Murray, despite the rumors, won't do anything notable. The staff at Pucks of a Feather sat down and discussed what we assume Murray will do, who he should trade, and whether or not he will have job security should he rest on his laurels and do nothing.
1. Do you think Bob Murray has a strategy or will do anything leading up to the trade deadline?
Ben Thomasian: Yes, I think he has a "strategy." After all, if Wiley Coyotes had a strategy, Bob Murray can too. A minor depth move for an AHL piece, but nothing for the NHL club, either as a buyer or seller. Although, perhaps not for want of trying. From here, maybe they think about moving Michael Del Zotto for a 6th round draft pick again. But, I'm not sure they have the depth to do that this season and I'm not sure anyone would really want him. But, as far as the name brands go, I very much doubt it, despite the rumors around Ondrej Kase and Josh Manson.
TJ Watson: I don't think he does anything this trade deadline. I don't think the Anaheim Ducks make the playoffs and, unless there's a huge haul from it, I would evaluate the rest of the season and go from there.
Brad Senecal: Bob Murray is going to sell the expiring contracts and try to accumulate more picks. He has seen this young core he put together start to play better and settle under coach Dallas Eakins, he will keep this group together with the hope that the trend will continue.
Ciara Durant: A strategy, yes. Is it a good one? Probably not. While I'd love to believe the best and hope that Murray is trying to accrue assets like our cross-town rivals, the LA Kings, I think he has the mindset that he can "continue" to win with this current core. I'm not sure "rebuild" is a part of his vocabulary. I'd assume Murray puts all of his effort this trade deadline into making the San Diego Gulls stronger. I don't think Ondrej Kase or Josh Manson are going anywhere, despite recent rumors. I take trade rumors involving GMBM with a grain of salt; seeing is believing.
2. If you were GMBM, who would be the first player you consider trading?
Ben Thomasian: Ondrej Kase. Yes, he's an interesting young player who regularly posts strong shot metrics and presents well when analyzing zone entry data. He's also hit 20 goals once in his young career. But these things only matter when a player is on the ice, and Kase has shown he can't be trusted to play a full season. With his play to date, and with a contract nearly every team can absorb, it would seem that Murray could acquire a very good piece in return for dealing Kase. It's less about whether the Anaheim Ducks like Kase or not, and more whether they trust he can play 80 games in each of the next 5-6 seasons. If the Ducks can command a great return for him, they should seriously consider it.
TJ Watson: I would go with Troy Terry, or if you have to sweeten the pot, I wouldn't mind trading Jakob Silfverberg. Terry hasn't produced a lot, so he's easy to part ways with.
Brad Senecal: If I were Murray, I would trade Adam Henrique, 20 goal-scoring center who also kills penalties will be something that many teams will want going into the playoffs. A team like Colorado, who is dealing with the injury bug, but has a plethora of young players, NHL ready and prospects, will be looking to improve.
Ciara Durant: I'm surprised no one has mentioned Derek Grant yet! I know losing our Elite 1 C for the second time in as many years would be a hard price to pay for the fans. However, he is a free agent at the end of the season. On the score sheet, he's been hot this season, scoring a career-high in goals scored. He could round out a playoff team's bottom six. Sell high while you can, give him a chance at the cup, and sign him, once again, come free agency.
3. If GMBM doesn't make any significant moves before or at the trade deadline, do you think his time with the Ducks is coming to a close?
Ben Thomasian: No. He's here for life. I don't think the owners really know enough about hockey (in terms of who might be out there— I'm sure they know the game itself quite well) to have a replacement on hand. Without an heir apparent, it doesn't make much sense to have an organization without a leader— a rudderless ship so to speak.
TJ Watson: He should be gone, but will be given one more year with this Dallas Eakins experiment.
Brad Senecal: It's going to take a lot more losing for the Samueli's to fire Bob Murray based on past performances.
Ciara Durant: I don't think it will be the end of Bob Murray's career with the Anaheim Ducks. I truly believe the Samueli's will allow GMBM to ride out the rest of his contract. However, if he is unwilling to make moves that will ultimately provide security for the future of this franchise, I think Henry and Susan will begin to lose faith in him. This might force their hand to start doing their research so they are prepared to replace Murray when the need arises.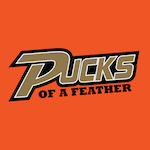 Want your voice heard? Join the Pucks Of A Feather team!
Write for us!
Are you a passionate Anaheim Ducks fan that loves reading Pucks of a Feather? If so, we would love to have you on board as a contributor! Just follow the link above for more information on how to join the crew.