Anaheim Ducks 2019-20 Mid-Season Grades: Right Wing
As we continue midseason grades for the Anaheim Ducks, we're taking a look at the last group of forwards, the five players who have appeared at right-wing.
We are slowly, but surely, catching up on our midseason grades. So far, we've taken a look at our goaltenders, the men down the middle, and our left wings. Today, we finish grading the Anaheim Ducks forwards, looking at how our five right wings have measured up to expectations at the halfway point of the season.
Jakob Silfverberg
Jakob Silfverberg has taken his new role in stride, becoming a true leader for the Anaheim Ducks. He has been a complementary piece next to Ryan Getzlaf. The veteran winger has become one of the teams only consistent goal scorers this year, solid in both zones, and constantly creating chances. His offensive production has continued to pick up, as he is on pace to have his best season since entering the league. Third on the team in points (31) and second in goals (16), Silfy has been a solid entity for the otherwise struggling Anaheim Ducks.
Reader Grades: B
Writer Grades: A
JAKOB SILFVERBERG
RW,
Anaheim Ducks
A-
Ondrej Kase
True to his nickname, the "Energizer Bunny", Ondrej Kase has been a spark plug for the Anaheim Ducks this season. While he wasn't necessarily noticeable on the score sheet early in the season, he has been noticeable just about everywhere else. He had a slow start to the year, but things have been turning around for the young Czech winger. As of late, his three points in the last five games have propelled him past his point totals from last season.
Reader Grades: B
Writer Grades: C+
ONDREJ KASE
RW,
Anaheim Ducks
B-
Troy Terry
With only 10 points on the season, Troy Terry has been slightly underwhelming to watch this season considering the hype built around the 21-year-old former 5th round draft selection. He's been given top-line minutes alongside Ryan Getzlaf and seems to be a favorite of head coach, Dallas Eakins. However, he has yet to do anything of significance. Nevertheless, with the youth movement being a hot topic in Anaheim this year, there is a possibility that we have been unfair to the rookie winger, putting our expectations way too high.
Terry has good vision and can be a solid playmaker, but he isn't being utilized in a role that is beneficial to his production. Perhaps he would be more effective if Eakins put him in a position to be a setup guy rather than a finisher. He needs to work on simplifying his game in certain areas as well.
Giving him the benefit of the doubt, Terry did spend time on the sidelines due to a broken bone. He made an impressively swift return, and after some time in San Diego, he has played well alongside Adam Henrique. The two have great chemistry, and hopefully, this is the start of Terry's upward climb.
Reader Grades: C
Writer Grades: C-
TROY TERRY
RW,
Anaheim Ducks
C-
Carter Rowney
Signed to fill a depth role on the fourth line, Carter Rowney has become an asset to the team. He does his job well and he produces well above expectations. While he isn't the type of player who is going to be making fancy plays and playing top-line minutes, he has given the fans and coaches a reason to rely on the fourth line again. Rowney's contributions to the team are far beyond what anyone expected of a player who was once thought to be a career AHL'er and NHL healthy scratch.
Reader Grades: C
Writer Grades: B-
CARTER ROWNEY
RW,
Anaheim Ducks
C+
Daniel Sprong
Daniel Sprong has, surprisingly, only played 8 games with the Anaheim Ducks so far this season. He hasn't really been given a chance at the NHL level this year, so it's a little difficult to accurately judge his performance.
He's improved slightly in areas he has previously struggled with, but he has still been the odd man out in Anaheim, being yoyoed back and forth between the AHL and NHL these past few weeks. His goal scoring has plummeted in the AHL, which isn't a promising sign, but when he's played with the Ducks, he's played as well as anyone may have expected.
I'm sure it's difficult for Sprong to feel as though he's being robbed of an opportunity. Especially with the abounding rumors that he doesn't fit into the Anaheim Ducks future plans. However, this should give him the incentive to work harder and find his place in the NHL.
Reader Grades: C
Writer Grades: C-
DANIEL SPRONG
RW,
Anaheim Ducks
C-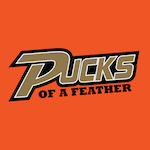 Want your voice heard? Join the Pucks Of A Feather team!
Write for us!
Are you an Anaheim Ducks fanatic that would enjoy writing for Pucks of a Feather? If so, just follow the link above for information on how you can join us!