Anaheim Ducks: Keeping John Gibson Fresh and Focused Through a Rebuild
The struggling Anaheim Ducks are looking down the barrel of an impending rebuild. Keeping John Gibson ready to play each game needs to be the focus.
As Anaheim Ducks fans, we can all agree this year has been more painful then we may have first imagined. The 8-6-0 record that the team started out with gave fans a glimmer of hope that this season was going to be a real surprise. We were going to see players like Sam Steel, Troy Terry, and Max Jones truly break out under the continued guidance of Dallas Eakins, to go along with the steady play of Rickard Rakell, Jakob Silfverberg, and captain Ryan Getzlaf.
Unfortunately, it turned into more of a mirage. The Ducks quickly came back down to earth and now sit at in 28th place in the league with an 18-24-7 record as we returned from the All-Star break.
One thing that the organization and the fans could be confident about though is continuing to have John Gibson as the team's "savior." Though Gibson has arguably been the Ducks MVP again this year, it has come with a drop in production. Gibson's .905% save percentage is a career-low and his goals-against-average of 2.96 represents a career-high.
Everybody will come to Gibson's defense, and blame Dallas Eakins coaching, the inexperienced rookies, and a broken defensive system. I am also someone who will come to Gibson's defense, however, this becomes a much bigger underlying problem. As the Anaheim Ducks go through their rebuild, they need to understand that consistent losing creates a lack of competitive spirit, especially when it comes to their goaltender.
Teams go through rebuilds in every sport. It is rare to see teams be consistent year in and year out, and remain at the top of their respective leagues. Look no further than the Chicago Blackhawks and Los Angeles Kings, who won half of the last decades Stanley Cups. For those of you who want to argue how competitive the Pittsburgh Penguins still are after all these years, trust me, their time will come.
Despite Gibson's Stats Taking a Hit, the Anaheim Ducks are in Good Hands
However, one area that the Ducks need to remember through this rebuild is the $6.4 million man between the pipes. When John Gibson signed the 8-year $51.2M contract in the summer of 2018, Ducks fans were excited as the team locked up their man and the future was set in goal. This contract was to be the main signing to set the Ducks up for success, making Gibson the backbone of a team with consistent Stanley Cup aspirations. Fast forward a couple of years and the Anaheim Ducks are at a crossroads and looking at how to become competitive again.
Gibson's contract runs until 2027 and, obviously, a lot can happen in that time. Though it would seem the Ducks are in good hands in net until then, they need to make sure that the rebuild process doesn't drag Gibson down over the next couple of years. Gibson's numbers have already taken a hit this year in comparison to years past.
Understandably, his numbers are going to take a hit with the way the team around him has performed. However, Gibson is a competitor and shows from game to game the pride he has in between the pipes. When the team around you doesn't bring the same compete level, leaving you hung out to dry, it's not easy to continue bringing the level we have seen from Gibson in the past. The frustration level has been expressed so far by Gibson, after a tough game against Vegas prior to the New Year.
The team should also be wary of running Gibson down as well. The team, so far, this year has seemingly played without a system. When a team looks as lost on the ice as the Anaheim Ducks have, they are likely to get outplayed and give up their share of chances. When a team breaks down, much of the work falls onto the goaltender who is more than likely going to see his fair share shots.
It's tough for goaltenders to mentally prepare for games when they know how heavy their workload is going to be. Burnout is always something to cautious of when it comes to the goaltender, just look at Jonas Hiller and how his tenure ended with the team.
Moving forward, the Ducks may struggle to be competitive in the short term. As a team that could be heading into the direction of a long rebuild, there are going to be nights where they get outplayed by more skilled teams. While this happens, John Gibson is going to be under fire on most of these nights and the question that comes up is if he continues being hung out to dry, will he continue to compete.
The Anaheim Ducks put themselves in a good position when they signed their cornerstone goaltender to a long term deal. However, the team cannot improve in a timely fashion, will it become more of a burden for the team and player?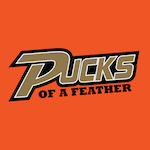 Want your voice heard? Join the Pucks Of A Feather team!
Write for us!
Are you an Anaheim Ducks fanatic that would enjoy writing for Pucks of a Feather? If so, just follow the link above for information on how you can join us!