Charlie McAvoy Could be the Remedy for What Ails the Anaheim Ducks
Recent rumors state that the Boston Bruins might be willing to move on Charlie McAvoy. He could be the perfect remedy for what ails the Anaheim Ducks.
"Don't be surprised if the Bruins move McAvoy." -James Murphy
This comment can be found in a James Murphy article at Boston Hockey Now. It relates to some commentary from scouts and a hockey executive that while not being shopped, it is plausible that the Bruins move on from Charlie McAvoy to address their need for a scoring forward. A forward who is preferably young and with term. In most cases, theoretically, acquiring these types of players are near impossible. Teams hoard them like dragons hoard gold, and rampage like Smaug when the dwarves come to steal from him. Yet if Boston is willing to listen, then perhaps negotiations with the Anaheim Ducks is in order.
The Ducks are in a bit of a weird spot at the moment with most of the young players taking a step backward in the scoring department between last season and the current one. Perhaps more concerning is that they've been trending down as the year has progressed. However, this in part reflects the team itself.
For instance, between game 1 and game 24 the Ducks scored 3 goals or more on 10 occasions. From game 25 to game 49 they managed 3 or more goals on only 6 occasions. One begs the question of whether the youth are the servant or the master to team scoring.
The Ducks have played 11 players under the age of 24 this season, whereas the Bruins have played 15. The success of those players is also variable. David Pastrnak has put up his 4th consecutive 30 goal season (currently 37 goals, 70 points), whereas, his Ducks counterpart from the same draft, Nick Ritchie, has slashed his point per game output by nearly 30% from last season. He is currently sitting on a 32-point pace (over 82 games.)
Thus, while at face value, the Ducks don't have an abundance of riches to provide, at least from amongst their youth brigade, they do have a few pieces that seem like they might be of value. In order to provide that value, they'll need to supply pieces that fit what the Bruins want to be doing right now.
The Bruins forward group currently has an average age of 27.1 years. Assuming, and it is a big assumption, that players scoring primes sit around 25 years old and slowly decline from there, we can imagine that Boston will want to keep pushing for cups while the majority of their players sit in this age grouping. They'll also want to utilize the few remaining productive years that David Krejci, Brad Marchand, and Patrice Bergeron, have left in them.
Thus the Bruins should be looking for a ready-made player that fits with the current age group and can help them push forward towards a cup in each of the next 3 seasons. They currently sit pretty as a top 6 team for goals for and against, and on the power play and penalty kill. They may desire a player who can push that pace a little more, and certainly not disrupt any chemistry that they may already have.
All in all, it appears that they may want a low key, easy to get along with, young player, with 2-3 years of contract life left, who can score well at even strength and on the power play. They are also more likely inclined to trade for a player who can play a steady two-way game, and be placed anywhere in the top 9 forward group. You probably already have someone on the Anaheim Ducks in mind. However, let's bounce back to McAvoy for the moment.
As mentioned, young stars are seldom traded. When they are, they are most often moved for a combination of assets, namely first-round picks and prospects. Occasionally, a young NHL ready asset. Even fewer, young defensive stars are moved, which in part is related to how rare it is to find top 4 defencemen in the NHL. Thus, we could assume that a far higher price could be commanded. McAvoy, is the elusive right-shooting, top 4 defencemen.
The Bruins have no need to move this player, they very likely shouldn't move this player and in reality, they probably won't move this player. However, it wouldn't be much fun to live in a world of cold analytics and rational decisions. So, what if we imagine McAvoy really is on the market? The Bruins could conceivably command a fairly strong deal, likely in the range of a young NHL player who can contribute immediately, a good prospect, and a 1st round pick.
The Bruins, however, also have a few other problems on their roster, incredible as that sounds for a top of the league team. Presently, the Bruins are also paying big money for David Backes to play AHL hockey this season and next. He's cooked. He's done. He has no place in the current Bruins team and certainly isn't helping them push for chips while the going is still good.
Yet, Backes is still costing them just under $5 million against the cap ($6 million in the NHL should he play), and those dollars could and should be allocated to far more useful things. This is where the Anaheim Ducks can potentially facilitate a trade to give Boston most of what they need and do it without gutting their future.
Firstly, Rickard Rakell is the young NHL ready forward the Anaheim Ducks would have to be willing to give up in this trade. A two-time 30-goal scorer and a fair lock for 50 points per season. Ducks fans will know that he is also defensively responsible enough to trust in penalty killing situations, although not to the degree of the Bruins star PK'ers. Rakell is also 26 years old and signed for two more seasons, at a very affordable $3.8 million per season. This places him right in the midst of the Bruins average forwards age and fits him into the cup-winning plan over the next 2-3 seasons.
Giving Rakell up certainly hurts the Ducks, and hurts them badly. As mentioned above, they're a poor scoring team and they're trending in the wrong direction. Removing Rakell's scoring from an already low scoring outfit will sink their chances of relevancy over the next two seasons. However, the Ducks are a team that should be at least thinking about a rebuild from the ground floor up. A lack of scoring ensures that the Anaheim Ducks will be in the conversation for high first-round draft picks, and the chance at winning the lottery. A chance that could catapult them back to the top.
Thus, the Ducks should be loath to give up talented young prospects or draft picks today. In a bid to keep those assets, they could take on the contract of David Backes, and wipe the rest of the asking price of McAvoy away. Over the past few years taking on salary has been an acceptable form of acquiring assets, either through the draft or by picking up young pieces. The Carolina Hurricanes have done both in the recent past. In one trade they acquired Bryan Bickell and Teuvo Teravainen for a 2nd round pick and a 3rd round pick, and perhaps with greater relevance, in a more recent trade, they acquired Patrick Marleau, a 1st round pick, and a 7th round pick, for a 6th round draft pick.
Thus, basing a trade proposal off of the Marleau trade to Carolina, the Anaheim Ducks would acquire a first-round pick and a 2nd round pick (moving up from the 7th round due to the extra year on Backes contract.) So far, a trade might look like:

Bruins Get
Rickard Rakell
Prospect
1st Round Pick

Ducks Get
Charlie McAvoy
David Backes
1st and 2nd Round Draft Picks
However, the two teams sit at very different ends of the standings, and the Anaheim Ducks would be loath to give up their high draft picks. Thus, after the Boston fans gnash their teeth, the Ducks leverage the cap space trade the Coyotes made with Detroit to acquire the 16th overall pick (16th + Datsyuk's contract for 20th + 53rd picks in the draft.) Boston agrees to let the Anaheim Ducks keep their pick, but swap 2nd round draft selections, effectively moving from the back of the 2nd round to the front.
In terms of providing a prospect in the McAvoy trade, the Anaheim Ducks will petition to keep their prospects forgoing the 2nd round draft pick that would be provided for absorbing Backes' contract. Depending on how the Bruins feel about their future, they could bite on this, idea, which would essentially leave a completed trade of:

Bruins Get
Rickard Rakell
2020 (early) 2nd Round Draft Pick

Ducks Get
Charlie McAvoy
David Backes
2020 (late) 2nd Round Draft Pick
The Bruins walk away from the table with a boatload of cap space, a young former 30 goal scorer, and a far stronger draft asset than they started with. The odds are that they could further leverage that into depth for a playoff run if they so chose to or to draft again and hope they strike gold.
The Anaheim Ducks would walk away with a young stud on the blue line, who would still be an RFA and young in 2-years time when they get ready to move back into relevance. It would be likely that he would pair nicely – not necessarily on the same pairing – as Hampus Lindholm when the Ducks current prospect group hit their primes in approximately 2-3 seasons. Until that time, David Backes can provide a warm body to play up the middle so that the Anaheim Ducks can leave their prospects percolating in the AHL a little longer than they otherwise may have had to do. Further developing a bright future.
All in all, it's a big ask for both teams. Boston is unlikely to want to give up a young star, and Anaheim is unlikely to want to give up one of the few players they have that matter. However, for a Boston team looking to win now, and an Anaheim Ducks team that should be firmly focusing on the future, a trade could be made that benefits both teams.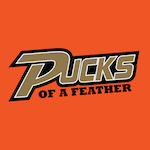 Want your voice heard? Join the Pucks Of A Feather team!
Write for us!
Are you an Anaheim Ducks fanatic that would enjoy writing for Pucks of a Feather? If so, just follow the link above for information on how you can join us!