Anaheim Ducks May Not Be Represented at the 2020 All-Star Game
Earlier this morning, it was announced that Jakob Silfverberg will not be attending the 2020 All-Star Game, leaving the Anaheim Ducks without representation.
At 29-years-old, Jakob Silfverberg was selected to represent the Anaheim Ducks at the 2020 All-Star Game in St. Louis at the end of January. In his 8-year NHL career, Silf has never once been to an All-Star Game. However, his role in Anaheim has drastically changed over the course of the last two seasons, making him a prime candidate.
He was once a mainstay on the shutdown line, showcasing his defensive skills. Now, since being utilized in more of an offensive role, a whole new world has opened up for the aging Silfverberg. Not only has he slipped into the role of a wonderful leader both on and off the ice, but he is also the Ducks top goal scorer and one of their more consistent players.
Fans were elated when it was announced that our beloved "Lazyboy" would be representing the Ducks this year at the All-Star Game. Nevertheless, that excitement was shattered this morning when it was announced that Silfverberg will not be attending the game in late January. With the impending birth of his second child so close, he feels it only right to be close to home and his wife.
We respect that decision, but that now leaves the Ducks without representation at the 2020 All-Star Game. To everyone's surprise, when Silfverberg's replacement was announced this afternoon, it was not a Duck that would stand in for him, but Max Pacioretty, a player from the Vegas Golden Knights.
Vote Ryan Getzlaf for Last Men In
The All-Star Game won't be enjoyable for most Anaheim Ducks fans if one of our players isn't a part of the festivities. This is why it is important that we take action and vote Ryan Getzlaf for Last Men In. The polls close tonight at 11:59 pm EST, giving us only a little less than six hours to vote for our Captain. You are allowed 10 ballot submissions in a 24 hour period, so use them!
Getzlaf isn't getting any younger, and this could very well be one of his last opportunities to experience the All-Star Game before he hangs up his skates for good.
We may be completely biased, but there is no one in the Pacific Division who deserves one of the final spots in the All-Star Game than Ryan Getzlaf. You can vote for him at NHL.com, and vote before it's too late!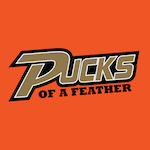 Want your voice heard? Join the Pucks Of A Feather team!
Write for us!
Are you a passionate Anaheim Ducks fan that wishes to write with us here at Pucks of a Feather? If so, we would love to have you on board! For more information on how to join, simply follow the link above.