Looking at the Anaheim Ducks Through December
As another month passes on, the Anaheim Ducks continue to find themselves struggling through to get to the end of another rough season. In December, they went 5-7-1 and improved upon their previous month's record of 3-6-4. But despite the improvement, nothing seems to be shaping up. What can we take away from the current situation?
It was a rollercoaster of a month for Anaheim that started with a great win and ended with an embarrassing loss. It epitomized the 2010's as a decade for the Ducks perfectly. The offense started off hot but faltered at the end and the defense took a hard nose-dive about midway through the month. There were a lot of factors that were both good and bad for the Ducks, so let's just start with the clear numbers.
What Does the League Say?
In the league statistics, the Ducks have just tanked. They are 16-20-5 and are dead last in the Pacific Division. They are ten points behind fourth place and the Kings and Sharks have both leapfrogged over them, so it has been pretty rough so far. It does not help that Anaheim is twenty-ninth in the league in scoring, and it is looking like the offense will finish worse than they did last season when they came in last for goals scored.
On the defensive side, the Anaheim Ducks are surprisingly average considering that they are seventeenth in the league for goals against. Still, they gave up forty-two goals in the month of December when they only had thirteen games. It is tough to tell the level of this Anaheim defense with how inconsistent it is, so for now, it would be considered okay at best.
The Anaheim Ducks are pretty great when it comes to having some of the worst league achievements though, and John Gibson currently leads the league in losses. He has a save percentage of .907 and has made 881 saves through thirty-one games and yet he leads the league in losses at sixteen. It really is a miraculous sight.
It should be obvious to anyone that thinks that Gibson is in a decline that the team around him is just really terrible. Gibson has been very good for the Ducks so far, and his tenure with the team still has plenty of value. Think of it as a Mike Trout situation like on the Los Angeles Angels. The goal is to find a way to stop wasting Gibson's career. The Ducks have more time and opportunities to do that than the Angels do, luckily.
Back for Seconds in December
Ultimately, there is not much to say about this Ducks team. Everything that needs to be said has been, and they are struggling from the same takeaways I wrote about in November. The prospects are completely underperforming and they aren't getting better while the veterans are chipping in goals for the team just so the team can try to stay close to .500 on the season.
The top goal-scorer on the team is still the All-Star known as Jakob Silfverberg, and the Ducks are very lucky that he is having a career year. Following him are Adam Henrique and Ryan Getzlaf, so no prospects in sight. In fact, there are only two prospects within the top ten goals scored, and those two prospects are Max Jones and Max Comtois with four goals each. Those two are without a doubt the best prospects the Ducks have, but everyone else has just flopped. Even on the assists side of things, only Sam Steel cracks the top ten assists list with ten of them.
Comtois ended December with three goals while the rest of the younger players combined for two goals. Only Sam Carrick and Steel scored outside of Comtois, and that's a problem. Isac Lundestrom, Troy Terry, and Jacob Larsson have all done more to hurt the team than help, and it is pretty evident when they flop around on the ice every night trying to get into the game.
Yes, hockey is hard and the NHL is a brutal league to crack into, but there are plenty of different ways to contribute to a team that do not involve scoring, and none of those prospects have done anything to help. Least of all Isac Lundestrom in the limited games he has played in, and that was a first-round pick mind you.
For so many years of hearing the hype around this prospect pool, it is without a doubt a gigantic disappointment seeing everyone not named Max Jones and Max Comtois hurt the team. All excuses and fancy numbers aside, it has been an absolute horror show for the organization to find out that the prospects of the future can not successfully play at the NHL level at a decent pace.
Looking to January and Beyond
So, what is left going forward? I already wrote about it, just tank. The team does not have to lose every single game on purpose considering that this is not the MLB or the NFL, but they can not seriously try to win out when there is no upside to a playoff berth. It would result in another late first-rounder that will be another safe pick that barely sees time with the team like Lundestrom. At the end of the day though, the Ducks will not have too much trouble losing more games anyways, they already do that well.
With the prospects struggling this hard and the veterans carrying the team, a playoff berth would be an immediate sweep by any team. It is not a question of how long this team would last in the playoffs, they do not have the potential to win even a single game in any series. It is not a playoff-ready team even with John Gibson and his magical ability to carry games. Sometimes it helps to just finish off a tough season down and out to help speed up the rebuilding process, but even Bob Murray does not know what he actually wants to do with this team. Rebuild or retool? Who knows anymore.
In closing, December was actually a decent month for this Ducks team, and that pretty much sums up the season. When a 5-7-1 record is a good thing and Erik Gudbranson is one of the main players keeping your team alive, your best aspiration is a high draft pick. The Ducks are at the bottom of the Pacific without the hopes of making a late-season rally, so they just need to finish the season low enough in the standings to acquire that sweet, sweet first-rounder. 2020 draft, here we come! We can all hope that the next pick will make a nice companion for Trevor Zegras and Brayden Tracey.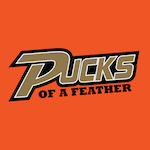 Want your voice heard? Join the Pucks Of A Feather team!
Write for us!
Are you a passionate Anaheim Ducks fan that wishes to write with us here at Pucks of a Feather? If so, we would love to have you onboard! For more information on how to join, simply follow the link above.