Anaheim Ducks: Sending Daniel Sprong to the AHL is the Wrong Move
Daniel Sprong has been the odd man out all season; and just when he finally got his chance, he was sent back down. This could be a big mistake on Bob Murray's part.
Since the 2019-20 season began, it has been evident that Daniel Sprong may not fit into the Anaheim Ducks' future plans. Despite acquiring the Dutch winger a season prior, he has spent a majority of the year stuck in the AHL; something he was looking forward to avoiding with his move to Anaheim. With a host of injuries recently hitting the Ducks, many are asking, why is Sprong the odd man out?
It has long been thought that the reason Daniel Sprong was sent to the AHL was that he is in direct competition with Troy Terry for a spot at right-wing. Unfortunatley for Sprong, Terry won the bid and has been playing with the Ducks since the season began. However, with Terry being sidelined for the next 9 weeks or so, it would seem logical for Bob Murray to finally give Sprong a chance with the big club.
Finally, the Anaheim Ducks recalled the 22-year-old winger from San Diego, and he appeared in his first NHL game of the season against the New York Rangers. This was, in all honesty, a difficult game to watch. The forward core was comprised mainly of rookies, a few regulars who hadn't been hit by the injury or sickness bug that was floating around the locker room, and Korbinian Holzer. Sprong was paired with Devin Shore and Adam Henrique, and the trio struggled significantly.
Granted, the entire team struggled, losing 5-1 against New York. After that, Sprong wouldn't see NHL ice again. He was a healthy scratch during their next game against the Vegas Golden Knights, before being handed a one-way ticket back to San Diego; the team opting to put center Sam Carrick on the wing instead.
While Sam Carrick is as great an option as any, and while I am not opposed to him playing in the lineup, I would prefer him to play at center over someone like Isac Lundestrom. Lundestrom has yet to show consistency at the NHL level. Moving Carrick back to center and sending Lundestrom back to the AHL would open up a spot for Sprong.
The Anaheim Ducks Need Goal Scoring
So, why do I keep pushing this narrative of having Daniel Sprong on the team? There are two reasons, the first being goal scoring. When the Ducks win, we normally see them win by only one goal. We've seen that recently in the games against the Golden Knights, New York Islanders, New York Rangers, and the Minnesota Wild. On the flip side of the coin, in their recent losses, they've only managed to score one goal; as seen in the recent games against the Philadelphia Flyers, New York Rangers, New Jersey Devils, and Los Angeles Kings.
When they have the ability to pull off a win, they still can't seem to hold onto a decent lead. Then, when they don't have what it takes to defeat their opponents, they can barely score a goal. The Ducks have needed a goal scorer on their team this season, and while there have been a few individual players who have gone on hot streaks, they need more players to step up and get pucks in the back of the net.
Daniel Sprong has been known to be a prolific goal scorer in the past. While he may not be putting up stats like Connor McDavid, he can score goals, as was evident last season. The real issue with Sprong is the holes in his defensive game. He needs to learn to be more responsible away from the puck if he wants to make it in the NHL. Sprong's AHL coach, Kevin Dineen, has recognized this and tried to take steps in helping Sprong round out his game.
"We've done a lot of work with him to try and round his game out. Obviously, we all know that he has those offesnive skills and can be a really dynamic player. In saying that, there has to be a lavel of trust and there has to be a level of responsability in the last minutes of the game. Certain areas of the periods. You got to get your teammates to trust you. We're slowly working towards that now and there's been steps in the right direction." –Kevin Dineen, Head Coach San Diego Gulls
One game on a team that is severely beaten and bruised isn't going to show the Anaheim Ducks Daniel Sprong's full potential. He has taken steps in the right direction and his goal-scoring could be a big difference maker to the team. However, the fact that the Ducks show no interest in keeping Sprong up with the big club could mean that when his contract expires at the end of the season, Bob Murray has no intention of re-signing him. Which leads me to my second point.
Could Daniel Sprong be Used as Trade Bait?
With their current record, the likelihood the Anaheim Ducks make the playoff's this season is small. If Sprong does not fit into their plans, Bob Murray is making a big mistake in letting the 22-year-old winger walk away in free agency for nothing in return. Currently, the Ducks are missing both a 4th and 7th round draft pick going into the 2020 NHL Entry Draft. Why not utilize Sprong as trade bait?
Sprong is still young, which means there is still time for him to improve his defensive capabilities. While he struggles mightily in that area of his game, he makes up for it with his shot and scoring abilities. He scored 14 goals in 47 games with the Ducks in 2018-19. Had he played with them the entire season, he was on pace to have a 24 goal season. For a 21-year-old who was previously a second-round pick, that's a sign of good things to come.
As we near the trade deadline, teams are going to be seeking out players they can get at a decent price who can add a little extra spice to their lineup. Allowing Sprong to spend time in the NHL gives him a good month to prove to other teams that he can be a valuable asset in their run to the playoffs. Sitting in the AHL does not bump his stock at all, and gives the Ducks almost no opportunity to dangle him like a carrot in front of other inquiring General Managers.
If Bob Murray doesn't play his cards right, he could lose Daniel Sprong for absolutely nothing. What then was the point in trading for him? Sprong has incredible potential, if not for the Ducks, then for another team. Spending a majority of his contract year in the AHL doesn't do GMBM or Daniel Sprong any favors. It was, in my humble opinion, the wrong move to send him back to San Diego. Hopefully, Murray has a plan, because if he doesn't, he risks losing both Marcus Pettersson and Daniel Sprong and gaining nothing in return.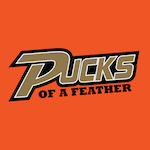 Want your voice heard? Join the Pucks Of A Feather team!
Write for us!
Are you a passionate Anaheim Ducks fan that is interested in writing for Pucks of a Feather? If so, we would love to have you on as a contributor! Just follow the link above for more information on how to join us.