Anaheim Ducks: Is Devin Shore Important?
Despite being benched for most of the season, Devin Shore has proved to be a factor for the Anaheim Ducks so far. That begs the question of whether Shore is important to the lineup or nothing more than trade bait.
Through twenty-two games, Devin Shore has a statline of two goals, four assists, and six points. The numbers aren't exactly fantastic due to the Ducks having to give up Andrew Cogliano for him, but numbers can also be deceiving. It is truly hard to gauge the usefulness of Shore thanks to head coach Dallas Eakins being reluctant to start him, but there is hope for the future.
Browsing the Past
Devin Shore has proven his worth before, and it is very possible that he can still do so. His two best seasons came in 2016-2017 and 2017-2018. He played all eighty-two games of those seasons and averaged about fifteen minutes on the ice through 164 games. In 2016-2017, he boosted the Dallas Stars with thirteen goals, twenty assists, and thirty-three points. The very next year, he followed that up with thirty-two points.
Aside from the points, his penalty minutes through 164 games were spectacular. He spent twenty-eight minutes in the penalty box out of the 2,424 minutes he spent on the ice. Shore is the kind of player that either produces or stays out of trouble, and that is a key for this Anaheim Ducks team. There are way too many times where the Ducks find themselves taking bad penalties thanks to costly mistakes, and the perfect answer to that is a player that has only taken twelve penalty minutes in his Ducks career.
Looking Forward
What lies in store for Devin Shore now? The past is great and all, but what can he do for the Anaheim Ducks now? There are plenty of things this center can still do. First and foremost, he adds on to an already very strong center core for Anaheim, and he provides even more speed that the team needs. Again, he also spares the team from costly penalties while either producing or skating well.
Shore is the essence of a low-risk mid-tier reward kind of player. He does not necessarily score huge goals or even consistently score, but he does not sit around and do nothing. If nothing else, he is a solid skater that can generate offense and play just enough defense to get by. He is the perfect middle-ground player, something that is not easy to come by. If there was one center that the Ducks could use to their full advantage, it is Shore.
As it stands, he is averaging just over twelve minutes on the ice and he owns a face-off percentage of 69.2, 18 face-off wins, nine blocks, and twenty-five hits. The team has struggled in every aspect at some point during the season, and Devin Shore is the utility-man that can jump-start whichever part of the team is struggling most. With that said, would he also make decent trade bait?
Possibilities of Trading
Although Devin Shore arrived last season, it might be now or never to capitalize on his worth. There will be teams out there that are looking to bolster their center cores and possibly add a solid veteran for a run at the Stanley Cup, so why not Shore?
It is a tough situation surrounding Shore considering the questions that remain. It almost seems like the team is up and ready to deal him due to the way that they restrict his play. Aside from going through university, why is he sitting out so many games? That is typical of players that will see another roster real soon, so is Shore already a clear-cut deal to leave? Considering that he is a free agent next season, perhaps it is the right call.
Depending on what the Anaheim Ducks can get for him, it would be a fifty-fifty trade. It could either be amazing or a pure dumpster fire. Taking into consideration how much Shore can do for this team, there would need to be a suitable replacement. Perhaps another younger center that plays in the same style? Or a later pick in the upcoming draft? It would be nice to see a player and a pick, but that would require Shore's value to skyrocket in a short amount of time. That really does not seem likely.
In looking at possibilities, Kyle Turris and Artem Anisimov come to mind. The latter of those two seem like a long shot, but having another versatile center always helps, especially with how decent his scoring abilities have been. His 53.5 face-off percentage is not as good, but it works for what he brings. Turris is another versatile center that can play and skate well enough to spark the defense and the offense, but his face-off percentage is also not nearly as good as Shore's. Just don't be mad at me for the suggestions, it is a very limited market and those two are okay for the situation at hand.
The best bet would be a package including Shore to avoid mediocre swapping trades. Adam Henrique and Devin Shore for either a few picks or at least two mid-tier skaters would work wonderfully considering that the Anaheim Ducks still have plenty of center prospects that could use time in the NHL. Although I would personally hate to see Henrique and Shore go, they would provide a nice package for this rebuilding Ducks team. They might even find a team desperate enough to give them a bundle of picks. We will have to see whether Bob Murray botches that or not.
In conclusion, the answer to whether Devin Shore is important or not is simply, "yes". He provides a spark for this Anaheim Ducks team and has shown promise as a solid center that can win face-offs and stay out of the penalty box, but he has some trade potential that might just make him suitable for a great return. A Shore/Henrique package could give this team the boost that it needs to be back in the fight next season if Murray is wise enough to capitalize on it. It is a wait and see type of situation, so sit back and enjoy Shore while he is in Anaheim.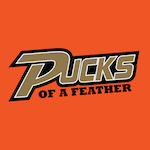 Want your voice heard? Join the Pucks Of A Feather team!
Write for us!
Are you a passionate Anaheim Ducks fan that is interested in writing for Pucks of a Feather? If so, we would love to have you on as a contributor! Just follow the link above for more information on how to join us.