Anaheim Ducks Mailbag: Trading Adam Henrique and Rickard Rakell
You had questions about the Anaheim Ducks, and the Puck of a Feather staff has answered.
A few weeks ago, we asked you to send us your burning questions about the Anaheim Ducks. You delivered, sending several quality questions our way, and we really enjoyed taking the time to answer all of them. Our answers are honest, and we hope they were exactly what you were looking for.
In your opinion, what is the best way the Ducks can improve their spotty offense?
Khalid Hart: As goofy as this may sound they really need to shoot more. Time after time we see them try to deke their way into the net only to get stripped of the puck or lose it altogether
Jonathan Morris: I feel like the Ducks need an elite scorer. Honestly, their play isn't terrible but they have 0 finishers. Rakell is probably the closest and it's not even close to some teams elite scorers around the league.
Ben Thomasian: Two-part answer: Firstly, the Ducks should look to upgrade their roster. It may seem harsh and some of the players may be fan favorites, but this isn't a team built to outscore opponents. For years we spoke and complained about the bad players (who were hitting 20 goals) on Getzlaf's LW, now we watch him with Devin Shore and Troy Terry. No disrespect towards those players, but they are not top-line scoring threats.
Finding players to go on this top line will filter down the depth chart. Secondly, they should implement a number of different playing styles that can be implemented for different situations. At present, the Ducks play one way at all times and it's become an issue. As an example consider the Wild game recently.
In the first period they dominated playing their way, yet from the second period onwards, the wild slowed the game down and the ducks couldn't respond. That wild team was lacking in strength and size up the middle after the Staal injury, it would have taken nothing for the Ducks to switch to a heavy forecheck and dumping the puck in deep – not a strategy they maybe should use often, but in that game would have worked well. Long story short, Eakins needs to diversify his playbook.
Ciara Durant: It's simple… they need scoring, and quite frankly, they may not get it this season. The team as a whole has an issue finishing and there isn't a player who could be defined as a natural goal scorer. Rickard Rakell might be the closest, but even still, he's on pace to barely eclipse 20 goals.
I'd say the best and only thing Dallas Eakins can do in situations like this is go with what works. So far, we've seen success with the Rickard Rakell-Jakob Silfverberg line. You can really stick any center between them, and they lead the team most games. The Nick Ritchie–Adam Henrique–Ondrej Kase line also works. They may not be racking up the points, but they have chemistry, and as a coach, you have to work with what you've got.
TJ Watson: To improve offense, I would give more time to someone like Shore or Steel, and integrate Comtois into the fray. This team is young so there will be some dry spells, but if they can get better on defense, the offense will come.
Which Duck prospect are you most excited to see compete at the WJC?
**Disclaimer: We changed this question up a little bit on account of the fact that we are working on an article addressing this topic!**
Khalid Hart: No question about Zegras is the one everyone wants to see. This will be our first in-depth look at him on a national scale so everyone will be watching.
Jonathan Morris: Zegras, I want to see him compete against the best at his age and see how he handles it.
Ben Thomasian: Dostal is having a wonderful year, and he's still incredibly young to be having the season he is as a netminder. It may be less about excitement and more about curiosity, but I'm looking forward to seeing how he goes against his elite peer group.
Ciara Durant: Hands down, Lukas Dostal. I wholeheartedly believe that he is the heir to the John Gibson throne, and it works out perfectly because Dostal should reach peak development by the time Gibson begins his decline. He played beautifully for "Team Czech Republic" last season, and after having an incredible season so far this year, I'm excited to see him play in the international spotlight. He is by far my favorite prospect currently in the Anaheim Ducks system (nothing against Trevor Zegras) and I think he's going to be a big factor for his team in the WJC this year.
Who is the future Captain for the Ducks after Ryan Getzlaf?
Khalid Hart: If you're not saying Cam Fowler you're going to disappointed. In terms of leadership, it makes sense, in terms of longevity it makes sense. After all, Cam's been with the team for the longest right after Getzlaf. I think it will come down to a vote between the coaches and the leadership group in the locker room.
Jonathan Morris: I think its Fowler, he has been there, went through the ups and downs and is having a year of growth.
Ben Thomasian: Another two-part answer: First the reality check: It's Cam Fowler. Always has been, always will be. There is no real debate here. Second, the dream: Brad Lambert. The Ducks are incredibly awful and in with a real chance of drafting #1 overall in the 2022 draft. They take future Finnish superstar Lambert and we all profit. Get on the bandwagon now people!
Ciara Durant: Simple, Cam Fowler is Ryan Getzlaf's heir apparent. I was rather shocked when he wasn't one of the Ducks alternate captains this season, but I have quite enjoyed watching Jakob Silfverberg and Josh Manson in that role. But, regardless, the Anaheim Ducks have been grooming Fowler for this position for years. I wrote about this a few seasons ago, and it still rings true today.
TJ Watson: I think Rakell is the future captain, he has the tenacity, youth and also a guy who can put a team on his back in different ways. I think for this team, it needs to be someone young enough who can help guide the team into the future.
Should the Ducks trade Adam Henrique or Rickard Rakell?
Khalid Hart: I would have to say, Adam Henrique. Giving up Rakell would be really, really hard to do unless the return was too great to pass up. On top of that Rakell is probably the 2nd or 3rd best player on the team at the moment. He is the source of a lot of offense at the moment.
Jonathan Morris: I would gauge interest on both, I would prefer to keep Rakell because I think he can develop further into a scorer, Henrique is a very solid 3C but the results plus the paycheck arent what we need.
Ben Thomasian: Yes. You want me to clarify? The Ducks, we assume, are rebuilding. Henrique is getting on for 30 and we know there is a typical decline in performance moving forward from that age bracket. He's also signed for a fair dollar value going forward, yet is performing as well as any Duck this season (although his scoring has dropped away of late – 1 point/goal in the past 11 games.)
Trading him now while he still has perceived value would likely get a better return which would help accrue draft assets to accelerate a rebuild. It also provides the Anaheim Ducks cap space which they may be able to weaponize to accrue more draft collateral. It may be hard to deal with, but the hard question should be "is Henrique part of the next Anaheim Ducks cup contending team?" If the answer is yes, they should keep him, if not….
Ciara Durant: To be quite honest, I would not be opposed to trading either of them. The Ducks may not have outrightly said they are rebuilding, but things seem to be going that direction. Take New York for example. The Rangers just went through a rebuild. Was it easy? No. They had to trade players that had been with the team for years. We saw "the King" Henrik Lundqvist cry when Mats Zuccarello was traded to the Dallas Stars.
The Ducks are in desperate need of change, and both Rickard Rakell and Adam Henrique could potentially get the Ducks a good return. You can't be stingy in situations like this. While it may hurt a little bit, especially since they are two fan favorites, but again, you have to be open to all options in rebuilds/retools.
TJ Watson: I won't consider trading Rakell, because of my answer above. I would consider resigning him for the right price. I'm a maybe on Henrique, he hasn't been a bust trade, unless you're looking to get someone like, say TJ from TBL, or someone of better talent.
Should the Ducks re-sign Rickard Rakell at the end of his contract?
Khalid Hart: I don't see why not. He's working on earning it as we speak but this goes back to the previous question letting him go via trade or letting him walk is a really difficult thing to do unless the return is amazing or we get someone who is just as good if not better. If we do none of that we come out looking like the biggest losers in the end.
Jonathan Morris: Yes, as long as they push to be competitive, if they go full rebuild then they need to trade any asset with value for picks/prospects. We lack elite players and elite prospects. We have potential in both areas but nothing clear cut.
Ben Thomasian: Probably not. I tend to have a dislike of signing guys getting close to their 30's (he'll be 28) to long term contracts (which he'll want). He's been a good player for us, but it may be time, at that point, to let him walk.
Ciara Durant: It depends on term and price. While Rakell is probably one of the better forwards on this team, we haven't seen him have another year similar to his 2017-18 season. He's going to be older when his current contract expires, and he's going to want to cash out with his big contract. The Ducks really need to consider all their options and hope Rakell is willing to sign a team-friendly deal. I am not opposed to resigning him, but I'm skeptical.
Should the Ducks trade for Radulov?
Khalid Hart: If you asked me this during the 2016-17 season when we were still competitive I would've said yes please in a heartbeat. Right now it just doesn't make sense. And knowing Radulov he's in a win-now mode so he wouldn't settle for a retooling season or seasons with the Ducks.
Jonathan Morris: No, the Russian Machine is broken. The Anaheim Ducks stay away from Russian players typically and Radulov while Firey and competitive night in and night out is trending down in a league that is getting younger and faster each and every year. Players are going to start being to old for this league at 30, we are seeing it shift there now. So I would stay away from trading for players above that.
Ben Thomasian: Yes and No. He's old. He's great, but he's not going to instantly fix this team by himself. If he's one of a couple of players the Ducks are bringing in to help them eek out another playoff appearance, then it would be a good move. If he's the only player coming in, then it feels like it would be just adding a player to reach bubble playoff status and if they're lucky a one and done postseason appearance. My personal preference in that situation would be to rebuild for the future, and an old dog like that isn't going to be around when the Ducks are aiming to be cup contenders again.
Ciara Durant: No, and simply because the Ducks aren't currently in a spot to compete for the cup. Adding Radulov to the mix may increase their chances, but I'd much rather have a high draft pick so the Ducks can build a better foundation for their future when they are Cup contenders once again. As a player, I respect Radulov, but at the age of 33, he's aiming for the Cup now. Dallas is in a good spot to make a playoff run like they did last season. Trading him to a team that has no chance at the Cup just seems unfair to me.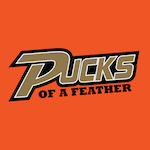 Want your voice heard? Join the Pucks Of A Feather team!
Write for us!
Are you a passionate Anaheim Ducks fan that would enjoy writing for Pucks of a Feather? If so, click the link above for more info on how you can join us in writing!