The NHL, the Anaheim Ducks, and Diversity: Room for Improvement
The game of hockey is something truly wonderful that the world gets to enjoy, but much like the rest of the world, there are plenty of things that could always be improved. For the NHL and the Anaheim Ducks, perhaps what could be improved the most is the diversity of the game and how it is managed from the top to the bottom.
Last month, the NHL got rocked with two instances of bigotry. First, long-time hockey personality Don Cherry was fired from HNIC for his racist and xenophobic comments towards Canadian immigrants, and then Bill Peters of the Calgary Flames resigned after admitting to using racial slurs towards one of his players. With these developments, it is evident that the athletes within the NHL are having experiences that draw them away from the game. Whether it is with a coach or the media, there is a real problem with bigotry within the league.
Hockey is without a doubt a sport that is special to a lot of people, most of all us the fans and the players. Seeing multiple reports on Twitter talking about these incidents and other previous incidents of racism or player mistreatment is heartbreaking. For me, it proves the point that there is always room for improvement in anything that the human race does, and the NHL could take a key from that.
I started to think more about this issue when my attention was brought to a past incident with former AHL prospect Akim Aliu and his teammates making a very racially insensitive joke at his expense. I thought to myself that it was one of the worst tweets I had ever seen and just the scope of how awful that racial abuse was is more than upsetting. In the span of a month, the NHL had two big incidents with racism, and the bad reputation that the league is getting now is justified.
At the end of the day, it feels horrible that my favorite sport and the biggest league of said sport have been reduced to an example of how a league can breed hatred and abuse, but it does not feel nearly as bad as knowing that hatred and abuse have slipped by for this long with players being too afraid to speak out. Whether that is the fault of bigoted coaches or media members such as Don Cherry, it is not okay. Not in the slightest.
In evaluating my favorite team, it made me even more upset to know that this kind of abuse could have slipped by for years without anyone being able to speak out. There have not been any stories surfacing from within the Anaheim Ducks organization, and thankfully it seems like the Samuelis are keeping their team a safe and inviting place to play, but it is not any more comforting knowing that there are still situations within other organizations that my favorite team plays on a nightly basis.
The story of Willie O'Ree is a really special one for the diversity of the NHL and how far the league has come, but have we come far enough? As a fan of the team that uses O'Ree's former San Diego team as an AHL affiliate, diversity and kindness mean everything to me in terms of any sports league. I even had the pleasure of meeting O'Ree at the first Freeway Faceoff of the year. Getting to shake his hand while listening to him crack a joke or two was one of the most special moments of my life. Thanks to him, NHL hockey finally got diversified, and he paved the way for future African-American players.
Unfortunately, here we are sixty-one years after O'Ree's first game in the NHL and there are still players jumping over hurdles and going through abuse to play the game that they love. The races, religions, sexualities, and nationalities of all NHL skaters should not play a factor in how they are treated by their team in the era that we live in. It feels like that should be common sense, but these two recent incidents prove that the NHL as a league has some catching up to do.
The Hockey is for Everyone movement is a great step in the right direction and it means much more to me now than ever since I experienced my share of discrimination in my time of playing roller-hockey in high school, but I am part of a minority group that does not automatically stand out. I can not imagine what it feels like to be in a situation where you can not hide the reason that you experience discrimination, such as race. One movement is clearly not enough for the NHL, and there is still a good majority of hockey fans that oppose the HIFE movement.
The long and short of it is that Gary Bettman's ideas on possible initiatives to help NHL players suffering from abuse are great in concept, but now we need to see actual implementation. It is one thing to have coaches ruining the careers of their players, but it is another when it comes to coaches doing so solely for discrimination purposes. There is a problem in both senses, and the abuse, in any case, needs to end now. A good start was Don Cherry's firing from HNIC for spreading his xenophobia, but now there has to be more done to combat the spreading of racism, xenophobia, and the general abuse of NHL athletes.
So, in closing, the two incidents faced by the NHL last month might just be the tip of the iceberg, and there has to be a hope that the NHL can find a way to battle the abuse that NHL athletes face and the discrimination that still exists within the league. Even though this particular problem has not quite directly or publicly hit the Anaheim Ducks, Martin Luther King Jr. once said, "Injustice anywhere is a threat to justice everywhere." It is not the problem of one team, but rather the league to see that these problems will not greet future generations of hockey players. That is my hope for the future, and hopefully, everyone will get to enjoy the beautiful game of hockey while feeling safe and welcome.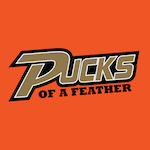 Want your voice heard? Join the Pucks Of A Feather team!
Write for us!
Are you a huge hockey fan? Do you love the Anaheim Ducks and Pucks of a Feather? If so, we would love to have you as a contributor! Simply follow the link above for more information on how to write for Pucks of a Feather.