Anaheim Ducks Low Attendance Keeps them out of FanSided 250 Standings
The Anaheim Ducks have failed, once again, to make it into the FanSided 250 standings. What can they change to appeal to, grow, and excite their fan base?
One of the topics of discussion about the Pucks of a Feather writing staff recently has been whether or not the Anaheim Ducks are conservative (no, not the political persuasion.) On one hand, you could argue that yes, they are: First, they're still basically trying to play the heavy game that worked for them way back in 2007 and before. Second, they still have an old-school behind-closed-doors relationship with fans and the media.
Third, they seem to believe that fans want the same thing they wanted 10-20 years ago from their entertainment. Fourth, they are a very risk-averse organization. This ranges from staff decisions to player acquisitions, and further on down into marketing. On the other hand, well there is no other hand. The Anaheim Ducks are a very much old school, and conservative, team. This has become even more evident with the recent publication of FanSided 250.
Before you all grab your pitchforks and start coming for me, I'd like to point out that the point of this article is not to tear down the franchise, but to recognize that they're behind the times and maybe should consider moving forward. Simply put, the fans are not coming through the doors any longer.
Yes, you, the hardcore fans are still showing up. Yes, winning would mask a lot of flaws. Yet, the hardcore fans are not necessarily the fans that the Ducks need to win over; they already have your loyalty. A push should be made to recruit new fans. To draw casual fans into the building. On the other note, it's a simple fact that the Ducks are not winning games. Although given the sea of Washington Capitals fans that were in attendance during that game, we can at least be thankful that some teams fans are helping with ticket sales.
All of this has contributed to this season's home game attendance being the lowest since the 2011-2012 season. Currently, the Anaheim Ducks sit 25th in the league for attendance. That in itself is not a surprise, given that the Ducks routinely sit in the bottom half of the league. A lot of that has to do with Honda Center itself, and its ability to hold people. Yet, the home game average of 15,719 is a large drop from last season's 16,814. Let us not forget that last season has largely been ridiculed by all, near and far, for poor on-ice performance as a result of bad coaching (not necessarily my opinion, but the general feeling of the fan group.)
Where is the Excitement?
Thus, while winning may cure some ill's and bring some fans back, given last year's attendance was still high, it seems illogical to suggest that this is the only thing the Ducks are missing from the mix. Certainly, the on-ice product does have a part to play. Right out in front, the Anaheim Ducks are lacking for interesting players. Ryan Getzlaf is a wonderful player and is having another good year. Yet, you won't find him often on the league's highlight reel.
Hampus Lindholm, is a really good, but not elite defenceman, that purists of the game will appreciate. But, to the untrained eye, he's really quite boring to watch. That's no slight towards him by any stretch of the imagination. I'd ask you to consider putting yourself in the seat of a casual fan, or a non-hockey fan and ask which you'd prefer to watch on your evening off from work and responsibility. The Colorado Avalanches Cale Makar or Hampus Lindholm? The answer is very likely the one who makes every play an adventure and a chance to score, not the one who plays a simple efficient game to prevent scoring.
This is the way of the Anaheim Ducks under Bob Murray's stewardship. Bobby Ryan was traded away for Jakob Silfverberg's steady two-way play. No disrespect to Silf, as he's been a good player for the Ducks for many years now. He isn't scoring spin-o-rama goals for the hattrick though. Even when the Ducks players do score, is there the over the top celebrations and raw emotion that the NHL network likes to show on their current advertisement, or is it a bit of a cheer and a group hug and they all go their own ways again?
Thus I'd argue that the Anaheim Ducks player group, on the ice, is largely a boring group of almost robotic individuals. These aren't necessarily bad attributes, but they're not the type to draw new fans into by themselves. The average fan always wanted to see Alexander Ovechkin from the moment he was drafted, but do any care about watching Troy Terry?
It's the comparison of a 1st overall pick to 5th rounder, yet don't forget the hype fans put around Terry leading into the last 2 seasons. Again, not a sledge on Terry the player, but the acknowledgment that the Anaheim Ducks don't have an Ovechkin to market. The Ducks have deliberately recruited and acquired two-way players who are safe, but not necessarily exciting. The marketing team can only do so much with so little to work with.
Entertainment Brings in the Masses
Leading on from the celebrations, can you imagine for a moment the Anaheim Ducks doing what that"bunch of jerks" do in Carolina? Sure, other teams may have mocked them in part last season, yet their fans lapped it up. They drew in further fans. It was interesting. Exciting. It showed a bunch of players having a good time, and that emotion spilled over into the community and to the fans. Both casual and hardcore.
Who doesn't want to see their team playing well and having a ball? Yeah, it certainly makes a difference if you win a bunch, but don't you kinda want to show up to see if they're going to do something cool at the end if they do win? Even today the Ducks hold an 8-6-2 record at home. There's a 50/50 chance of winning a home game and sending the fans into a frenzy with whatever gimmick the team can come up with.
Today's fan has a world of entertainment options at their fingertips. This may be even more true in Orange County than other hockey cities. The team needs to entertain. Once again, winning may cure-all, but is it the big-ticket? I'd argue not.
Consider the buzz Las Vegas had when it entered the league. By all accounts, they were meant to be a bad on-ice team as they built their way into respectability. In hindsight, this didn't end up being the case, however, they had plans in place should it have been. Go to a game in Vegas. It's lights, camera, action… showtime!
There are dancing girls. The entertainment during the intermission is entertaining. It's all part of the show that the team is putting on. You may consider that it's Vegas and thus it's expected there, but that's not necessarily true. Go visit Helsinki and watch the KHL team there (Jokerit) for a night. They have essentially the same setup and they've been doing it longer. The entertainment director there does a fabulous job.
Conversely, we have the Anaheim Ducks at the Honda Center. I freely admit that living internationally means I only get to 1-2 Ducks games a season, and that has not happened this season yet (and quite frankly may not at all, looking at my work schedule.) However, I cut my teeth at Arrowhead Pond. I should have fond memories and good feelings. The last two visits to Honda Center have easily been the worst of my hockey experiences. Certainly, my experience may not be that of everyone else, yet by attendance numbers, it seems I'm not alone.
There are many others who have mentioned they have visited other cities and stadium's and found Honda boring by comparison. The decrease in numbers and a very easy to establish poll would indicate that the Ducks would do well to include the intermission, a pre-game, and a post-game, to the entertainment schedule. Create an environment in which the average person wants to go to, instead of any other option they may have.
Entice the Average Fan
Money is tight for so many people, and it isn't getting easier. Hockey and entertainment venues, in general, need to compete for that elusive residual income. No one wants to spend money to go to a grey building and stare at a blank sheet of ice for a couple of 20-minute blocks (that's the intermission by the way, not whatever the Anaheim Ducks are calling hockey this season.)
Even before fans start to consider stepping through the door, they need to be enticed. Persuade the average fan, or random off the street, to part with their money. Once upon a time, the Ducks had Disney (and the greatest and iconic jersey of all time, across all sports.) That obviously changed when Disney moved on from the team, and new ownership took over.
Yet, with news that a remake is coming, surely this is an opportunity to build off the movies again? See if there can be a link. See if the players can be included. At the very least, sponsor the movie and stick the webbed "D" logo throughout it. Push for Randy Carlyle to be cast as the Icelandic coach. Create some interest in the team on the back of what will probably be a disappointing remake (sorry not sorry, remakes always fall flat.)
Stepping it up in the Social Media Department
Today the average fan consumes social media like it's essential fruit and vegetables. Hire some entertaining people to run the accounts. Witty. Entertaining. Make me laugh. No disrespect to the current set up, but it isn't fun. Have some fun with the other team's and have little twitter (or any other social media forum) rivalry. If that sounds like too much, how about actually reporting moves the team makes. I honestly feel for the social media department, as so often they're behind the eight-ball with roster moves.
If the team wants to alienate their fans, providing no information is a good way to do that. Simple things would help. For instance, it was Sam Carrick bobblehead night the recently, and the player himself wasn't even in attendance. It's hard to imagine an easier bar to clear, yet the Anaheim Ducks fumbled it. If you're going to run novelty toys as an incentive, then have the player be there and make him available. Allow the fans to have their big-headed toy autographed while they chat with the player in question. Give fans the chance to care about the players.
Speaking of talking to the fans, when was the last time Bob Murray addressed the media, and by extension, the fans? Consider how often Kyle Dubas is asked to speak in Toronto. There is a stark difference. Sure, the Maple Leafs fans demand it, yet still, he speaks. He provides quotes for the media to write about, that is then distributed to the masses. Murray conversely is behind closed doors. The fans haven't even heard from the franchise whether this season is believed to be a rebuilding year, it's just something we've all picked up because they're so bad on the ice.
Yet, the team isn't young overall, and the only acquisition that they've made is the league leader in fighting majors. Surely that's probably a good acquisition (analysis can be another day), but obviously the fans don't care as they're not going. Maybe acquiring an exciting hockey player would have been better? Regardless, speak to the fans. Give the (admittedly small) media contingent something to write about. Murray may be the muse, but the media is what drives the ticket sales.
It's Time to Start Laying the Foundation for a New Era of Ducks Hockey
Taken together, this may simply be a piece highlighting flaws (real or perceived), it should highlight that the Anaheim Ducks ticket sales have fallen. By all accounts, it is an area of concern for the team. Most recently they've taken to offering ~$20 tickets to university students, just to get bums in seats. After all, increasing attendance increases food and drink sales, and revenue overall. For a long time, the Ducks were considered a budget team, and it's only been relatively recently that they've begun to spend near the salary cap.
Should ticket sales through the regular season fall, and with a lack of playoff revenue to make up for it, it may necessitate a push back towards that budget team mentality. It certainly isn't impossible to win cups in that situation, although it is rare for budget teams to even make playoffs let alone make a conference final or win a cup.
Thus, if the Ducks are serious about contending in the future, they need to start laying the foundations of an economic powerhouse now. Miyamoto Musashi once wrote "from one thing know one thousand things," and thus it is here as well. The on-ice product should be improved. New systems of play should surely be implemented instead of the random flailing about they do now.
Players high in energy and personality should be recruited as faces of the team. Bring in a show to entertain the people at the rink. Grow the hype off the ice, with shrewd marketing campaigns and witty banter. There is no one thing that is the magic elixir, there are a multitude. In that sense, the world is the Anaheim Ducks oyster. Standing still is the only path to defeat while moving in any direction would be cause for improvement.
It's time for the Ducks to move with the new mentality of the population at large. It's the cusp of the new year, thus perhaps their resolution can be to make strides in these departments. Let us hope they bring back the entertainment, and thus the fans, to Honda.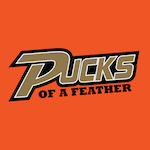 Want your voice heard? Join the Pucks Of A Feather team!
Write for us!
Are you an Anaheim Ducks fanatic? Do you also love Pucks of a Feather? If so, we would love to add you to our very talented contributor's list! Just follow the link above for more details on how to write with us.