Anaheim Ducks: Rickard Rakell Launches Initiative with Mans Best Friend
In partnership with the Anaheim Ducks Foundation and Canine Companionship for Independence, Rickard Rakell has launched his new initiative, 67 Assists.
There is something incredibly special about player-run charitable organizations, and the Anaheim Ducks are one of the forerunners for community involvement in the NHL. For the past two years, they have been nominated as one of the finalists for the Sports Humanitarian of the Year Award presented by ESPN. Although they have yet to win, their presence in the community continues to grow and inspire those in Orange County.
The Anaheim Ducks Foundation does incredible work, especially in partnership with several player-run charities. Ryan Getzlaf spearheads the CureDuchenne organization, a charity dedicated to finding a cure for Duchenne muscular dystrophy. Cam Fowler and his wife, Jasmine, created C4Kids, a program that provides youth in the community with the opportunity to learn how to play hockey. And this season, Rickard Rakell and his fiance, Emmeli, are introducing a new charity called 67 Assists.
Rickard and Emmeli's love for dogs is no secret. Their beloved black labs, Heinz and Stella, are often the center of their social media accounts. So, it comes as no surprise that the two of them are partnering with Canine Companions for Independence to bring 67 Assists to life.
A popular theme throughout the NHL last season was team dogs. Several teams have continued the trend and we've been big advocates for the Anaheim Ducks getting a team dog in 2019-20. While Rakell's new organization doesn't necessarily mean the Ducks are any closer to getting a dog of their own, the premiss of his organization is very similar, but on a larger scale.
CCI's mission over the past 40 years has been to provide children, adults, and veterans with disabilities an expertly trained assistance dog, free of charge. Overcoming the obstacles that come with a disability can be quite difficult.
Assistance dogs are a great way to bridge that gap. The special bond they have with their owners is not only known to improve self-confidence and spark motivation, but it is proven to help both the mental and emotional well being of their owners and give them a sense of purpose.
These assistance dogs can do physical work, such as helping someone cross the street or picking up an object someone dropped. They also provide a sense of comfort, releasing endorphins and relieving stress for veterans who might suffer from something like PTSD or a child who has autism. There is a reason these wonderful creatures are called man's best friend.
Having a sports figure publically endorse and work with the organization will give CCI the means to expand their brand. Not only will they have the means to help more people in the Orange County area who have disabilities, but more doors will also open for them to showcase what an incredible organization they truly are.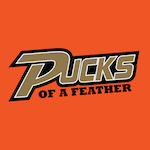 Want your voice heard? Join the Pucks Of A Feather team!
Write for us!
Are you a passionate Anaheim Ducks fan that would enjoy writing for Pucks of a Feather? If so, click the link above for more info on how you can join us in writing!