Anaheim Ducks Sign Brayden Tracey to a 3-Year Entry-Level Contract
It was reported on Wednesday that the Anaheim Ducks have signed Brayden Tracey to an entry-level contract.
Brayden Tracey has taken the next step in his hockey career. Reported Wednesday evening, the Anaheim Ducks have signed the 18-year-old Alberta native to a 3-year, $925,000, entry-level contract. He has only played 13 games in his second full season with the Moose Jaw Warriors but is already standing out as one of the best WHL players this year.
Unfortunately, due to Ducks camp and an unfortunate suspension that was handed to him after a headshot, Tracey's season has been limited to 13 games. Nevertheless, the 18-year-old already has a 22 point season. His 1.7 point-per-game pace is currently the best in the WHL. Has his season not been limited, and he played the Warriors 21 games, he'd be third in points in the league behind Dylan Cozens and Alexei Protas, both of whom have played more games (25 GP) with their respective teams.
Last season, Tracey's success in his rookie year was chalked up to playing alongside veteran linemates Tristan Langan and Justin Almeida. During their 2018-19 campaign, the three players tallied a combined 305 points. However, with Langan playing in the ECHL and Almedia making the jump to the AHL, analysts can no longer contribute Tracey's success to those two veteran linemates.
While there is no question that he learned a lot playing alongside two seasoned WHL veterans last year, he is currently on pace to have a 102+ point season should he remain healthy for the rest of the year. While it is unlikely that Tracey will start the 2020-21 season with the Anaheim Ducks, if he ends his 2019-20 campaign on a good note, an argument could be made for him to start 2020-21 with the San Diego Gulls. Should he impress at the next level, he could be considered as a good call up option should the Ducks need someone from the AHL as injury relief.
Brayden Tracey could be considered a gamble. However, it is a risk the Anaheim Ducks will be very happy they took. Of course, he will never be hyped up as much as Trevor Zegras, but when he is ready for the NHL, he will make a great addition to the team. Tracey plays with heart and soul, his passion for the game unparallel to some NHL players we see today. He's always willing to learn and grow, taking the humble route and refusing to be set in his ways.
Should he continue in his progression, the Anaheim Ducks could have a natural goal scorer on their hands, something they've been missing over the past few seasons. He has incredible puck skills, and while his skating and defensive skills need work, he's praised for his soft hands and quick shot.
However, should Tracey not develop into a natural goal scorer at the NHL level, his skills as a passer should not be ignored. His patience aids him in having incredible vision on the ice. While he does have a nose for the net, he's inclined to get the puck into the offensive zone, even if that means he needs to set up his teammates to do so.
While it is still unknown as to what kind of player Tracey will be at an NHL role, the fact that he can potentially fill both roles makes him an asset to the Anaheim Ducks arsenal. He could be a versatile player for years to come and the prospect of watching him grow in the Ducks system is an exciting thought. Congrats to Brayden Tracey on signing an ELC with Anaheim! We're excited to see what value he adds to the future of this team.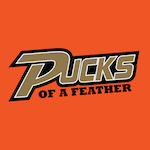 Want your voice heard? Join the Pucks Of A Feather team!
Write for us!
Are you a passionate Anaheim Ducks fan that would enjoy writing for Pucks of a Feather? If so, click the link above for more info on how you can join us in writing!