Anaheim Ducks: Is Dallas Eakins Already in the Hot Seat?
Dallas Eakins was hired to lead the Anaheim Ducks into the future. Does their lackluster play as of late already put him in the hot seat?
I'll be perfectly frank, there is no world in which the Anaheim Ducks Head Coach, Dallas Eakins, is in the hot seat after merely 25 games. It would be a bad look for a franchise, which is in need of nothing but good news, as they exit a period of sustained success and enter into a period of irrelevance in the league (i.e. rebuilding their roster.)
However, let's suppose for a minute that Eakins is in the hot seat. After all, while there is a general understanding that Eakins was the owners' choice for coach, however, was he Bob Murrays? Who has more sway with the boss, Murray or Eakins? The coaching search seemingly went on forever for a decision that most believed was fait accompli (already decided.)
Even after other candidates folded their cards and took other positions, Anaheim Ducks fans were left waiting. If Eakins was the grand slam coach to be, why was the decision so long in coming? One might assume that Murray was on coaching tinder, looking for a better option, before finally giving in to the peer pressure of dancing with the coach who super liked him first.
Thus, the hiring was eventually made, and the press conference was held. During the courting process, there was no real love for Eakins' previous work, in fact, it was hardly mentioned at all. Although given how his tenure in Edmonton went, that's hardly surprising. There was no real talk of his tactical nous and his ability to innovate in a hockey world which is filled with mimicry. Fans would discuss amongst themselves that he spoke the right words.
"Analytics" is one word that comes to mind. Although this was not something which was spoken of by the Anaheim Ducks themselves. There was no real talk of the players who had praised him in the past for elevating their games beyond what other coaches may have seen. So, often in the case of coaches who are considered "development" coaches, we have an outpour of previous players exuding their love for the coach.
Consider the Brooklyn Nets hiring of Kenny Atkinson, and how players from all over the league commented on how he helped their careers. Eakins had one or two players comment, but these were few and far, and certainly not from the stars of the league. Instead of the usual coaching hire spin, we were left with "he knows the kids."
Let that sink in. After a long tenuous coaching search and multiple interviews with many aspiring and former coaches, we were left with something along the lines of, "well this guy knows our prospects names." That kind of commentary, while paraphrased hyperbole, doesn't shout to the rafters that the man in the hiring seat loved the hire more than any other.
Was the Eakins Hiring out of Character for Bob Murray?
Not long after Eakins was officially hired, the Anaheim Ducks announced that (former LA Kings Head Coach) Darryl Sutter would be taking an advisory role amongst the coaching staff. This type of role isn't native to hockey, however, there is some precedence. Moreover, it is a far more common role in other sports around the world. Typically, this role would be to mentor an assistant coach, as they move into a head coaching role, and then to continue to give that assistant support in the arts of coaching people should they falter.
Personally, I think that including such an experienced person in this role is a good move for the Anaheim Ducks, however, it does open the door for criticism. Namely that the head coach in question isn't ready to coach in their own right; that they still need development. It should be clarified that it was reported that Eakins himself pushed that this mentor role be implemented, which I think is commendable.
As a coach, he should always be attempting to learn. However, consider that Bob Murray's previous coaching hires are Bruce Boudreau and Randy Carlyle, who – and say what you will about their methods – are two of the most experienced and successful coaches in the NHL. Hiring a coach who was incredibly unsuccessful in the NHL, and who is self admittedly requiring help to run a bench, seems out of character for Murray.
A further consideration is that very few of these coaching setups with an experienced mentor coach work out in the end. There are certainly some few in which success is found, yet more often than not we see internal fractures in relationships, and in most cases a poor on-field (in this case on-ice) product. Many coaches by nature, have great ego's and most see the game in a different light. Whether this relationship can flourish will be shown as time goes by, yet the odds would seemingly be stacked against it for now.
Is Dallas Eakins Another one of Bob Murray's Reclamation Projects?
While it may be a poor look upon the franchise to let go of the coach so soon after hiring him, Murray has been known to swallow his pride and make decisions quickly on occasion. Think back to Carl Hagelin. Acquired for a good price and signed to a contract that he probably couldn't live up to in Anaheim, Murray moved on from him in but 43 games. The player he gave a 4-million-dollar contract to, lasted only slightly longer than half of a season in Anaheim colors. These rapid changes of opinion on players aren't entirely left to veteran players alone either.
Murray does have a history of acquiring players looking for a change of scenery, some of them young, and then giving them just enough time to show the fan base they may be worthwhile, but not enough to establish themselves as NHL players. Daniel Sprong comes to mind in recent history. While he did score goals in the NHL last season, his defensive play was considered suspect. He has not sniffed the NHL this season, despite the team struggling to score goals in the early part. Patrick Maroon may be considered a young player who Murray took a chance on, who was able to stick around and eventually create a wonderful NHL career for himself.
If we carry the comparison from players to coach, then Eakins could be considered the "young" coach given a second chance with the Anaheim Ducks. Sprong scored some goals to get some of the fans on his side. Eakins is not Randy Carlyle, which has some of the fans on his side. Yet, after the Ducks hot start, much like Sprong scoring prolifically when he first came to the Ducks, the results have fallen away.
Since the 20th of October (Game 9), the Ducks record is 4-9-3, in which they've scored an average of ~2.5 goals per game and given up ~3.8 goals per game. Some fans would consider that the Anaheim Ducks are scoring more over this period of time and that it's entirely up to the defense to improve, however, this is a fallacy. During the weeks leading up to the Calgary Flames game, the Ducks were scoring at a slightly higher pace (~2.7 goals per game). Although it is true that their goals allowed have dropped away from the lofty ~1.75 mark they posted in those opening weeks. It is also worth considering that the current scoring rate ranks them as having the 29th ranked offense in the league (which is roughly in line with last season, where ~2.5 would have ranked them 30th overall).
If Sprong was essentially cut away after his goal-scoring somewhat dried up and his defensive play didn't improve, then what of the coach who has been the architect for a minor decline in goal scoring and a massive dip in goals allowed? Would Murray use this as an excuse to install a coach that he may have preferred originally? I would suggest that a coaching change would require more than just the results. In essence, Murray would need to question his processes as well.
Coaching Decisions Lead to Quesitons
In recent times, Eakins has made some questionable coaching decisions. In the Florida loss, he neglected to call a time out when Florida was going on a run. It may be a simple thing, however, timeouts interrupt the flow of the game, and such a minor bench move may have helped blunt the momentum that the Panthers had gained. Do the Anaheim Ducks get a win in regulation if they can disrupt the Panthers momentum? We'll never know now, but it's something the coach should consider.
Sam Steel was sent out in OT to attempt to beat out one of the best players in the league on the faceoff dot. I will freely admit that Alexander Barkov makes a lot of players look silly and that Steel had produced a relatively good game up to that point (although I would argue that he was somewhat carried by his wingers.) Why not put your experienced veteran star out to win the puck and then bring the faster-skating Steel into the game off the bench and in a position to succeed given his current strengths? Was Steel's development helped overly much in the 40 seconds Barkov and his team toyed with him?
In the recent game against the Sharks, John Gibson was looking towards the bench to be pulled, when they had an offensive zone faceoff. He wasn't. Then he was pulled. Then he was sent back in. Then he was sent to the middle of no-mans-land halfway to the bench and all the way out of goal, creating a scenario where the Anaheim Ducks didn't have a netminder but also didn't have the additional skater.
It appeared, at face value, the call of a coach who had let the losses concern him and didn't want to lose the game, yet couldn't put down the weight of the recent past to win it. In the very same game he neglected to challenge a goal in which Gibson's pad (covering the puck) was pushed in over the line. Perhaps, the challenge would not have stood, but it seemed very much like a situation in which you make the decision to look at it. I couldn't imagine too many coaches letting it slide.
It is also worth mentioning here, that the Ducks are currently on pace to receive the highest number of bench infractions in franchise history. While not all of this is down to the coach, he is in charge of organizing the bench and the players. He does need to be held accountable for this issue. Particularly in light of the Anaheim Ducks penalty killing woes.
All of these on-ice and in the moment coaching decisions may give Bob Murray cause for concern. A coach should be able to put down his recent losses and not allow them to control his decisions. A coach should be able to make the call to slow the game down if required. A coach should be able to challenge decisions he doesn't believe are correct. Does Bob Murray look at the decisions Eakins has made and think that he would have done the same in his stint behind the bench? For that is the crux of the issue. Can Eakins do a better job of coaching than Bob Murray can do at coaching?
What then of Dallas Eakins' Off-ice Decisions?
Recently, news broke that the Anaheim Ducks were moving on from morning skates on game day. This is a decision that in many ways falls into line with what other teams in the league are doing. There is no doubt that the Ducks sports science department would have had some say on whether mimicking the practices of the other NHL teams was worthwhile, yet it was eventually implemented by the coach. A potential issue is that recent research is suggesting that priming athletes with exercise earlier in the day results in enhanced performance later in the day.
Naturally, like all research, there is variation in subject populations, and this should be vigorously tested by the Ducks going forward. However, the issue may be that the coach is looking outside of the research to follow what other teams are doing. Like always, there is something to be gained from the herd mentality, yet additionally, many championship teams forge their own paths by testing what works best for them and implementing that. Very few championship teams are the result of mimicry.
Bob Murray made some comments following the playoff sweep against the San Jose Sharks a couple of seasons ago, which made it seem like he wished to mimic the system that they had implemented during that series. Randy Carlyle coming into the following season, had the team play in a manner that was stylistically similar to many of the things the Sharks had implemented. History will show that it didn't work, which is partially due to the difference in personnel and partially due to other factors.
What is notable is that when Carlyle was let go and Murray took over the bench the Ducks reverted back to the system they had used the previous two seasons to relative success. There were tweaks of course, but they went back to what worked for them. Perhaps, Murray had learned that mimicry wasn't the answer to their problems. If this was Murray's learning curve, then what does he think about Eakins following the herd with respect to practice? Particularly in light of the scientific research showing conflicting results.
Systemically, Eakins seems to be partially following the crowd with respect to zone entries, or more aptly the pace of the game. While the Anaheim Ducks are currently producing fewer Corsi events during the month of November, compared to the same sample last season, it appears that he is trying to preach carrying the puck and to attack in waves. In isolation, this would appear to be great tactics, and the hockey twitter analytics community would surely get behind it given the data suggesting that doing so may result in greater goal-scoring potential.
It's very much straight from a textbook. Playing faster tempo hockey can increase the number of shot attempts taken in any given game. If, for example, a team may have a shot attempt counter 60% of the total number then it makes sense to speed the game up. For instance, 6 shots to 4 is not different from 12 shots to 8, or 24 to 16. Yet, we can see as the total number of shots go up that the team with the 60% shot differential is more likely to score a greater number of goals.
It very much appears that this is the basis for the Eakins system. The issue is what happens when you're the team that is on the 40% side of the shot counter. In this instance, attempting to play fast is only going to increase the chance that you may lose the game, thus trying to slow the game down and limit the total number of shots presents an opportunity to get lucky and win. Additionally, once the game has been "won" or rather when the team is leading, it makes some sense to limit the opposition's opportunity to score.
For instance, in the recent game against the Panthers, the Ducks were leading by a significant margin. Given there is no difference to winning by 5 goals or 4, the Ducks may have been better off slowing the game down. If the Panthers were able to take fewer shots, they lower their probability of scoring. Slowing the game down may also be necessary when attempting to arrest momentum. For instance, against Tampa, the Anaheim Ducks had played a wonderful two periods, yet the Lightning (who are a very good team) went on a bit of a run.
While the Ducks may have been behind on the score sheet, slowing Tampa's momentum may have been a good idea so that they didn't get too far ahead. After all, if more shots are likely to equal an increase in goals, then fewer shots should result in fewer goals. At least for a short term. The Ducks would eventually have to increase the pace again to score, however, the opposition's momentum may have been blunted, and the Ducks may have been able to get back on top. It appears that Eakins is either refusing to slow the game down or that he doesn't know how (or doesn't know how to implement it.) When the going is good, it's very good. When things are going bad, it's very, very, bad.
What Works for One Player Doesn't Always Work for Another
Additionally, is playing at this pace what will work best for this player group? Captain Ryan Getzlaf recently made some comments in which he suggested that the Ducks should simplify their game and "get pucks in deep." That is to say, maybe dump a few more pucks in and get in on the forecheck. This is a style of play that the captain has used to great effect over his career. His behind the net cycle game with Corey Perry (and once upon a time Bobby Ryan) absolutely dominated the league. Netminders such as Jonathon Quick have been quoted as saying that it utterly exhausted them.
Perhaps then, the Ducks would be better employing different systems of play for different line-up combinations. Rather than everyone play the same, why not have different setups for different lines. Perhaps Getzlaf would be more effective playing slower dump and chase, behind the net, hockey. Perhaps Rickard Rakell is better off playing a faster puck-possession style of game. Adapting systems and styles to the playing group is the hallmark of a great coach. So far the Anaheim Ducks are playing one way at all times, under Eakins stewardship.
Does Bob Murray look at the stylistic challenges of the Anaheim Ducks and ask for a change? It wouldn't be out of the box to impress upon the coach that he should be warry of different game situations and adapt accordingly. However, it may be an execution issue. There are many occasions where the Ducks appear to be unorganized, or where passes miss their mark. While much of this can be attributed to young players entering the NHL, perhaps it shouldn't be brushed as easily.
Prospects Have Struggled Under Eakins
One consideration is that many of the prospects that have come up to Anaheim over the past few seasons have looked somewhat lost on the ice. While some may argue that it was due to Carlyle's system, that wouldn't necessarily hold true. For instance, Nick Ritchie spent some time under Eakins before playing under Boudreau. He came into the NHL incredibly out of shape and looked completely clueless upon the ice. He didn't noticeably improve until the following pre-season, and then again the pre-season after that.
Jacob Larsson hasn't looked like he understands basic defensive structure since he was sent down to the AHL after impressing in a short NHL stint many years ago. An issue that Marcus Pettersson also had when he left Eakins tutiledge. He has since played very well in Pittsburgh and has improved his defensive play by leaps and bounds.
Given that defensive coverage was a self-admitted problem area of Eakins as a coach in his last NHL stint, I'm not entirely sure that it should be hand-waved away by the injuries that the Anaheim Ducks currently have on the blue line. It is absolutely a thin defensive corps, yet they seemingly have issues knowing where to be and how to get back in transition.
The Absence of Drills has Lead to Disorganization
Perhaps, a bigger concern would be the number of missed passes the Ducks are currently producing. Alongside being disorganized, how often do we see a turnover that ends in the back of the net? How many times will Troy Terry miss a pass by a few inches or stick handle himself into an opposition player? Taken together, it appears that the Anaheim Ducks are lacking in practice. Eakins mentioned in the pre-season that he didn't like running drills. It shows. It also shows a fundamental misunderstanding of why drilling is important.
If a player knows were their linemates are on the ice, it reduces thinking/searching time and increases the effectiveness of skill execution. Think back to the Boudreau and Carlyle years. You may not have agreed with the systems put in place upon the ice (hockey Jesus knows I didn't), yet it's hard to argue that the team wasn't on one page. They were organized. They knew where they were going and where everyone else was. The teams were able to adapt their styles over the season to reflect changing circumstances. All the results of being a well-drilled team.
The players may enjoy not running drills, and Eakins may have implemented this after ripping apart the Edmonton dressing room. That is to say, as a reaction to making players unhappy. Yet, one can't help but wonder if the players would be more happy scoring goals, stopping goals, and winning games. It isn't a coach's job to be the players' friend. He most certainly will be friends with a great many of them over the distance, yet in the end, his job is to train the team in the best possible way. Aversion to running drills is not helping that to happen.
What does Murray, a relic from the old school, think about the current training practices, and the subsequent product on the ice? Winning cures all ill's so perhaps had they kept that hot start alive, Murray handwaves it all. But now that the losses start piling up, does he go to ownership and potentially ask for permission to look at other coaching candidates? Does Murray have some concerns about how his prized young draft picks are maturing?
Are His Player Developing Under His Coaching Style?
It's arguable whether Eakins' coaching style is adequately developing the players under his charge either. Nick Ritchie is one example. As mentioned above, coming into the NHL, Ritchie often looked lost on the ice. Yet he improved season to season under Carlyle and over the same period of time gradually cut down on the penalty minutes he was taking. While the results did not often find their way onto the score sheet (topping at 40 points per 82 game season pace), he was certainly effective at helping to drive the play.
More often than not, the players he skated with presented superior underlying metrics than when they skated away from him. Even this season, Ritchie has shown himself to be one of the top 6 forwards on the team according to many of the statistics in use.
Yet this season it seems as though he's been given the green light to go on a penalty binge, and both take himself off the ice and place his team in a difficult position. Does Bob Murray believe that his former 10th overall draft pick, who showed considerable signs of growth over the past 2 years, is best served in what could be classified as a traditional 4th line face punchers role?
Additionally, players like Sam Steel were considered outside bets to challenge for the "rookie of the year" award come seasons end. Youngsters like Troy Terry were so incredibly hyped coming into the NHL, and considered to be big-time point producers. Presently, the Colorado Avalanche's Cale Makar looks to be leading the rookie race. This is notable, as much like Terry he is a former college player. It is also notable in that should Makar stop playing today, and Terry finished off the season at his current pace, then Makar would still beat him in the scoring race.
Presently, Terry is on a 14 point pace. Steel is in a better place at a 36 point pace. Max Jones splits the middle with a 20 point per season pace. If we harbor the assumption that Steel and Jones are likely to be middle and bottom 6 players, respectively, then their totals are certainly respectable. Particularly given their usage this season thus far. In Terry's case, sometimes players just don't work out, and there's no problem with that either. However, the question has to be asked if that is all these players are?
Is Jones a future bottom 6 grinder? Is Steel a middle 6 role player who can chip in with a few points here and there? Is Terry a bust (although I use that term sparingly, given that he has already far exceeded his 5th round pick status)? If these players have the potential to be more, then questions regarding the coach's methods need to be addressed. Are his training practices the best for improving players? Is the constant changing of line-mates establishing consistency and comfort with the players? Has each of these young players been given a role they can work towards with clear and established goals, or is it a changing environment on any given day?
Murray, whether you love him or hate him, has seen hundreds of prospects grow from the first day they're drafted to become players and even stars in the NHL. Does he find the lack of growth concerning in this group, and where does he point the finger if he does? Is it likely that he finds the lack of organization a fatal flaw in the developmental path of the youth movement?
Certainly, this isn't as young a team as many have suggested, but there can be no doubt that this is a team that is undergoing some restructuring for the future. It is surely hoped that players such as Steel, Jones, and Terry would be part of that group going forward, yet if they're already faltering, perhaps a more structured disciplinary coach would be a better bet.
The Backup Plan
After all, in Murray's back pocket is the mentor coach they have already put in place. A coach who has been well renowned for producing well-organized teams, who all know exactly what they should be doing at any point in time. While working with an old-school style of playing group, his Kings team popularised shot attempt tracking as a benchmark for success. He developed young players into stars. Some of which, like Tyler Toffoli, haven't been the same since he left.
If the losses keep piling up, perhaps Bob Murray starts looking a little harder at what his new coach is doing. If ownership truly trusts the General Manager, he can certainly make some valid arguments for swift removal. The owners may have loved Eakins and pushed for his hiring, yet from their real-world jobs, they would know to cut away a bad investment quickly.
Perhaps, assuming that Eakins was not Murray's dream coach, he already has an eye out for the hot new thing? Could we believe that such a thing? After all, Murray brought in a player of Erik Gudbransons… expense, with which to compete. Surely he didn't anticipate that the team goes on a 56 seasonal point pace over the past 16 games? Fingers may begin to be pointed.
With Captain Ryan Getzlaf recently expressing his distaste with the team's attitude and the way the results have fallen, perhaps the spotlight begins to shine on Eakins coaching methods. Perhaps, just maybe, his seat is a little hotter than we all suppose.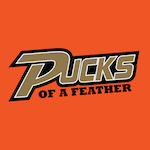 Want your voice heard? Join the Pucks Of A Feather team!
Write for us!
Are you a passionate Anaheim Ducks fan that would enjoy writing for Pucks of a Feather? If so, click the link above for more info on how you can join us in writing!