Anaheim Ducks: John Gibson Should not be This Seasons Scapegoat
The Anaheim Ducks have been struggling lately, and in turn, so has John Gibson. However, he is the last person on this roster who should be the scapegoat.
John Gibson. The apple of our eye, the darling of the hockey gods, Goalie Jesus. For the past few seasons, we've witnessed him transform into what could arguably be one of the best goaltenders in the league. Nevertheless, things have changed behind the Anaheim Ducks bench and the tides have seemed to turn. No longer is Gibby earning the praises of the people, but he's seemingly being picked apart by the vultures.
It is no secret that the Anaheim Ducks have been struggling, especially over their latest homestand. They haven't been able to mask their problems behind wins they can barely scrape together, much as they did at the beginning of the 2018-19 season. However, with Randy Carlyle gone, and the attitude that Dallas Eakins can do no wrong, we need a scapegoat.
Most days, we can find a reason to blame Nick Ritchie. It's easy when all anyone thinks he's good for is warming the bench in the sin bin. Nevertheless, only three penalties in 10 games might be a sign that he's turned over a new leaf. Good for Nick Ritchie, but someone has to take the blame for all of the Anaheim Duck's wrong doing's. Right?
So, instead of actually looking into what the real problem may be, a lot of the blame is being put on the man who hasn't been able to stop every goal. John Gibson is "underperforming" in his role as "the savior" and for the fans, that's just unacceptable. Let's forget about the fact that he has no defense in front of him. Brush off the reality that the offense can't score goals when it matters most to save their life. Disregard the parade to the penalty box and nevermind that the special teams are atrocious.
While I wholeheartedly know that there are a lot of you who still believe that John Gibson is the best player on this Anaheim Ducks team, this needs to be said. Gibson does not need to be traded, Ryan Miller does not need to take over as the starting goaltender, JG36 is not underperforming, and he should not be the scapegoat when this team hits new lows.
Ryan Miller is not a Better Goaltender
Ryan Miller is a phenomenal goaltender. No one is arguing that. As one of the oldest in the league, he's still got it. However, the argument that he is a better goaltender than John Gibson is laughable. Miller had his moments in the sun during his years with the Buffalo Sabres, and much like Gibson, he wasn't given all of the praise he deserved. Still, instead of playing himself out of a career as a starting goaltender, he's going out gracefully as a reliable backup.
There is a point in time when a goaltender has to know when to limit himself, and Miller has reached that moment in his career. Statistically, he has had some of his best seasons with Anaheim. However, he's only playing between 20-30 games a season. While that is a reasonable sample size to gauge his talent, Gibson is still taking a brunt of the work-load.
Miller has time to rest, which is key when you're backing a team who is defensively inept, dealing with crucial game-changing injuries, and has a difficult time consistently scoring goals from anyone on the team other than the Rickard Rakell–Adam Henrique–Jakob Silfverberg line. He has a clear head, has been given time to shake off his indiscretions from any previous contests, and his body has been given adequate time to recuperate.
Gibson, on the other hand, is their starting goaltender. He plays in a majority of the games throughout the season, which doesn't allow much time for him to rest. Of course, he gets the occasional game here and there when Miller steps in for relief, but he is constantly working, constantly trying to be better. However, when your team relies on you, and your skills, game in and game out to bail them out of sticky situations, there's only so much you can do before you start to crack.
If you have spent any time recently watching the live broadcasts on TV, whenever they zoom in on Gibson's face, you can see it in his eyes. He's exhausted. He's shouldering a majority of the responsibility for his team, and the weight is weighing heavily on his shoulders. How is it fair to Gibson if we overlook his team's faux pas when he's the only person keeping them in the game most nights?
At His Worst, He's an Average Goaltender
Earlier this season, the NHL network released a list of their top 10 goaltenders. John Gibson, of course, was number 10. While a lot of people may think that his performance so far this season has earned him a one way trip off the list, in reality, Gibson is performing as the sixth-best goaltender on that list. Players that the NHL and fans hold in such high regard, such as Andrei Vasilevskiy, Sergei Bobrovsky, Braden Holtby, and Pekka Rinne are performing noticeably worse than Gibson. The only difference, these players have a team to back them up.
At his worst, Gibson plays like an average goaltender. There are currently 66 active goaltenders in the league and his save percentage puts him at number 30. This doesn't even take into account players who have played less than 10 games throughout the first few weeks of the 2019-20 season. Take those players off the list, and Gibson is a lot closer to the top than we realize.
The only team statistic that is above league average, aside from power-play goals against, is the goaltenders save percentage (.911%.) While Gibson has had better numbers in the past, we're only 20 games into the season and he's got a whole lot of game left to play. If the team can somehow find a way to improve, it might take Gibson less time to get out of his slump.
Regardless, if all we're getting from Gibson at his worst is league average goaltending, we should be thankful. If the Anaheim Ducks had an average goaltender constantly starting in net, they'd be in a lot worse predicament if he was playing at his worst. This doesn't mean JG36 doesn't have things he needs to work on, because every player can always improve upon something to make them better. The fact, however, that he is performing leaps and bounds above what the NHL considers to be their number one goaltender is rather impressive when he, unlike Vasilevskiy, is holding his team's head above water.
The Dallas Eakins Dilemma
The last point that needs to be brought up here is Dallas Eakins. I'm not here to tell you that 20 games in he needs to be fired. This is the first time he's coached in the NHL in a long time and things have changed since his time in Edmonton. He's still busy trying to figure out how to clean up Randy Carlyle's mess while implementing and teaching his own style of hockey. However, there are some noticeable mistakes that he needs to address in order to give Gibson the help he deserves.
First of all, with Hampus Lindholm and Josh Manson out of the lineup until further notice, Eakins needs to come up with a solution for his defense, and Korbinian Holzer is not that solution. Holzer is a great 7th pairing defenseman. He's a glue guy who does what he's told. However, his turnovers and blatant mistakes have cost the Ducks greatly with their two mainstays out of the lineup.
Michael Del Zotto isn't much of a better solution, but he's a much better partner for Brendan Guhle. While I would much rather see Brendan Guhle and Cam Fowler reunited, that doesn't seem like it is in the cards for the Anaheim Ducks at this moment. Nevertheless, Eakins must do something, because whatever he's doing right now, it's simply not working. Not for the team, and especially not for Gibson.
Eakins also made some questionable calls regarding Gibson during the Sharks game. First, he refuses to challenge Tomas Hertl's first goal. While the puck did cross the line, Hertl was blatantly pushing Gibson's pads. The call could have gone either way if he had challenged for goaltender interference, but sometimes as a coach, you have to take the risks to get results. It also seemed like he confused Gibson near the end of the third period. Telling him to come to the bench, then sending him back out, and then pulling him again. It makes things difficult and there needs the be clearer communication on all fronts.
A Friendly Reminder That We are in a Re-Tool
Friends, we are in a re-tool. A new coach and young players aren't going to fix the Anaheim Ducks overnight. The Ducklings are earning their wings, the veterans are learning new styles and techniques, Dallas Eakins is doing the best he can, and John Gibson is keeping the ship from sinking.
No one ever said a re-tool would be easy. The Anaheim Ducks will soar to new heights but also sink to new lows. It's a learning process for everyone that will require the fans being incredibly patient. They say that patience is a virtue and it's a valuable character trait to hold tightly to.
Gibson doesn't need your disdain. He is not a scapegoat. Simply put, just like the rest of the team, Gibson deserves your patience. After everything he's done, he deserves your trust. He doesn't need to be traded, benched, or blamed. He plays the best that he can, and that's all we can ask of him right now. He looks visibly exhausted, but he will keep pushing himself. After all these seasons, we know the character of John Gibson, and he will keep playing to the best of his ability until the ice falls out from underneath him.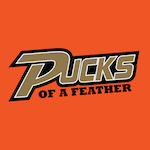 Want your voice heard? Join the Pucks Of A Feather team!
Write for us!
Are you a passionate Anaheim Ducks fan that enjoys reading Pucks of a Feather? Do you love the Anaheim Ducks enough to write about them? If so, we would love to make you a contributor! Just follow the link above for more information.